I don't purchase much Colonial stuff to re-do.
Maybe 20 years ago I would have but not so much now.
However, I came across this Windsor chair at the thrift store and it was not only old, but in good condition. I stood there for awhile and pondered….
this is how THAT goes….(a scary glimpse inside my head)
-Nice chair!
-Wow…that's in good shape and pretty cheap.
-I don't know….no one likes colonial stuff much anymore.
-We are pretty close to Williamsburg….maybe a visitor would like it?
-Is there anywhere I could put it if I get stuck with it?
-If it doesn't sell, I could re-paint it…..I think I could use it somewhere.
-I could always give it to Mandy …if she gets a house.
-OK…I'll take it.
It will make me feel SO much better if you tell me I'm not the only one who talks to themselves…..like FULL conversations….
I only do it out loud by myself in the car…..in public, it's just the voices in my head.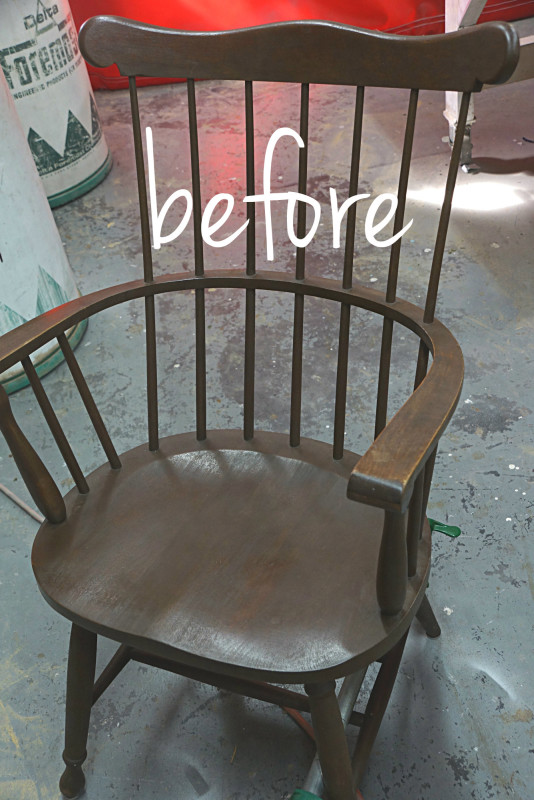 THEN…the pondering over color started.
I've told you before that I will often wait until I "feel" what the furniture is telling me it wants to be
(yes…even inanimate objects communicate with me)
This one felt Mustard Seed Yellow and Tricycle for some reason. Then, I had to wait to see which would come first…like the chicken and the egg conundrum that will never be solved in my lifetime.
Finally, a decision was made! A wash of Mustard Seed Yellow….followed by a wash of Tricycle!
You may or may not be able to tell that this chair is not stained and finished but PAINTED in brown paint…..why I do not know…..but it may have contributed to it's final resting place at the thrift store. So, some sanding was done, just to be sure there was no grime or loose paint. I sanded down to bare wood in a few spots so that the milk paint would go into the wood and not come off later when I distressed.
A wash of Mustard Seed Yellow (you can buy that here if you want)
and then a wash of Tricycle…..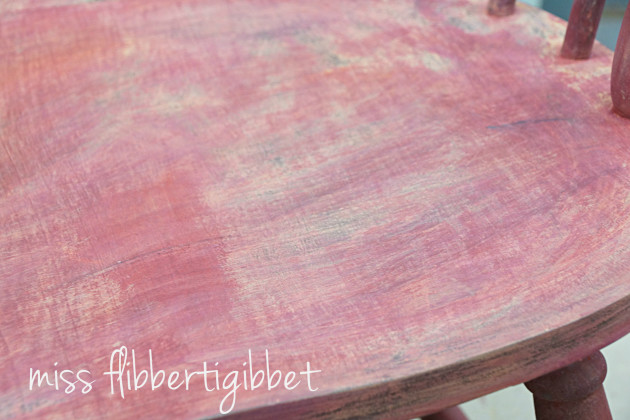 I distressed by using a wet rag….I didn't want to sand because I wanted some of the brown to show through and not get sanded away…..
Like this…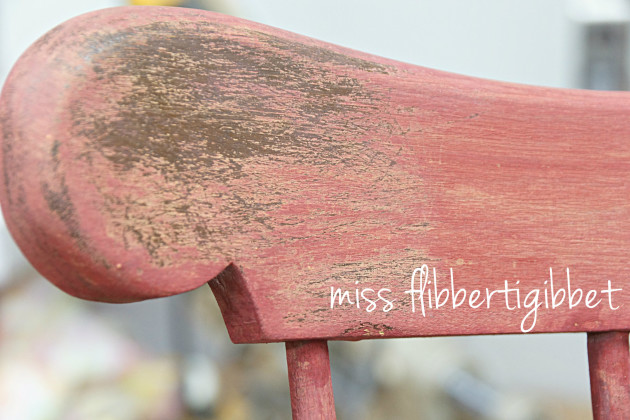 Let me tell you that my absolute FAVORITE thing with this paint is how you can make stuff look really weathered!
So I had yellow, red and brown all showing………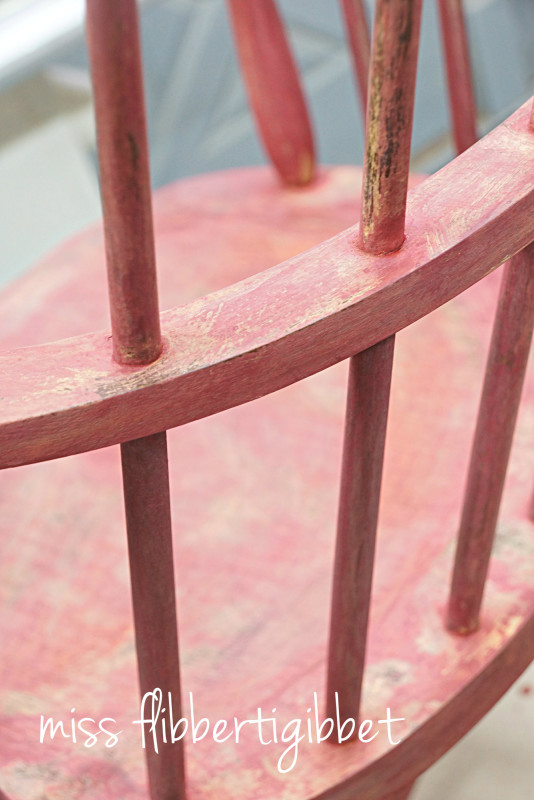 But…yellow and red make….ORANGE and I was thinking it was looking a little too orangey for me….
So, I made a wash of Typewriter and brushed that all over…..
Now…a caution…the final wash is …well, duh…watery…..
So, when it came time to wipe that off I had to be careful to not also remove more of the red and yellow if I didn't want to. So, I let it dry a few minutes and then used a pouncing motion with a dry cloth. Takes off the droplets and the majority of the black, but leaves everything else alone…..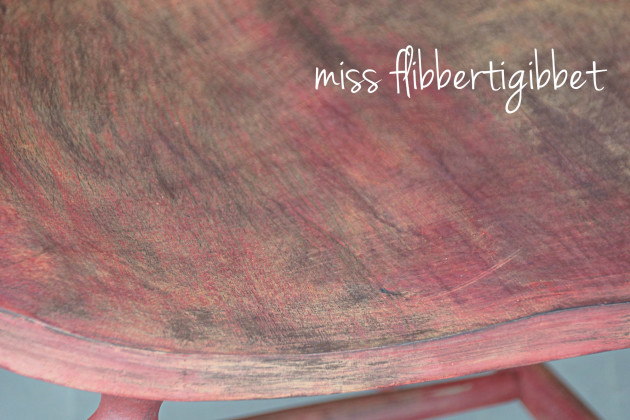 Then…a couple coats of clear wax…..done….
I like it! I hope someone else does too!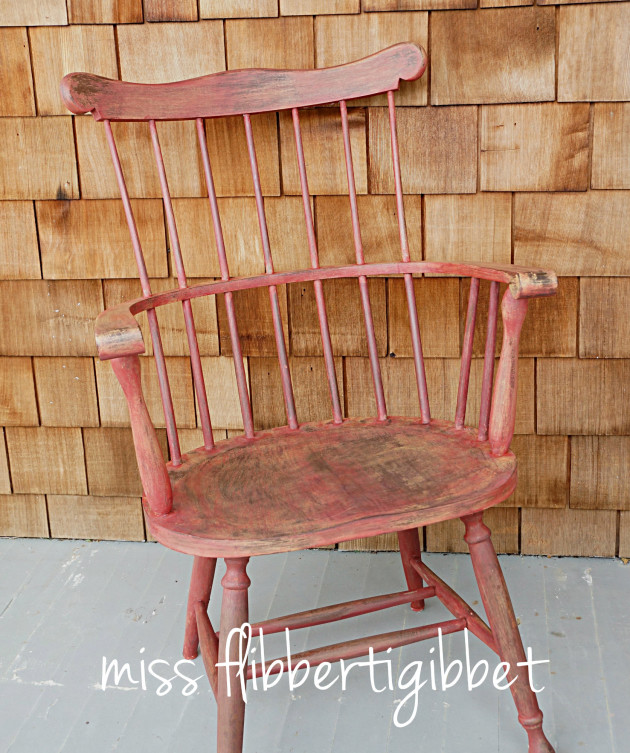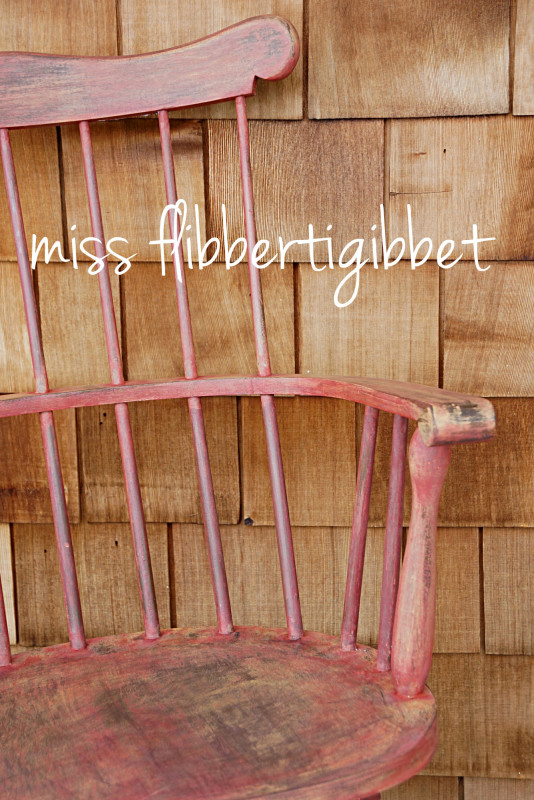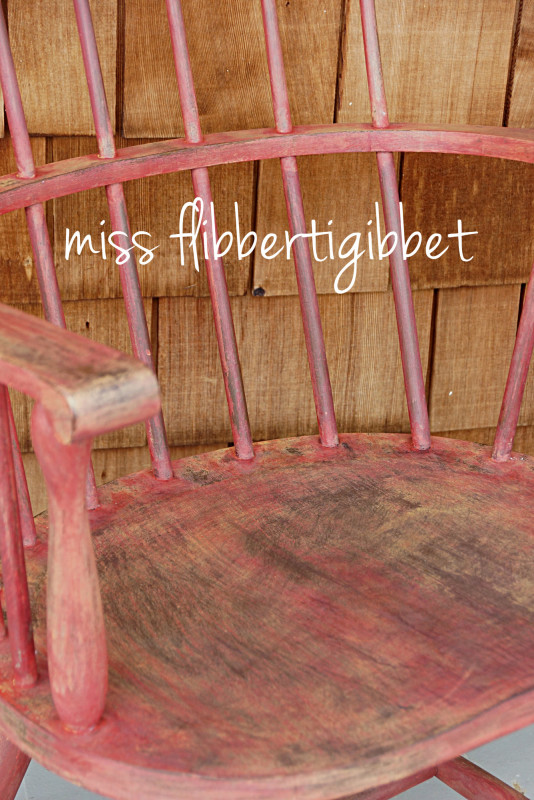 Improvement…you think?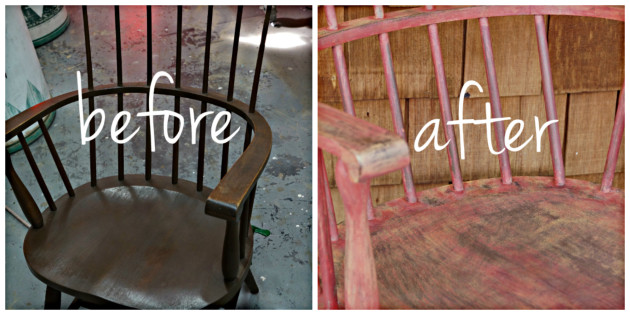 I am working with the new chalk/clay paint too……coming soon to a blog near you……maybe…..