I need to make a serious disclaimer here…
This post is NOT about Fall decorating….it's NOT…
I have some very dear friends out there in Bloglandia and they mean the world to me.
I worry about them.
About their projects..
About their families…
About their blogs….
About their health…..especially their mental health.
One of my friends went completely bonkers….I mean stark, staring, MAD about the FALL DECORATING that was  popping up in Bloglandia….
We had to talk her off the ledge…..where she was heaving pinecones at passersby and screaming
"IT'S AUGUST FOR GOD'S SAKE…….I AM STILL SWEATING!!!"
She's OK now….there's nothing a couple bottles of a nice cabernet can't fix…..but take it from me….it was touch and go there for awhile….
So, for my dear friend…..
THIS IS NOT A POST ABOUT FALL DECORATING…
It's a post about CONTEMPLATING getting READY for Fall decorating…..
I have these buckets of dried and drying hydrangeas all over the house….
I had to do something because I have company coming…
So I took some out to the porch and put them here….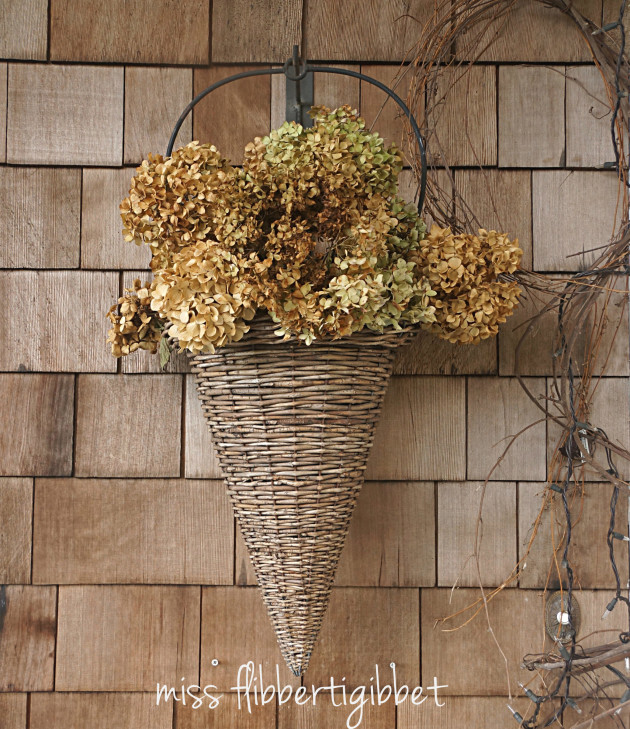 I mean…I can't help it that they look sort of like (whispering) Fall….right? They just dry that way…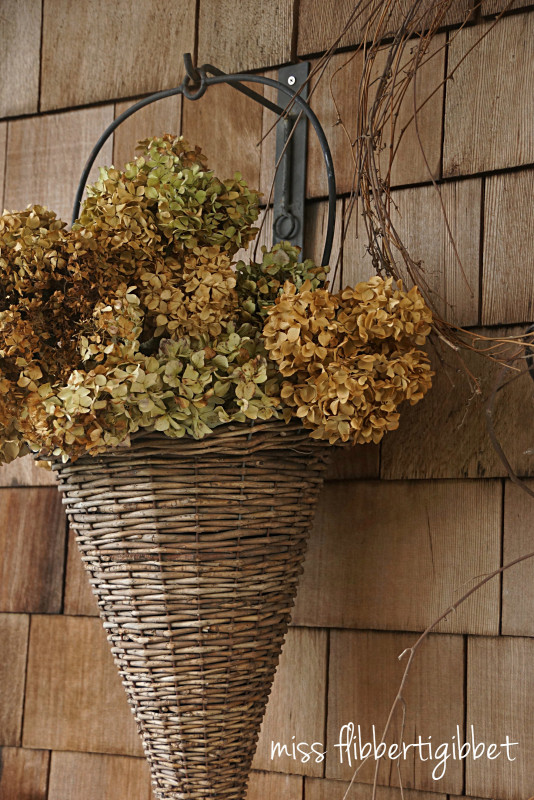 And the basket has been hanging there empty
since I took the Spring (it's OK to say Spring) flowers out.
I mean…what's a girl to do when she has 3 million dried hydrangeas?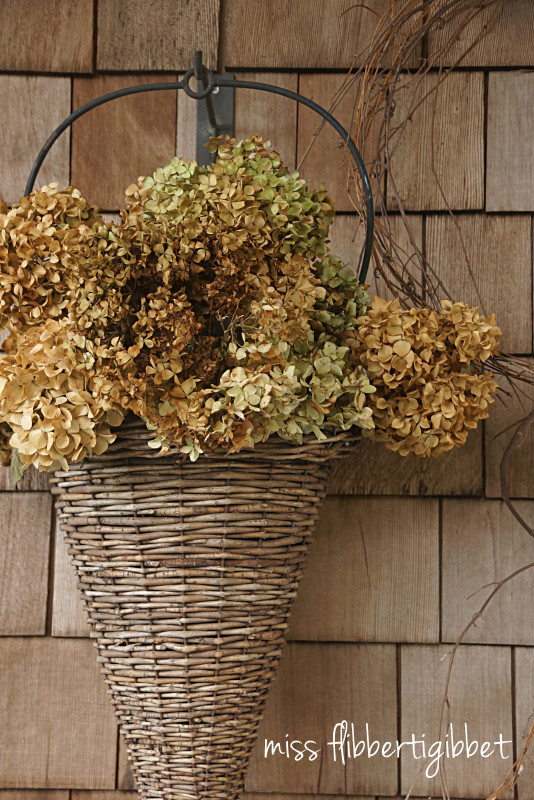 I also contemplated…CONTEMPLATED ONLY mind you….about adding more of this…..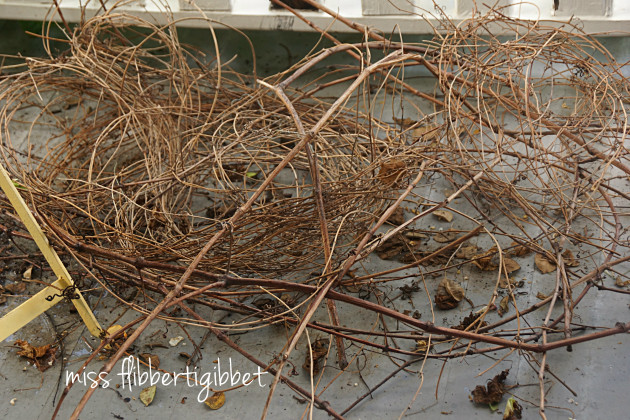 To here….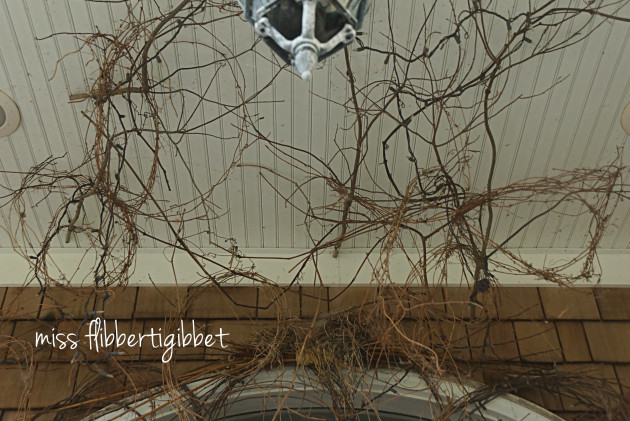 My crazy, above the door, branch creation….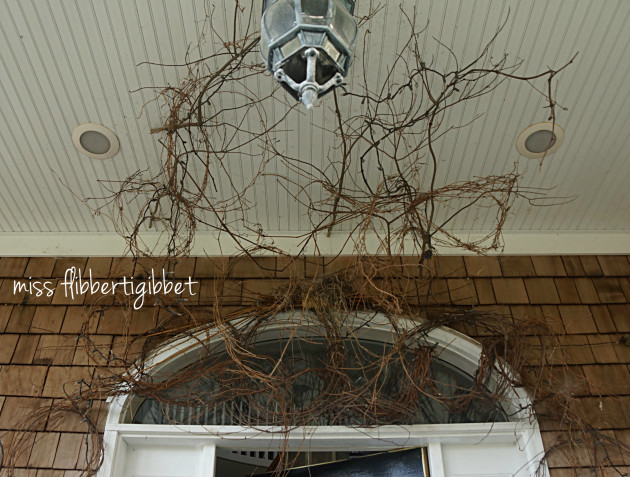 My husband ESPECIALLY loves this idea…..
There's something in me that loves this wild and crazy look when it comes to branches….remember my Fall mantel last year?
I need to expand on the theme….to allow MORE places for birds to build nests and s&%* all over the porch of course……
Sigh…the things we do for love decorating….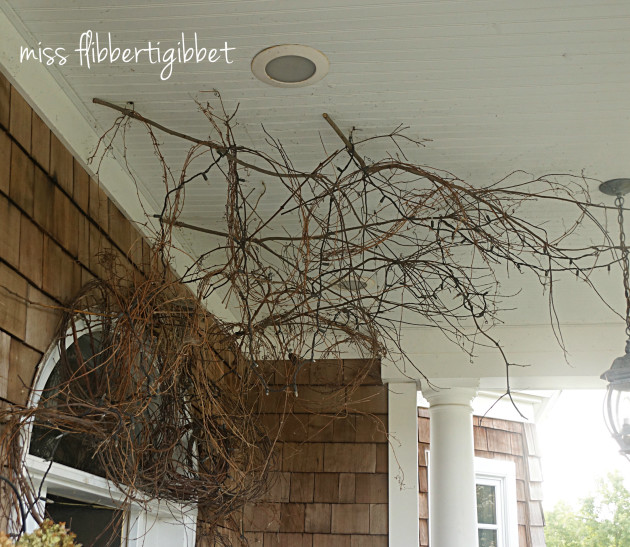 To further this insanity fabulous idea….I stop along the street, not only for trash furniture but for branches as well.
The poor kids are getting FREE decorating lessons while they live here……I mean who needs college when you have me?
M: There's one!!
Me: No…..(slowing down) it's not "branchy" enough…
M: OK…..How about that one?
Me: No…..(slowing down) it's a little too heavy….
Me: it's kinda hard to explain…..
Meanwhile…while all this fall CONTEMPLATING is going on, G is fixing rotted porch balusters.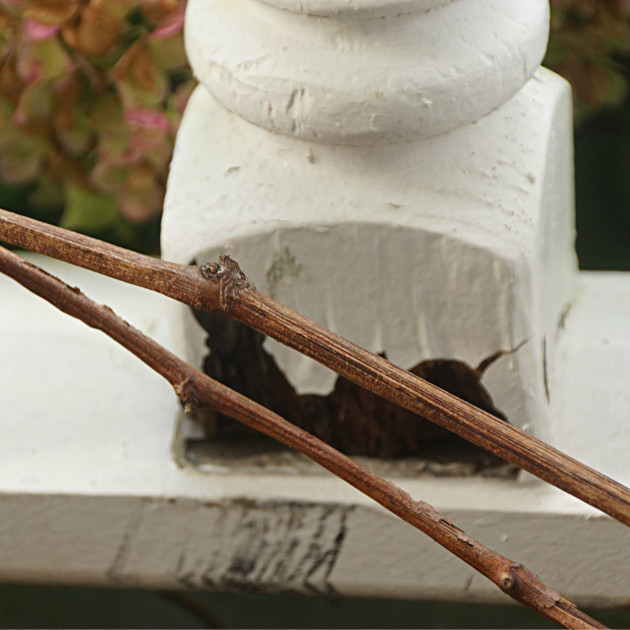 You don't have to replace this baluster you know. Do you know how to fix rotting wood? As long as it's not termites, I can tell you. Bondo…it's an automotive filler. It's a catalyst so you mix two parts together, it kicks off and then you spread it in…let it dry, sand it, paint it…….
This is the EXACT type of job G hates….so I stay out of his way.
It's tedious and "IT'S AUGUST FOR GOD'S SAKE AND WE ARE STILL SWEATING".
Sorry….lost my head for a minute there….
Anyway, the balusters look so nice all fixed and painted don't they?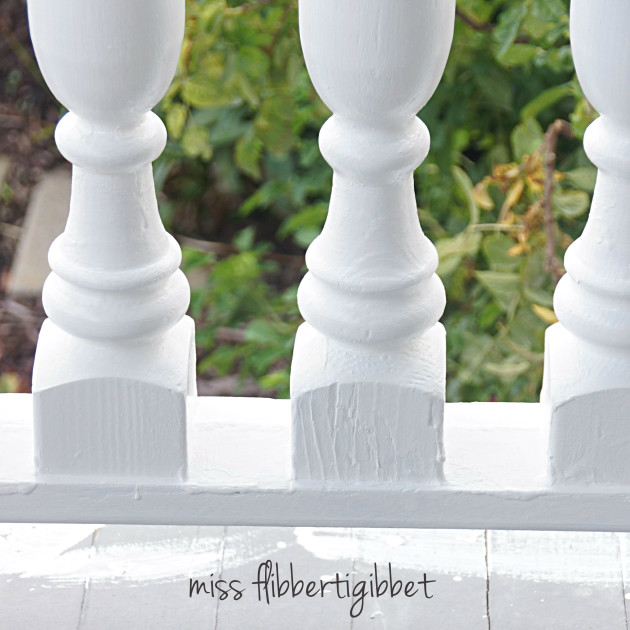 When I asked him (VERY GENTLY) about the paint all over the porch, he stared at me for a minute and said …
"I'm painting the porch TOO you know."
I'll give you the 2014 update here…..there were TOO many rotted balusters and G decided to tear everything out and replace it with that polystyrene stuff. I have to admit, it looks great. But, try the Bondo on a smaller problem…it works!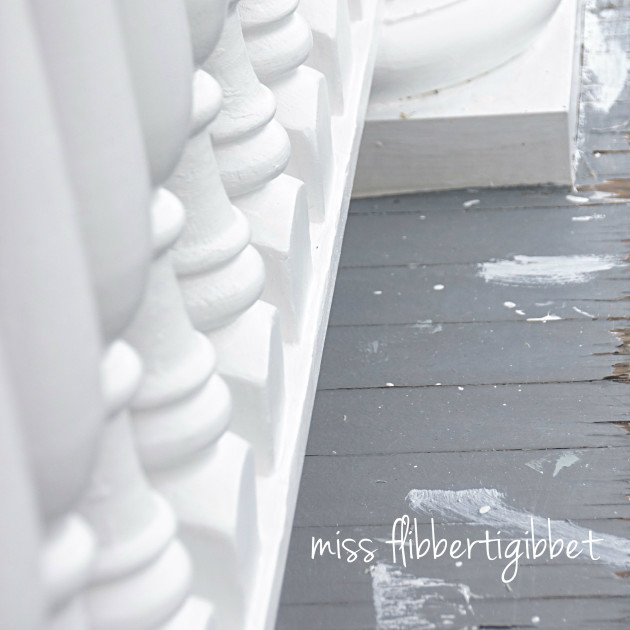 OK…OK…I just asked….
Back to Fall CONTEMPLATING for me!
One final piece of advice….if you're thinking about doing a Fall decorating post…..
Don't blame me if you get hit in the head with a flying pinecone…because I warned you!!
I'm just sayin'…..