My booth has been so full with the large pieces I finished for the Vintage Frame Of Mind show in September that I have not done much painting lately!
I sold that pretty Grain Sack drop-leaf table which made a bit of room but I still haven't been motivated to add another large piece.
Never fear…there are plenty of smaller tables and chairs to work on!
Today I have a pretty little table to show you that I did in Miss Mustard Seed's Milk Paint. (BUY HERE)
If you've never used MMS Milk Paint then this chipping effect might be new to you. It is one of my very favorite things about MMS Milk Paint. I love the vintage look I can achieve with this paint. Milk Paint is very natural and has been around for centuries. When applied to raw wood, it will go into the grain of the wood and create a very durable protection. The colonists carried paint pigments with them over from Europe and used milk to make paint for their furniture and homes after they arrived. Milk was traditionally used as the milk protein bonded with the pigments and "carried" the color so it could be applied evenly after mixing.  Finding an antique piece of furniture that has a milk paint finish is highly prized! Modern milk paint doesn't really have milk in it anymore and has been formulated to be easily mixed with water. When liquid Bonding Agent is added, it causes the milk paint to adhere well and this chipping, vintage effect doesn't happen as easily. With this table, I knew I wanted the chipping so I didn't use any Bonding Agent.
I used Dried Lavender over Linen. Just mix the powdered Milk Paint with water to the consistency you want. It can be mixed thinly for a "wash" or stain effect, or thicker to produce better coverage. Let it sit a bit to make sure all the powder is well absorbed, give it a good stir or shake in a jar. Add more water if you need to. You can store mixed Milk Paint for several days in a sealed container. Just shake the container well when you're ready to use it again. Add some more water if it has thickened too much and off you go again!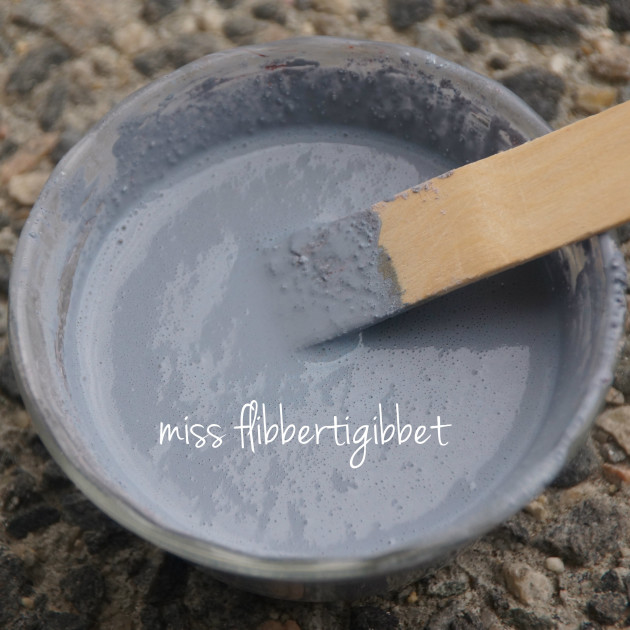 I started out with this vintage table from the thrift store….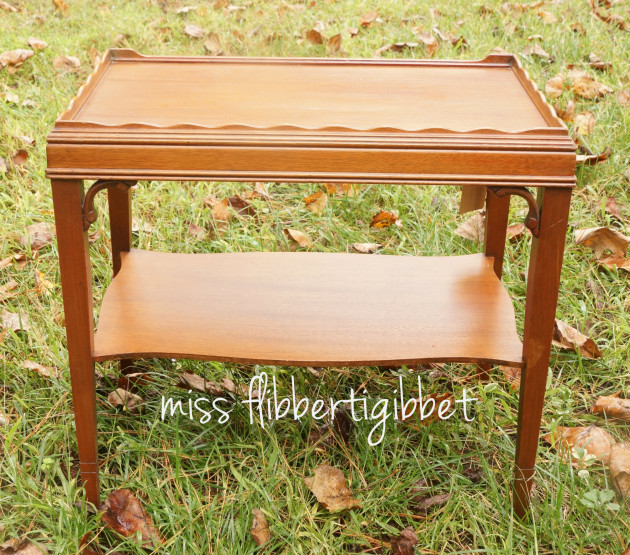 First I used Linen with no bonding agent because I wanted it to chip. I didn't sand the table either, just wiped it down.
After two coats and some scraping, this is what I had.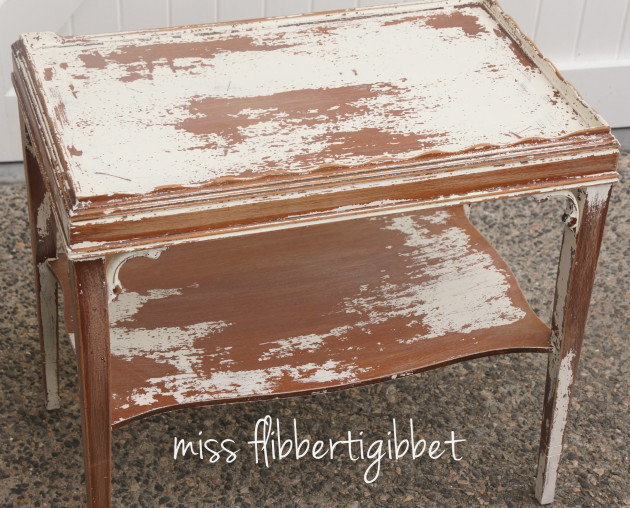 No fear….that's an important point with MMS Milk Paint….don't be afraid whatever happens! Just enjoy the ride!
I used a putty knife and scraped off whatever was loose. Then, before my first coat of Dried Lavender, I sanded the entire table. I wanted the Dried Lavender to adhere better and the sanding will help with adhesion….but I still did not add bonding agent. I wasn't worried if some of the Dried Lavender chipped off as well. I wanted some to come off and leave the Linen exposed.
Two coats of Dried Lavender, some scraping with the knife and….
Just what I wanted!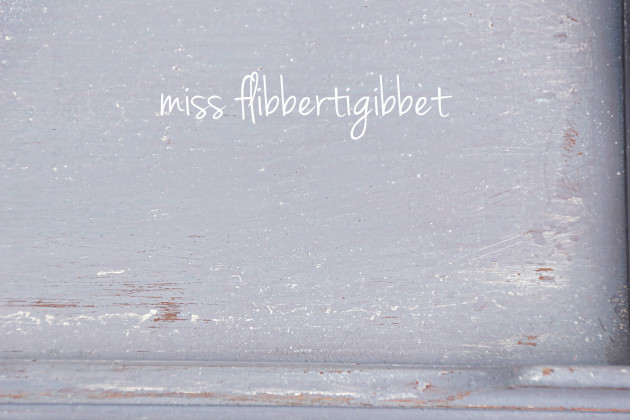 I had some of the Linen showing, but not too much.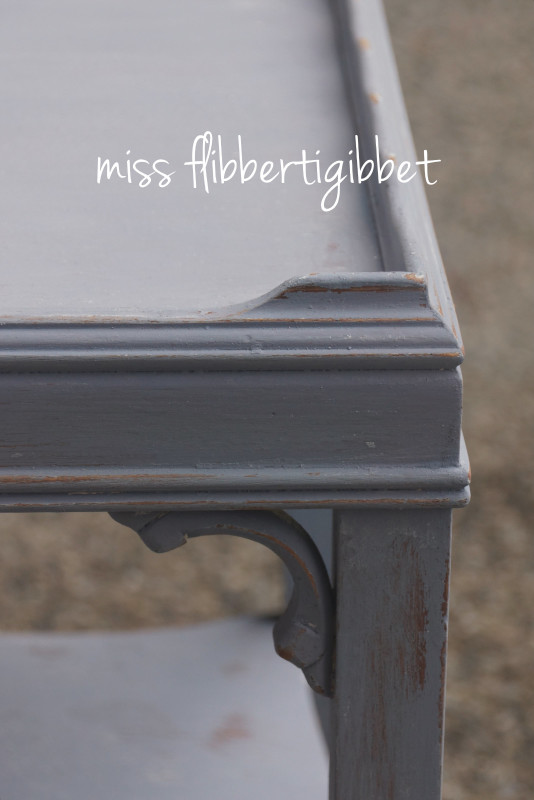 I added some Linen along the edge using a small artist brush.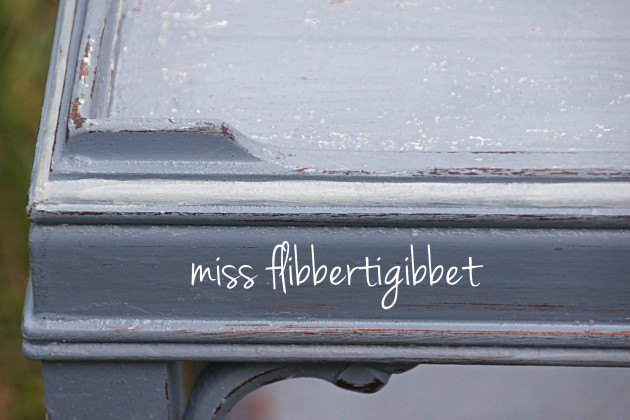 Once I was sure I had loosened everything….(more came off the next morning, especially in the corners of the table)…..I gave it a light sanding. Any areas where the white was almost showing became a bit more exposed but I could be more sure that I had gotten off anything loose.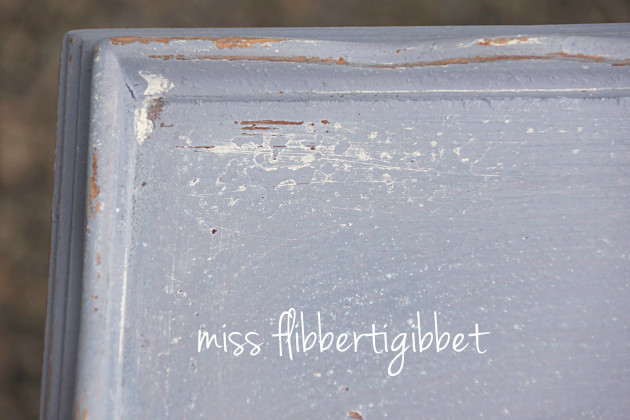 I used Hemp Oil over the paint. (BUY HERE) Just brush or wipe it on lightly, leave it for  a few hours and then come back and wipe off any excess. After wiping off any excess, I left it overnight and then did a second coat. Hemp Oil is a natural finish and very durable after it's cured. Did you know you can use MMS Milk Paint on your floors and seal it with Hemp Oil? The manufacturer of MMS Milk Paint, Homestead House, has Hemp Oil sealing their store floors! Hemp Oil is food safe as well and can be used on wood dining tables or countertops. I love using Hemp Oil to restore wood finishes. I use it inside all my drawers when I repurpose a chest. It really nourishes the wood and makes it look beautiful! MMS Hemp Oil can also be used over your favorite chalk/clay based paint.
This is the first time I have used the Dried Lavender shade and I love it!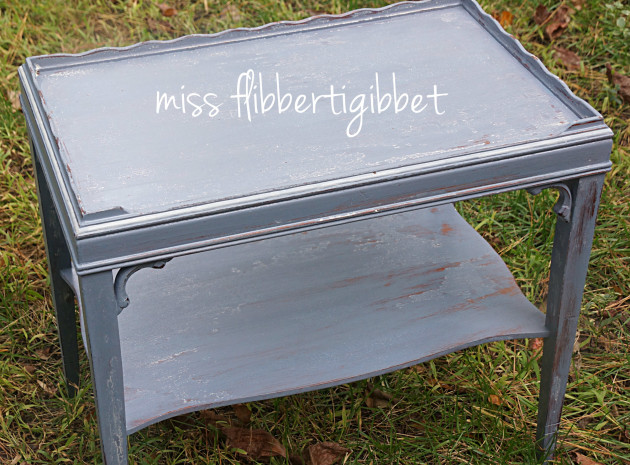 What do you think? I love how elegant this shade is!