I love roses. I have not been very successful with roses….but I love them.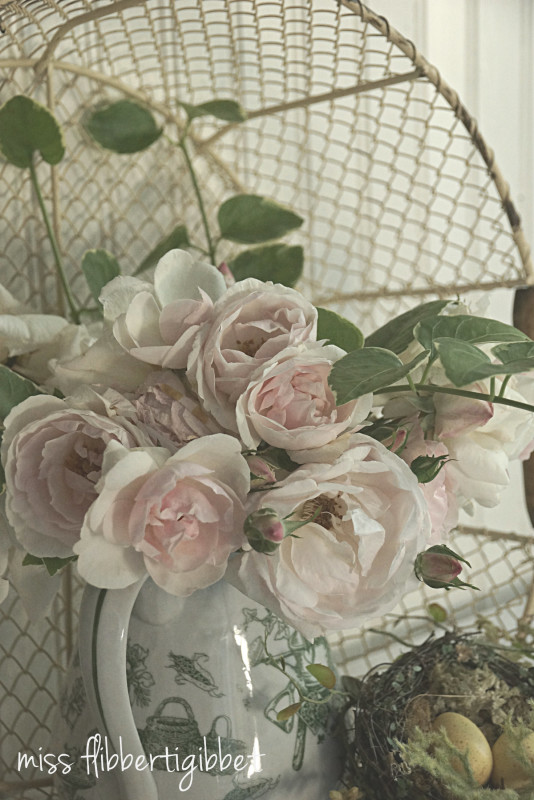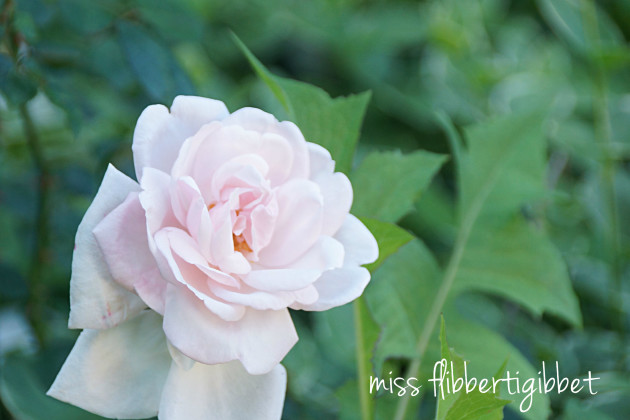 I have three right now. I lost a couple years ago and never replanted them…..I don't know why, I just never did.
One of my very, very favorite roses blooms every Spring.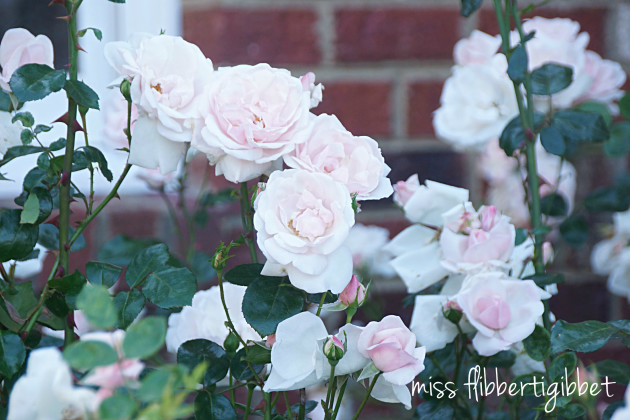 It's quite the showstopper when it's in full bloom.
Gorgeous, pale pink blossoms with a delicate scent.
It's an antique rose…..a rambler….so it's wild and uncontrollable….
like a teenage girl……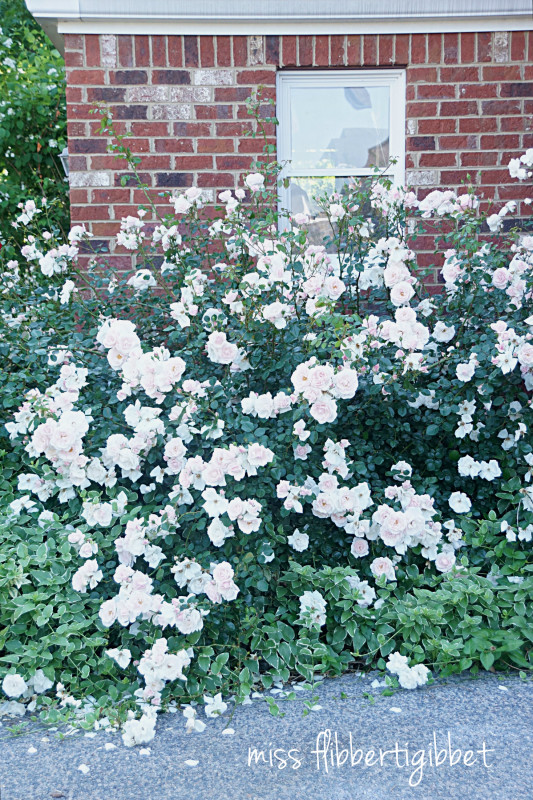 All over the place….thorny…..pain inducing…..
You want to make it submit, but it's almost impossible.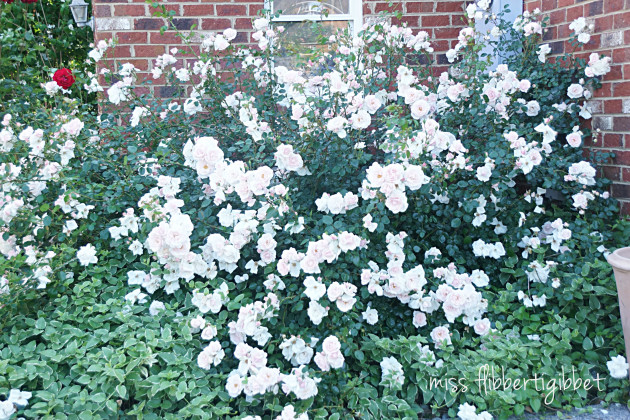 OK…enough with the metaphors…..
This is a rose that was originally a cutting from my husband's Grandma.
We call it "Grandma's Rose"……apt, but not very accurate, I'm sure.
It was his great-grandmother's and was clipped from her yard by his mother, who then passed it to me.
I await it's appearance every year at the head of the driveway.
As I pull in to park….it's just stunning….right in front of me. 
It resembles a New Dawn……but I think New Dawn is classed as a climber. The difference is pretty simple.
Ramblers bloom very intensely once or maybe twice a year. Climbers bloom continuously through the season. The way to tell them apart is also simple. Ramblers have groupings of 7 leaves, while climbers have 5.
Ramblers can get VERY out of hand too while climbers are more easy to control.
The flower is similar in appearance….just different growth.
See how the canes are long and arching downward? This rose sends out multiple, quick growing, long canes which are also very thorny. I don't do one single thing for it…except try and beat it into submission.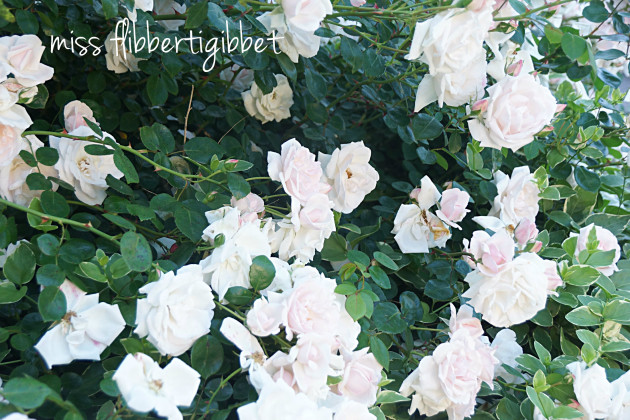 My husband hates this rose. And, he's not ashamed to teach others to hate it. Now the kids hate it.
I have it in a contained bed bordered by the shed/garage/drive/walk…
That's the only thing that has saved the life of
HIS OWN DEAD GREAT-GRANDMOTHER'S rose……seriously.
( in addition to my threats of removing certain parts of his anatomy with the SAME clippers if he touches it…..)
Every time he goes past, it snags his pants or rips open his leg.
I have the same problem but I'm a tenderhearted soul and I just yell %$&* and don't take it out on the poor plant.
Not my husband. I wish I had taken a picture of the time he furiously hacked it almost to the ground…..
…..while I was gone of course…….coward…..
I pulled up in the driveway and cried. He assured me it would grow back.
It did….just not that year.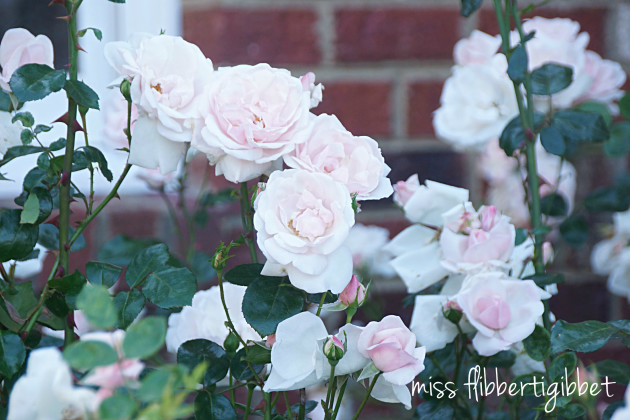 I knew I had to do something to save this rose from almost certain destruction.
While it was smaller, I managed to wrangle a round, aluminum patio table with no glass top around the base of the rose.
This will take a vivid imagination for you to picture the next step.
Table around the rose…got it? Then I PAINFULLY pulled up several long canes through the top and over…so they draped over the top rim of the table…got it?
Then I PAINFULLY cut away most of the remaining canes so I could….
(wait…I have to pee, I'm LAUGHING so hard)
CONTROL this thing…got it?
That was LAST SUMMER……
As you saw in the previous pictures…it worked SO WELL……ai-yi-yi……what can I say? I love the rose.
It's gorgeous…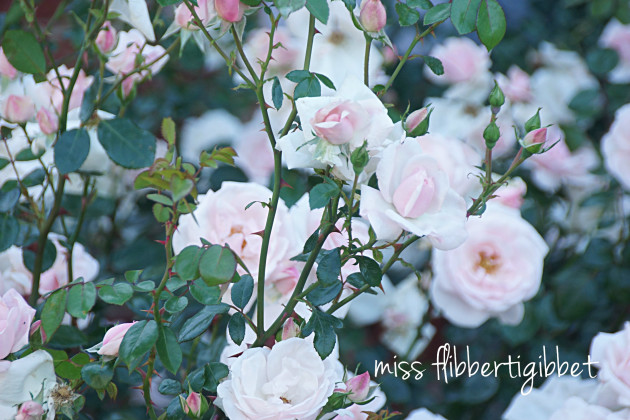 I was clued into a wonderful rose place by an old friend who is also a lover of roses. It's called the Antique Rose Emporium. You can see it online here and also send for a catalog. Antique roses are not so delicate with all the pruning, spraying, diseases, etc that make people scared of roses.
They've survived, often totally uncared for, on abandoned farms, homesteads, plantations, etc for years. This company finds old roses and then cultivates them for sale. Wonderful place…check it out.
I had three roses from them when I moved in here 12 yrs ago. Two have died….evidently they are not beyond being murdered by a dedicated gardener like me…. one of them, Mme. Alfred Carriere, has survived. It is a Damask climber…..Damask being a great favorite of mine…..and it blooms often into January.
It's on my front porch trellis. I searched for a picture of it in bloom….I know I have one….somewhere….sigh…
There's a pic in the Home Tour but it's not in bloom so I didn't include it here.
I also had two others which were gorgeous and smelled DIVINE…
Souvenir de Ma Maison and Cecile Bruner
They are still sold by the Antique Rose Emporium. They add more roses all the time as they discover them.
Maybe I should send them pictures of this rose?…they could identify it for me.
But even if I find out the name, old habits are hard to break……….
I still say, "look  in the fridge" (for Fridgidare of course) and not "look in the sub-zero"…..
I'm sure we will forever call it….
"Grandma's Rose"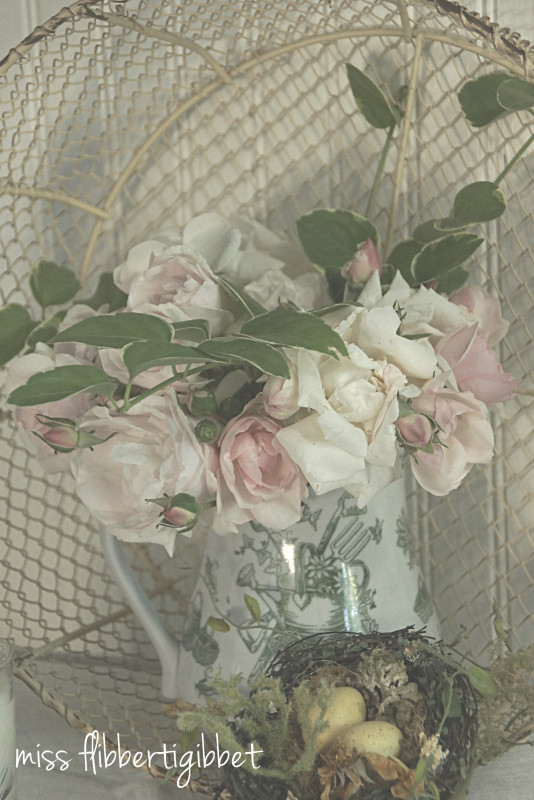 But it might be nice to know……