Are you a reader? I mean a READER? Someone who can leave the library with 6 books, confident that they will be read and returned on time……? THAT kind of reader?
I sure am. Before blogging and before kids, I could devour a couple books a week….easy. Now? Not so much.
But, when summer comes and I head to the beach with he two remaining kids, I always have a book with me and I finally get to read. The two are boys AND they're old enough to pack their own lunch….and eat it by themselves too….Summer reading is sometimes different than other times of the year…..trashy and gossipy or quirky detectives are always fun.
My friend Kirby of Kirb Appeal is not only  a reader but a writer! How cool is that? She has a second blog…..crazy as it seems…dedicated to writers. She does interviews with writers….like people that have written actual BOOKS….not like me, a blog writer….totally different animal!
Today  she has a REALLY well known writer! One of her BIG characters is a female detective who may or may not be quirky….
FUN reading!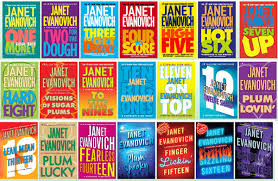 Janet Evanovich….check it out here.…
See you next week with a return to life as I know it!
Hope you're enjoying your summer!