OH EM GEE!!!
I have fallen IN LOVE with this new shade of Miss Mustard Seed Milk Paint!!
I can't imagine why….
My desk….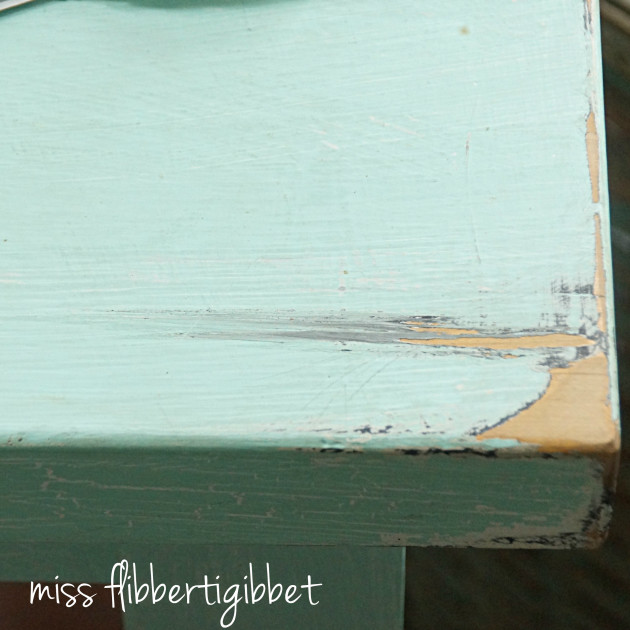 My refrigerator…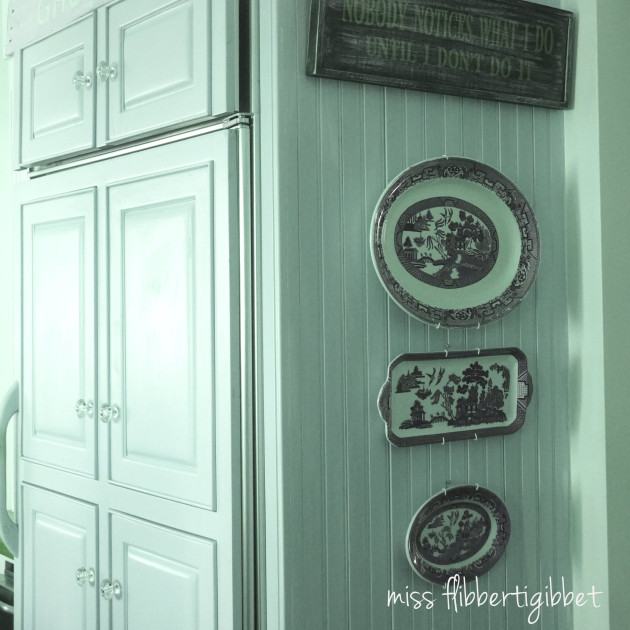 The walls in my studio….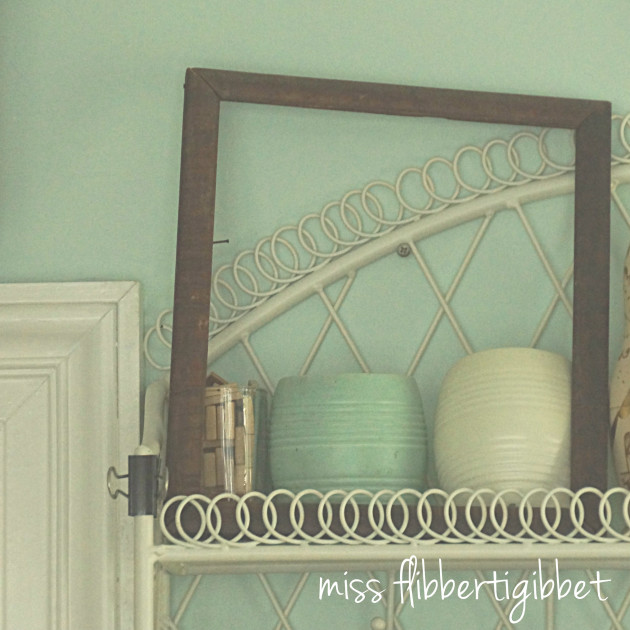 It was meant to be…..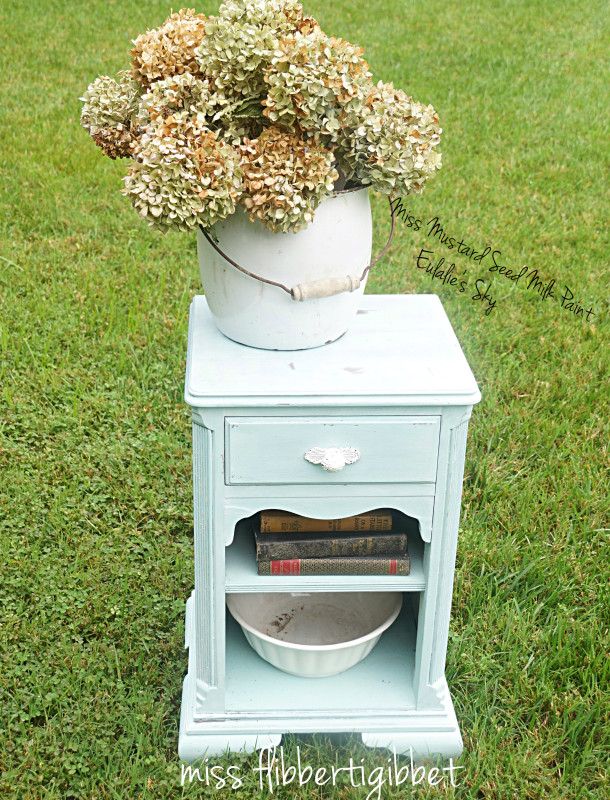 Oh yes…..fate stepped in and I was a goner…….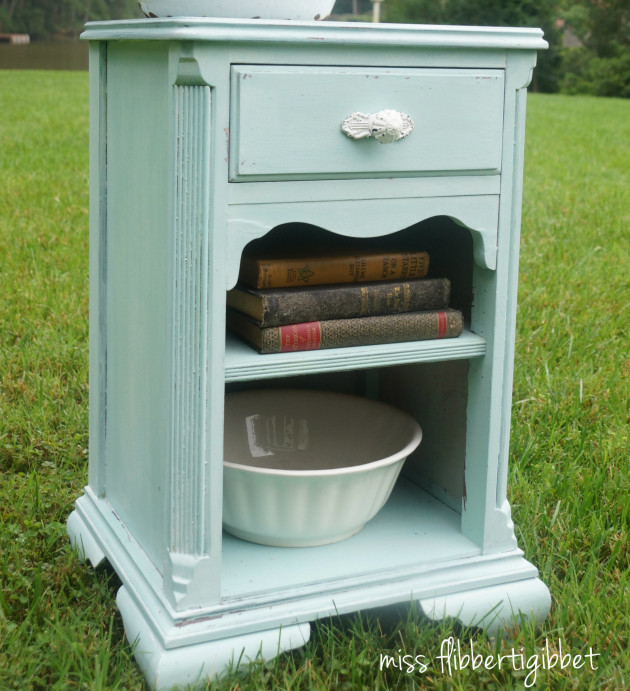 It started with a plain, brown, vintage mahogany nightstand I found at the thrift store…no picture…sorry!
I sanded it all over and then applied a coat of Typewriter with bonding agent. My plan was for some black showing through. Taking a picture of the totally black first coat turned out to be pretty pointless so I don't have that to show you.
I had some little lumps in the coat of black so after that dried I got my handy, all purpose tools of the trade out….scraper, scotch-brite…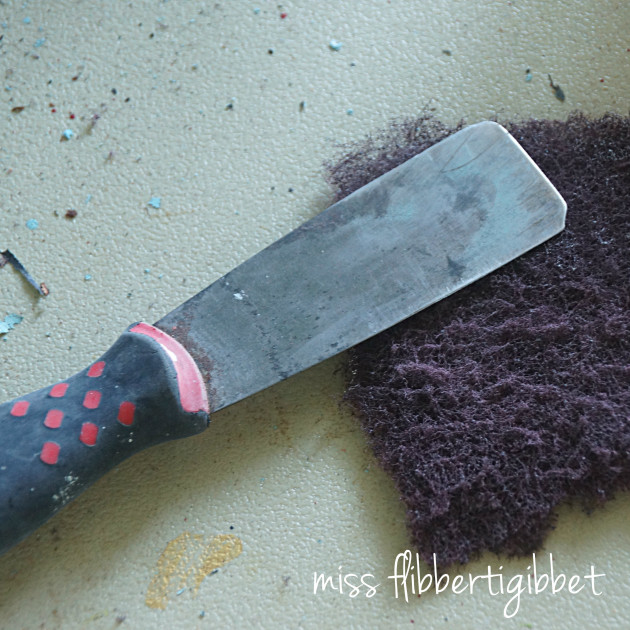 I used these a LOT….I scraped some of the chips off but didn't really have much chipping result….which was good. I wanted the black to stay on. I gave it a light sanding with the scotch-brite. Now for the pretty part!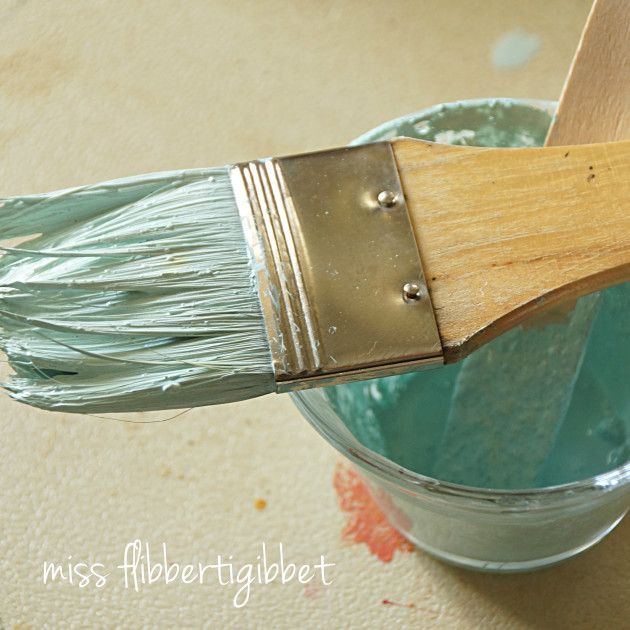 One coat all over…..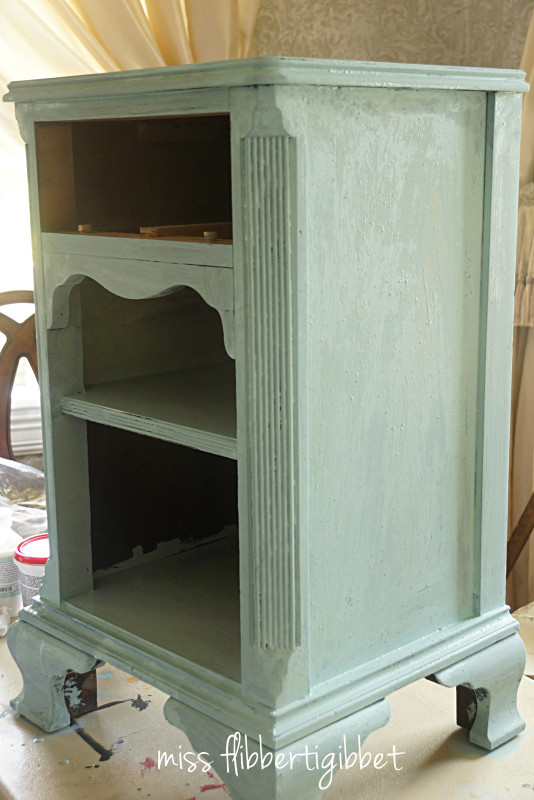 It's still wet here….see the lumps? I am hoping at this point to get some chipping and see the black. All those lumps should pop off with the scraper. I didn't want an excessive amount of distressing, which is why the first coat has the bonding agent.
I was really surprised when this happened on the top!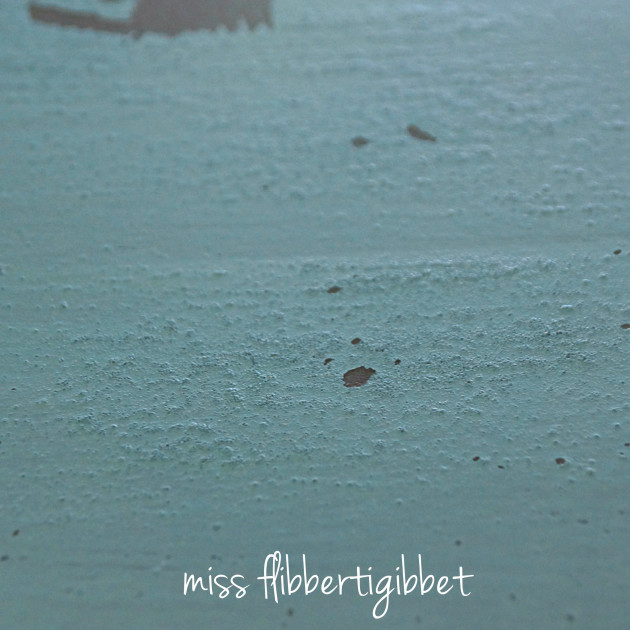 I had this alligator effect! I knew it wasn't under the black coat because I had scraped and sanded before applying the Eulalie's Sky. It's a good way to avoid nasty surprises. You can see that I have scraped and chipped off some lumps and even gone down to the wood where the black didn't hold…..but only a little.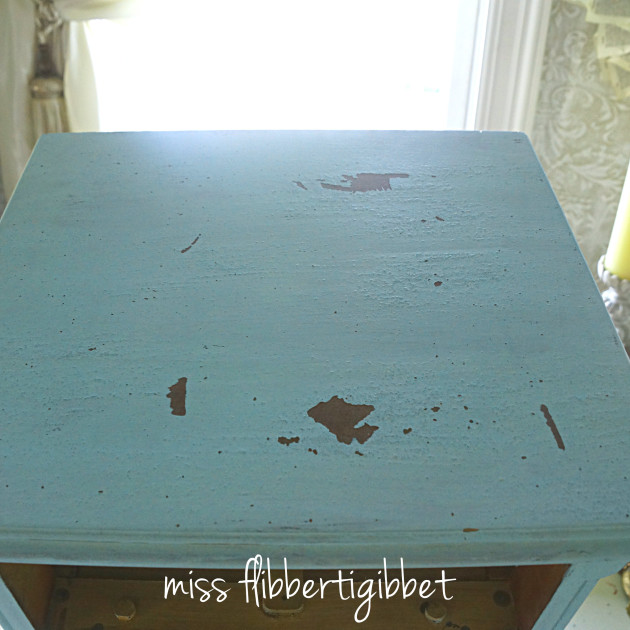 That was OK with me and I was LOVING the texture I ended up with.
This is one of the hardest things for new MMS Milk Paint users to get comfortable with…..the unpredictability. We tend to want to control things but this paint is not going to submit to our control!! I don't particularly mind it because I have spent my life working with children, I'm a gardener, I love to bake and I shop at thrift stores……I have PLENTY of unpredictability….what's one more thing??
Back to Eulalie's Sky (I mean, what a cool name is that?)…..I scraped off the lumps and got some random small chipping…..just perfect!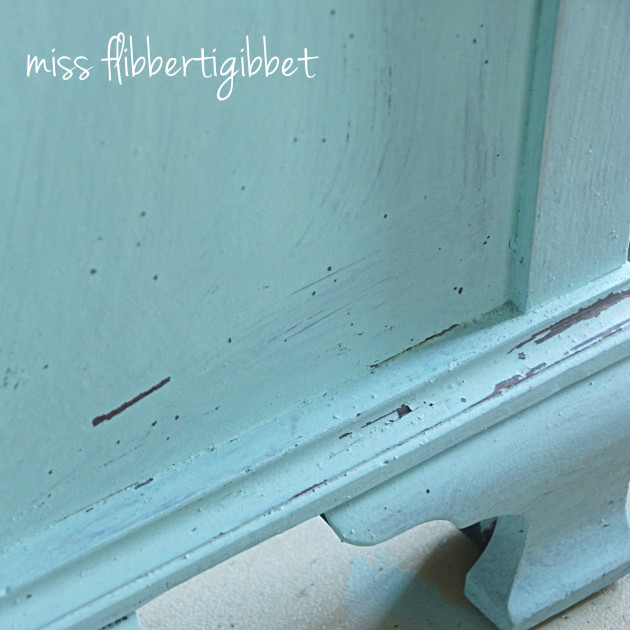 This is one coat…..I scraped and then sanded and then did a second coat. Anywhere I had already scraped or chipped still didn't stick so I ended up with the same result. I like to scrape after the first coat because…again…I can see what is GOING to happen. ONLY if I am comfortable with a REALLY chipped and distressed look do I just go ahead and apply all my coats. I have to maintain SOME control!!
The MOST fun part though, was using the White Wax!! I had tried the White Wax at Haven and loved the result. It gives a look similar to a glaze but with a more even ability to apply a smooth, even coat…..no brush strokes. Now, remember that top and all the alligator, bumpy, chippy stuff happening? I sanded it first, then applied White Wax to half so you could see the difference.
Poor picture because the bright light from the window had faded and I had to turn on the overhead……but, I edited it a bit and you can still see the difference although the color is off….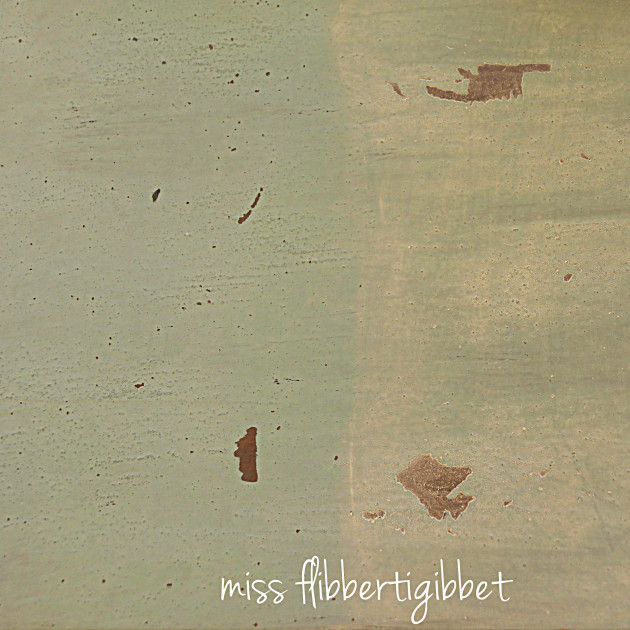 Using the White Wax is akin to applying a straight dark wax….a bit scary! It REALLY grabs those cracks, bumps and marks. I did two coats and sanded between with the scotch-brite. Then, I finished off the top with a coat of the MMS Furniture Wax.
The White Wax softened the whole piece and gave such a pretty result! I really can't wait to try this over another color!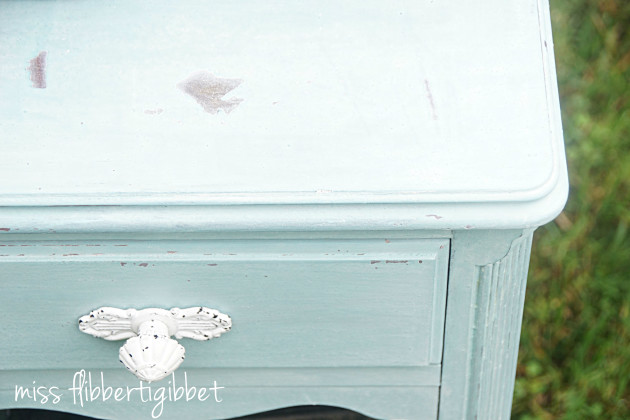 I added a new drawer pull I found at Hobby Lobby. it was really perfect for this piece!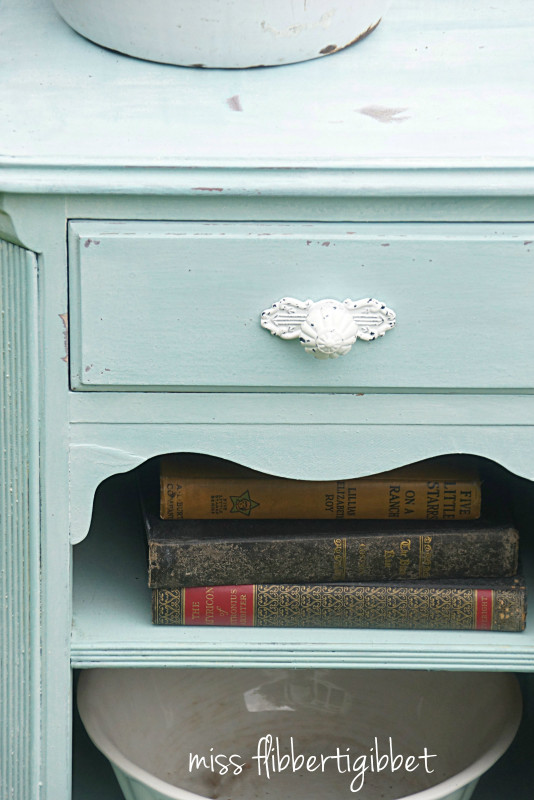 What do you think of Eulalie's Sky??