I have been SO out of it since this market last Friday! Sorry it took awhile to post some pretty pictures for you to see.
I was working like crazy to get ready…cleared out the mess for Thanksgiving dinner and then dragged a bunch of stuff out to finish up on Thanksgiving night. Thank goodness we could set up on Wed or it would have about killed me!
Unfortunately, the business was not good and I sold almost nothing.
On the up side of that…..I'm ready for the next show on Dec 13th and 14th!!
This is only the second show I've done and it is a learning curve for sure. My goal is to get noticed which (I hope) will spread the word about the Miss Mustard Seed Milk Paint and the style of decor I offer in my shop. At this show I did meet a couple ladies who had bought from me in September and bought again last Friday! The only sales I made, but they were very complimentary and said they would see me in December. If they like my things, maybe they'll spread the word a bit!
Here are some pictures…..
The venue was Sanctuary Vineyard in Jarvisburg, NC. I never knew it was there and was very surprised at how nice it was! Their wine is produced in limited quantity and they only sell locally so it's understandable that I had never heard of them…..even though I'm SUCH a wine connoisseur (snort).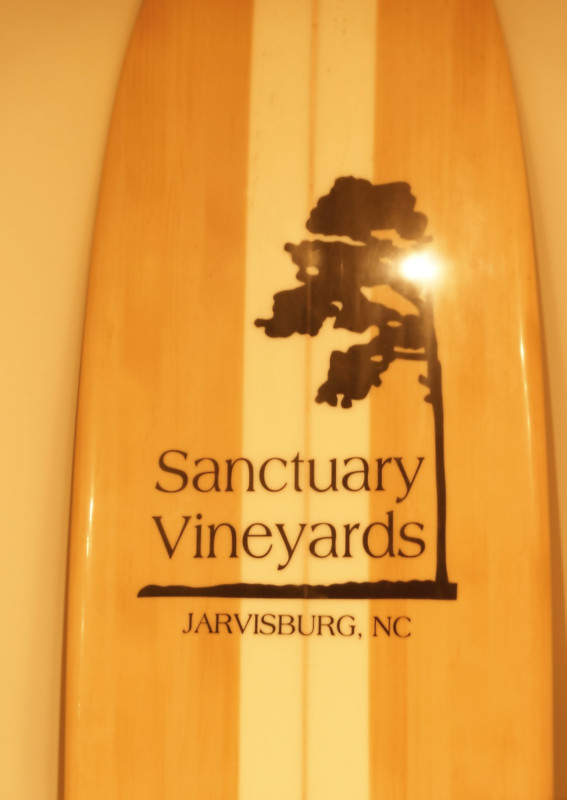 Not to stray far from the fact that they are in the Outer Banks area of NC….the name is painted on a surfboard! What else?
They host many weddings there, I was told and have several areas used for large gatherings.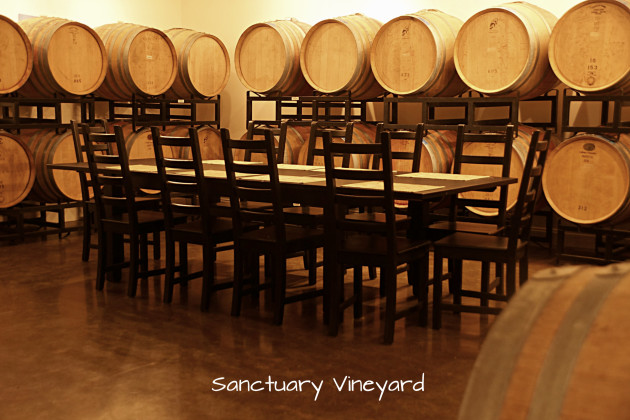 There is a gorgeous, curved, copper topped bar for wine tastings or to serve for cocktail parties and weddings.
The day we were there, these wines were available for tasting.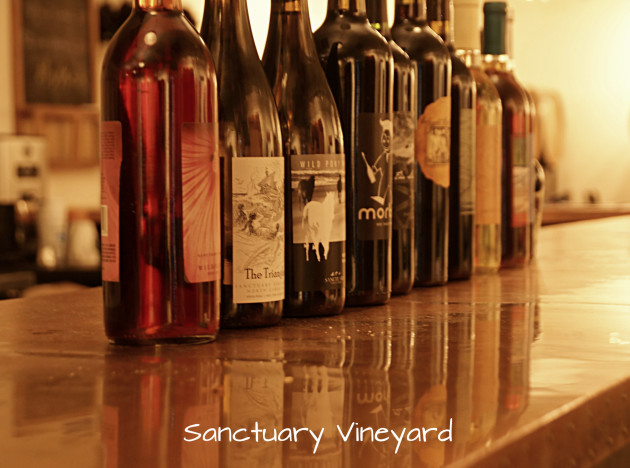 This guy was a real "corker"……..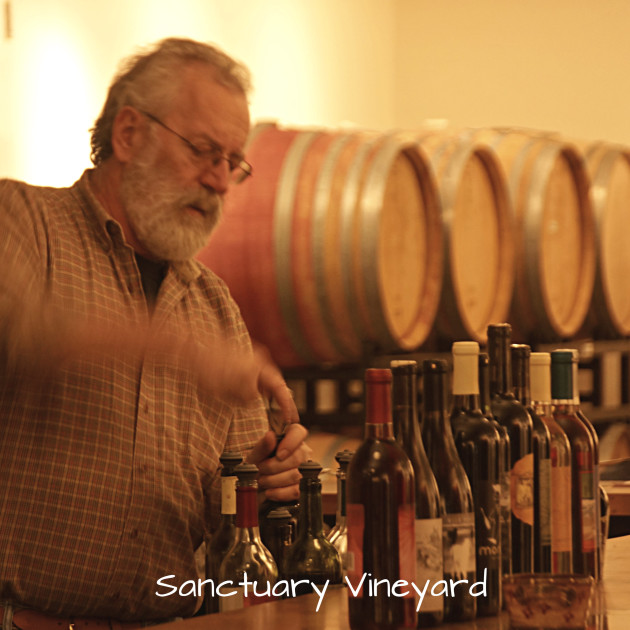 Sanctuary Vineyard is decorated very well. Nicely modern without being cold. Convenient tables to sit and sip……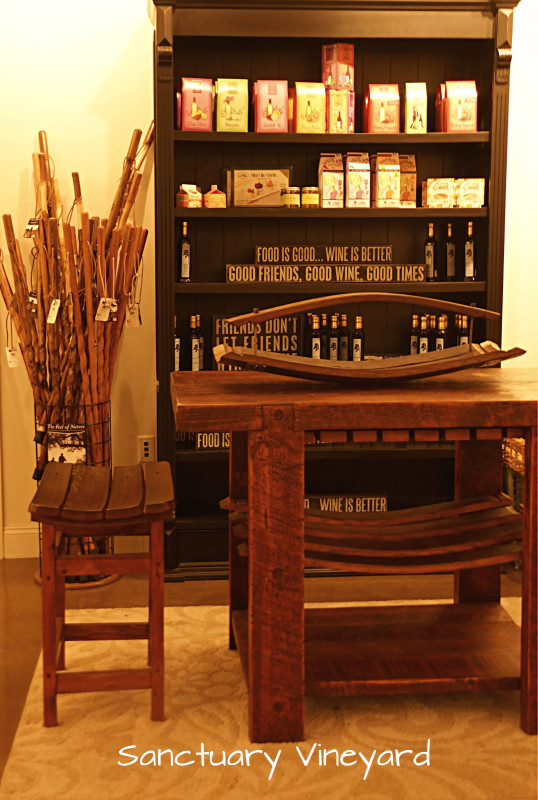 Racks of wine to purchase…..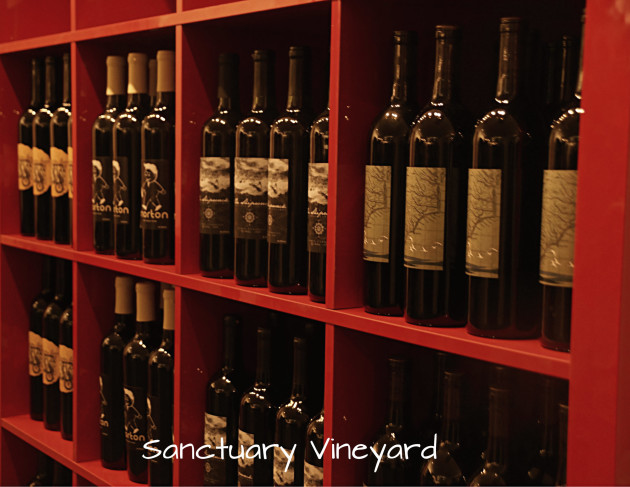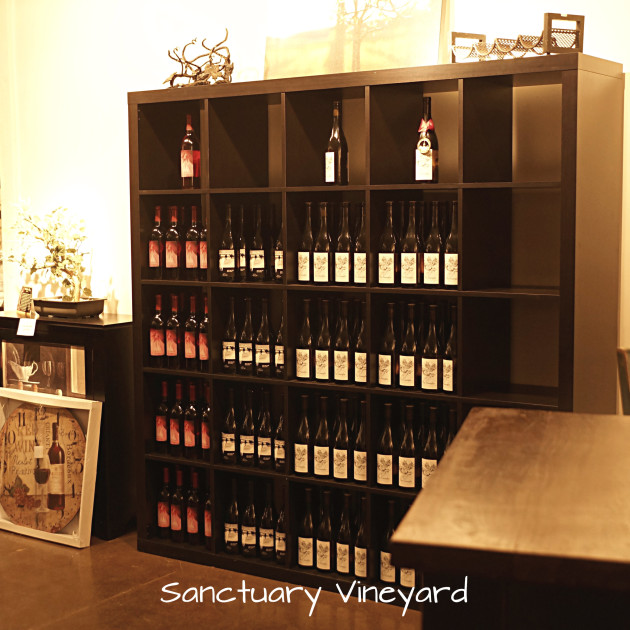 And a very nice gift shop out front……..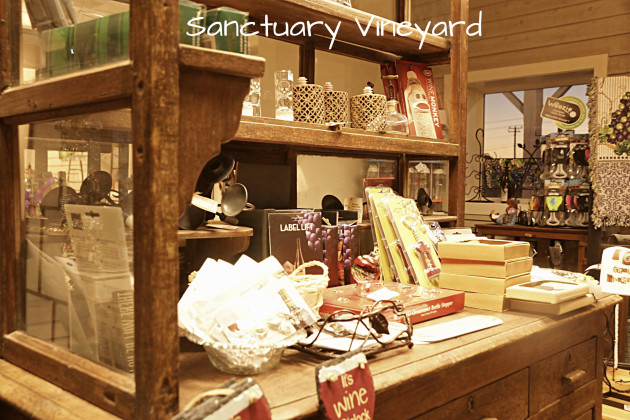 I love how they used old furniture for display pieces.
And the barrels displayed in the tasting area were such a nice touch….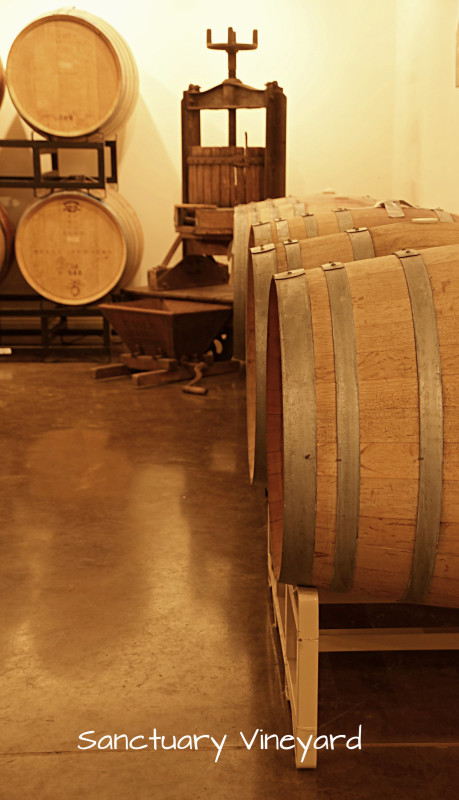 The Vintage Frame of Mind show was held in the warehouse where the processing vats are.
Kim Metcalf, our dedicated organizer, did such a great job with the decor! Her husband and son are always there helping. Her husband even put on a Santa suit and hung out along the highway trying to drum up business for us!
This is the entrance….look at the cute package display with the trucks holding small Christmas trees! I love that!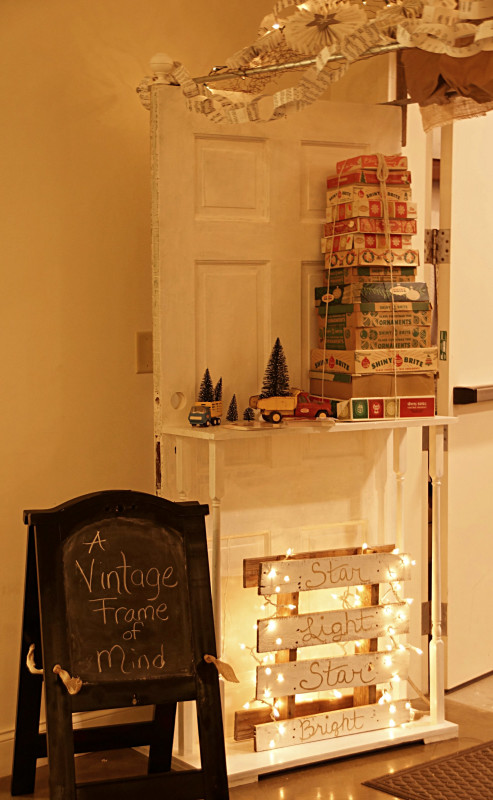 Above the door, she had a canopy made of chicken wire and covered with lights, paper garlands and pinwheel festoons…….
I've decided this idea is perfect for my shop since I don't have room for a tree….so I'm stealing it……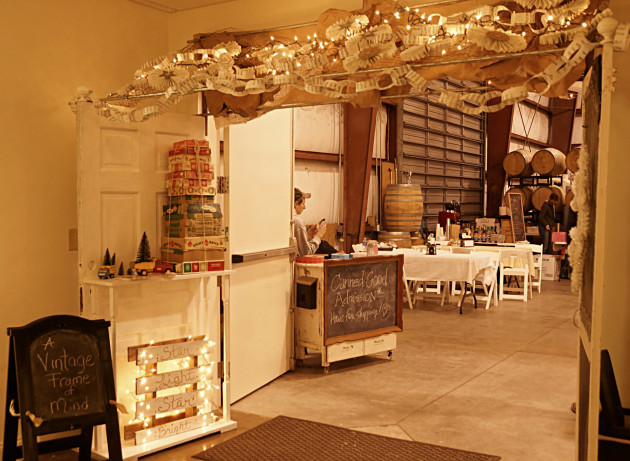 I love Kim's portable front desk with the big chalkboard too!
There were several great vendors….I don't have pictures of all of them but here are a couple….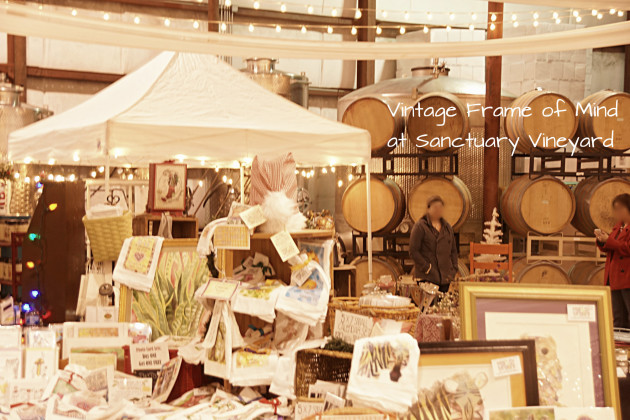 You can see in the background…more casks and big stainless vats……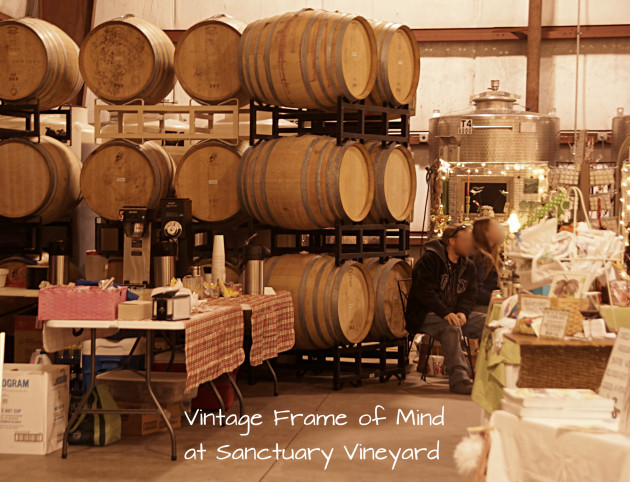 I had a slight advantage in placement. Kim needed a tree and I brought a white one so I was near the front door with a bit more room to spread out due to the tree.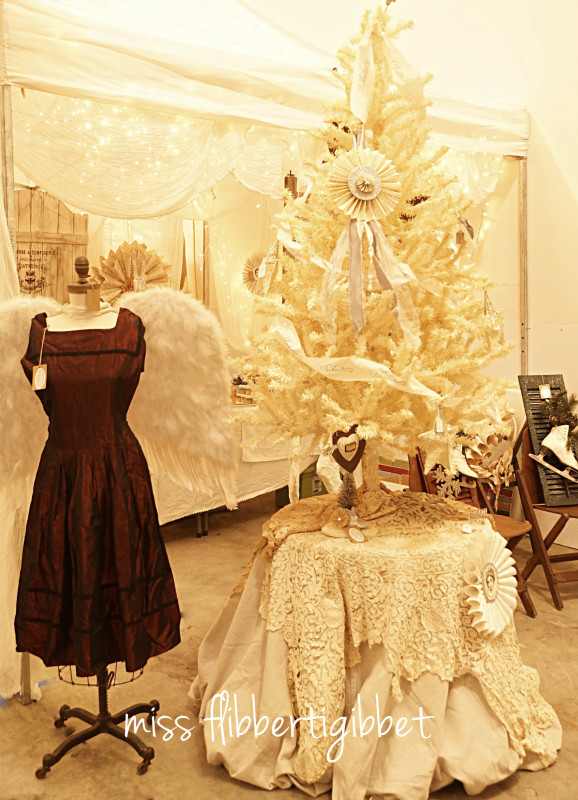 I even dragged Coco down there to wear a vintage taffeta dress….however, she has obviously been sneaking some Christmas cookies because she couldn't fit in the dress! I pondered that problem for a bit and then taped it at the shoulders and tied it around the waist with string….it worked fine.
I found this tree a couple years ago at the thrift shop! I think it was $15…..it is just gorgeous when it's decorated!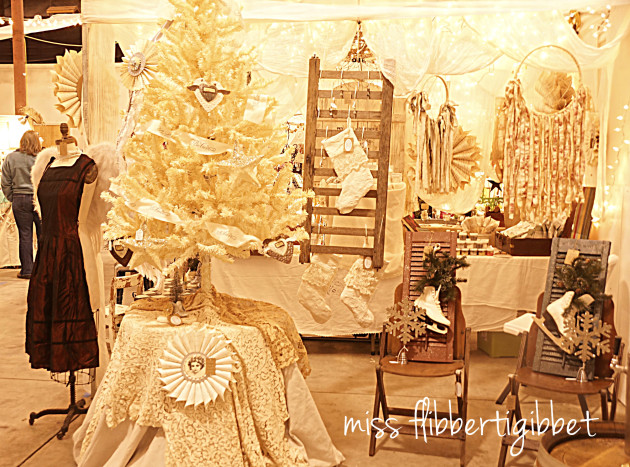 This is the side of my booth. I had a great time decorating it! The September show was outside and VERY windy so I couldn't really do much decorating. I had a great time doing this last week! And, now I have a plan for the next show….no need to figure anything out next time!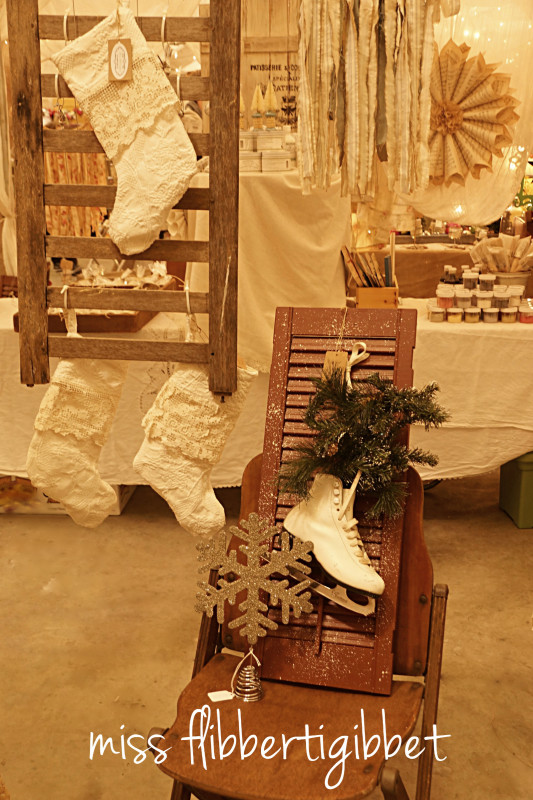 I made some door decor from shutters and vintage skates, stockings from a vintage bedspread and antique lace, found these tree toppers that were covered in German glass glitter and had a set of three antique wood folding chairs.
Here is a shot from the front…..it looks pretty empty I guess but I wasn't going to drag any large furniture down for a one day show….I was by myself for this one so it was too much. But, it was still very pretty I thought!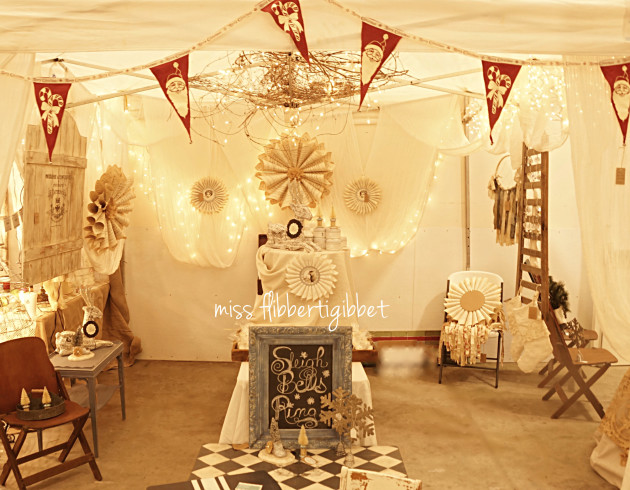 You can see I made wreaths from antique French books and music and also had some rolls of tree garland made from muslin and stamped with "Believe"…..
I took MMS paint, wax, hemp and bonding agent with me. Most folks had never heard of it so I was able to tell them about it, hand out some color charts and talk about the shop and classes a bit. That's a good thing.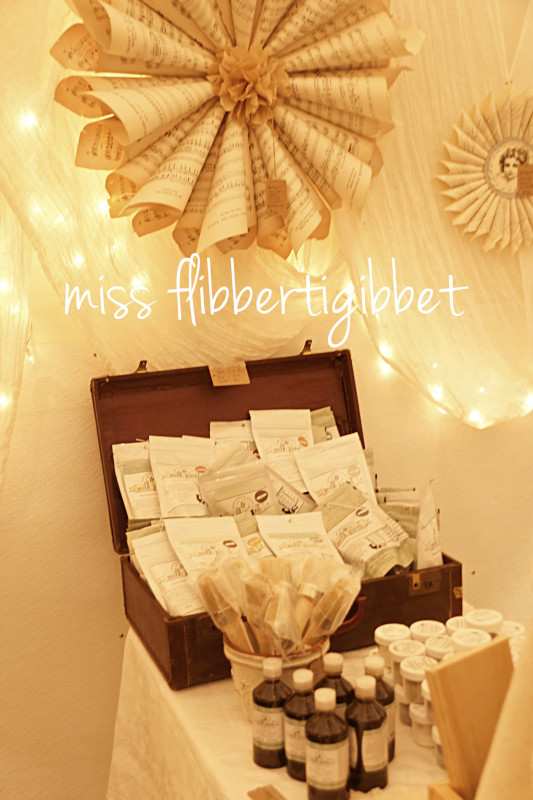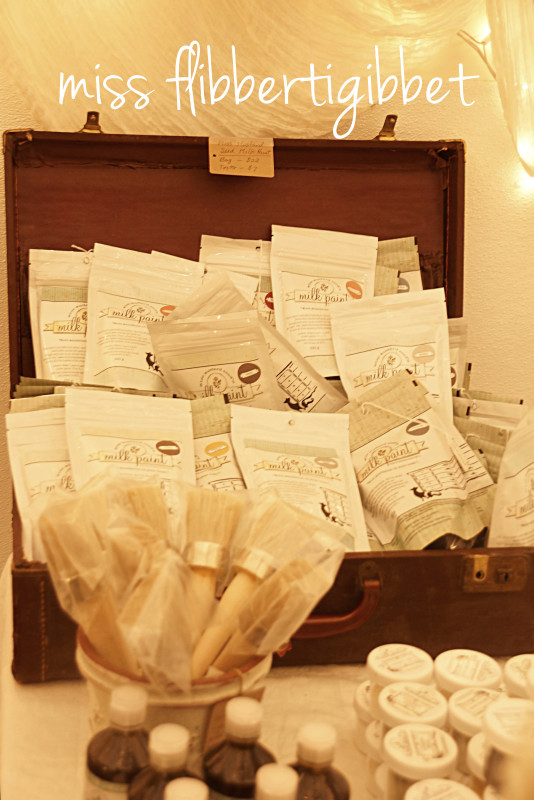 I made a lot of smalls for this show….time consuming, but I wanted to have things under $20.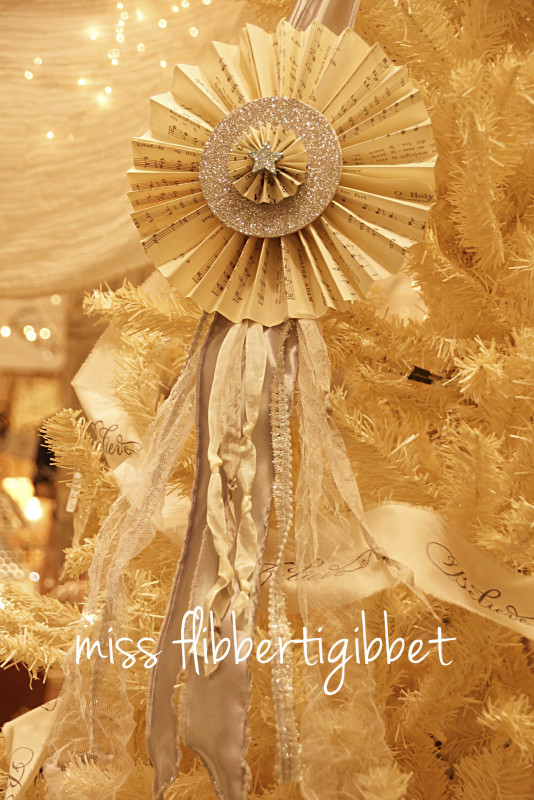 I also had some things I had found to sell…..like these tin hearts and the raffia stars. You can see the tree garland in the picture.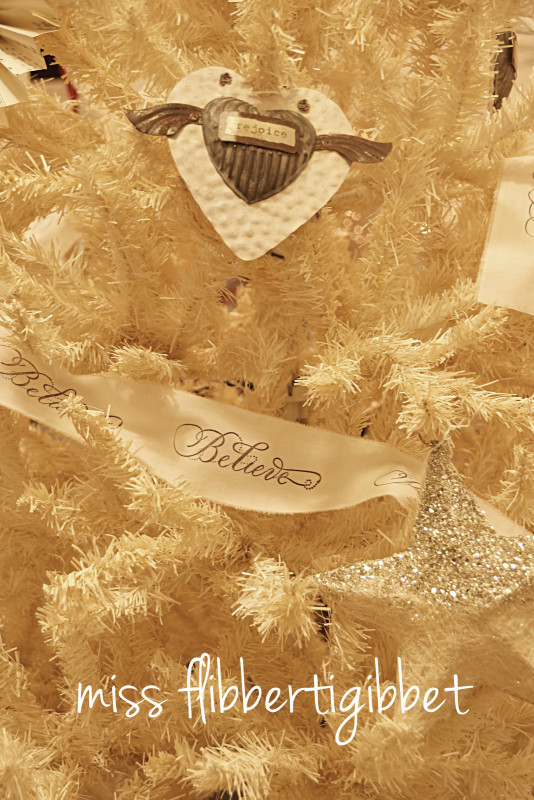 I was really in love with these decoupaged deer I made….the antlers are covered in German glass glitter.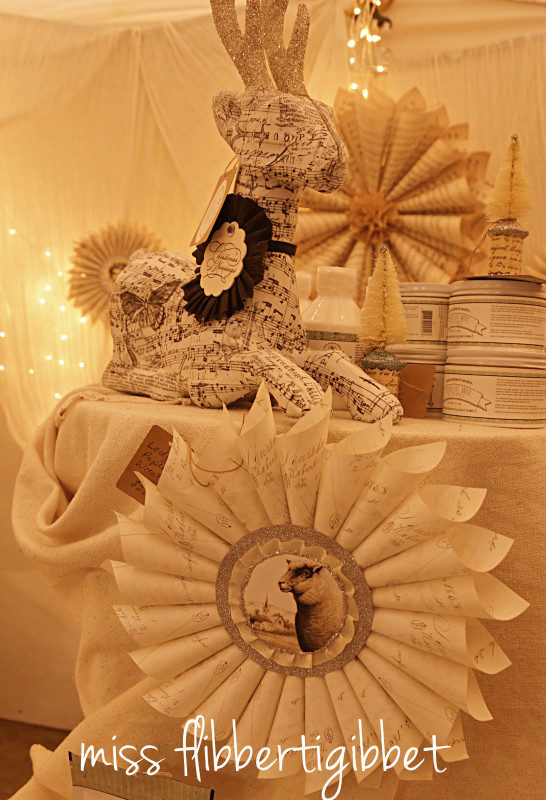 I'll show you the process for those next time…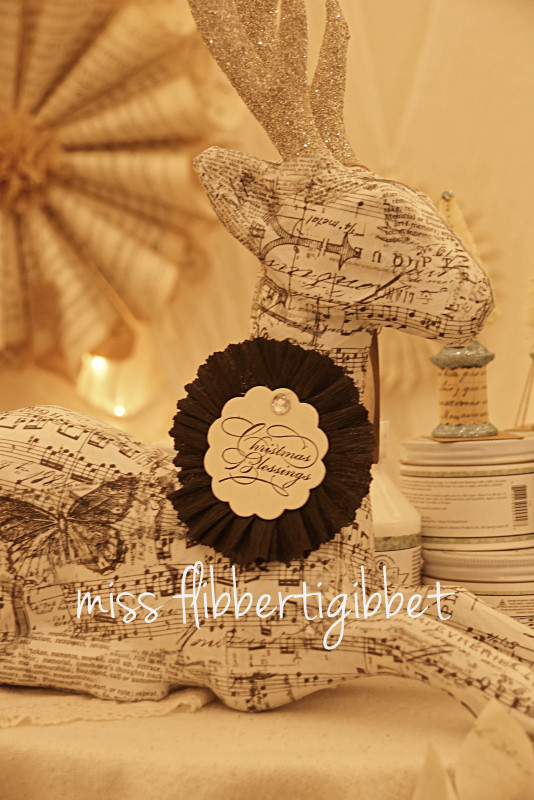 Sorry about the pictures…..I am still not able to take pictures in artificial light very well…..
I probably need to ask for something for Christmas that will help…right?
You tell me and I'll ask!!
See you next time!!