Is the title long enough for you?
We're going to work our way down so if you were a slacker in school…skip the last one.
However, if you were the annoying but highly motivated person who raised their hand and said, "Dear teacher, haven't you forgotten to give a homework assignment?"…then by all means read the end because it's important and I need you.
#1       THRIFT SHOPPING
I know you hate all the number instructions and references, but because of #2, #1 was necessary.
Now that I've moved my shop down to my own town of Virginia Beach, I don't get to see my thrift shopping buddy (also known as Mandy) often enough!
So, on Tuesday I went up to spend the day with her and we had a wonderful time. God blessed me with not finding anything expensive because that will relate to #2 which we will address in a minute.
But, that day I found something very special along with some other things I had found a week or so ago.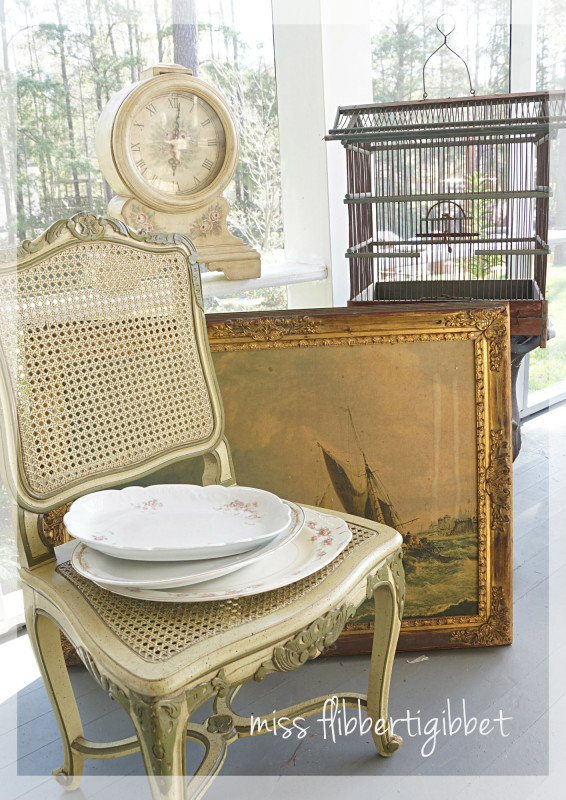 What I found on Tuesday was this…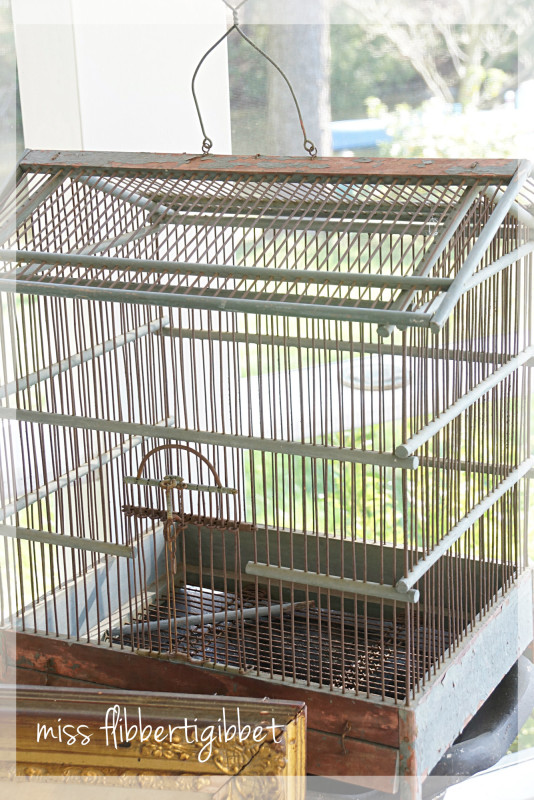 This lovely bird cage….
With adorable vintage details…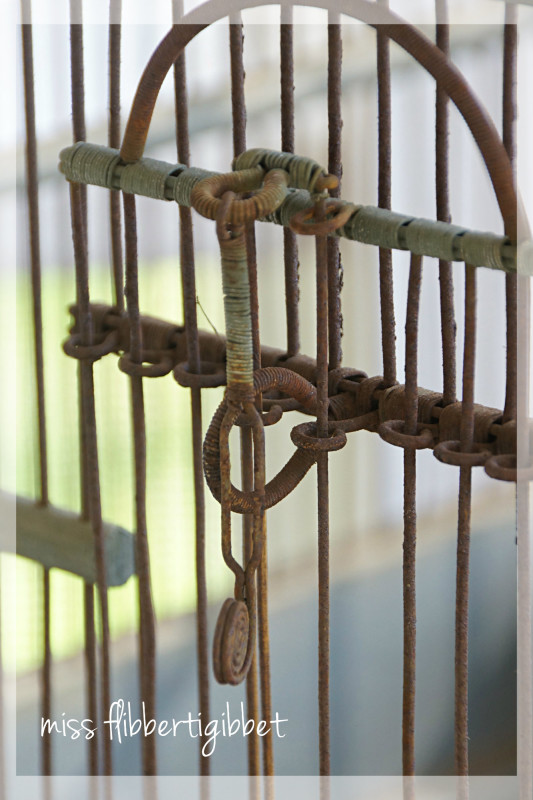 And chippy blue/green paint….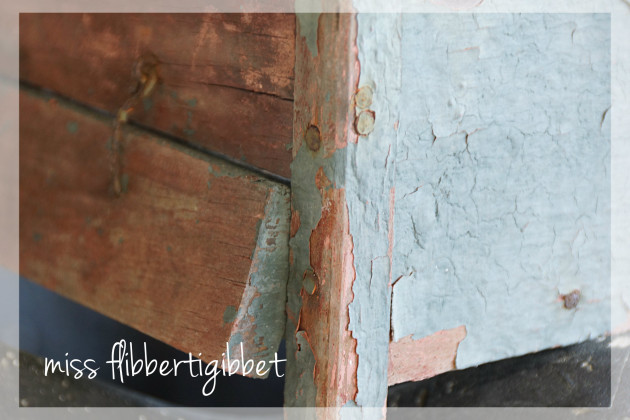 It was the first thing I bought…right out of Mandy's booth! She said…"I KNEW you would like that"…she knows me well..
I found a couple pink and white porcelain platters too…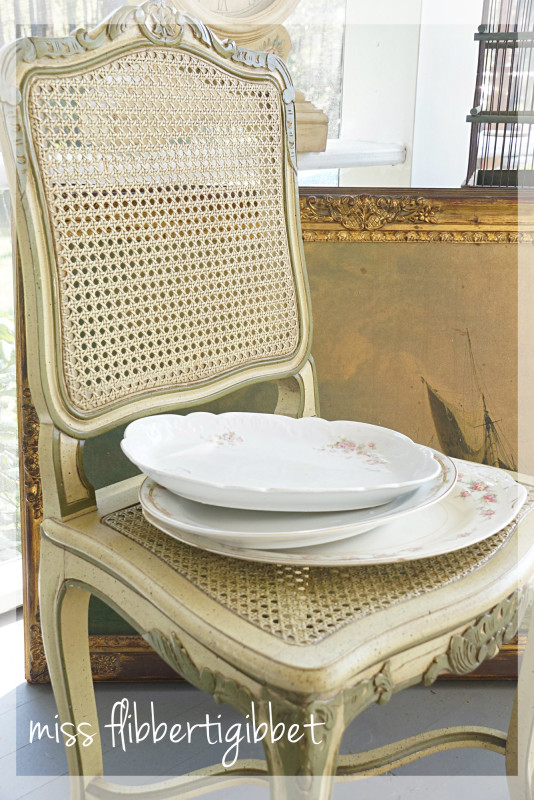 I loved the shape of the top platter…very graceful…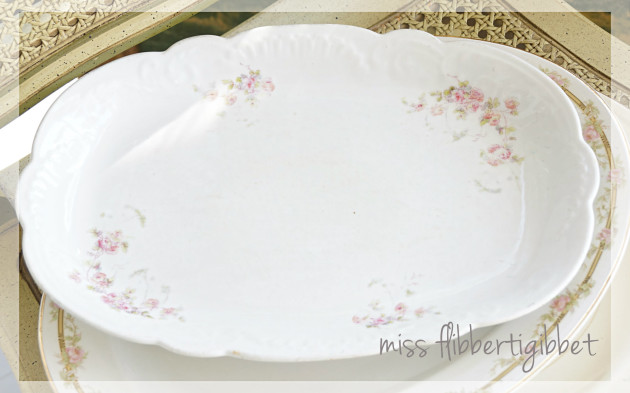 Did you happen to notice the chair by any chance?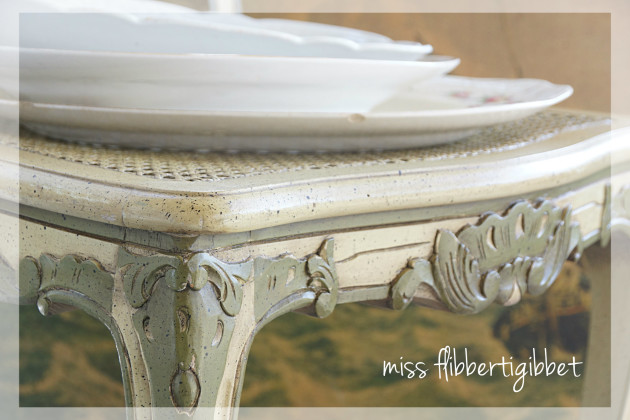 Caned back and seat….pretty scrolly details. This will paint up nicely!
There is also the picture frame….which will make a gorgeous chalkboard….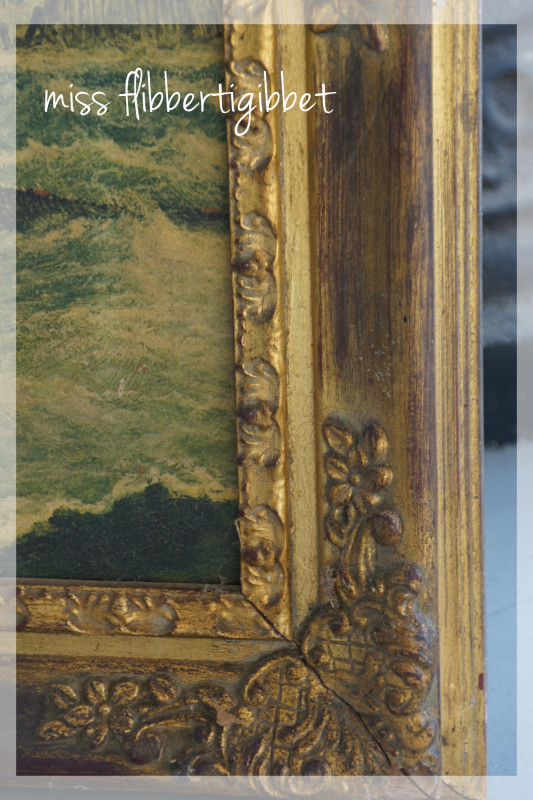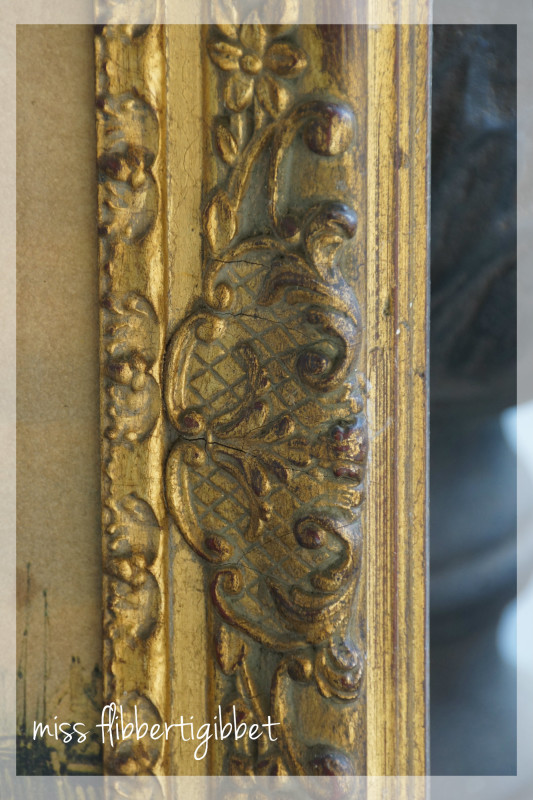 And this clock by Pulaski….not old or authentic…just pretty…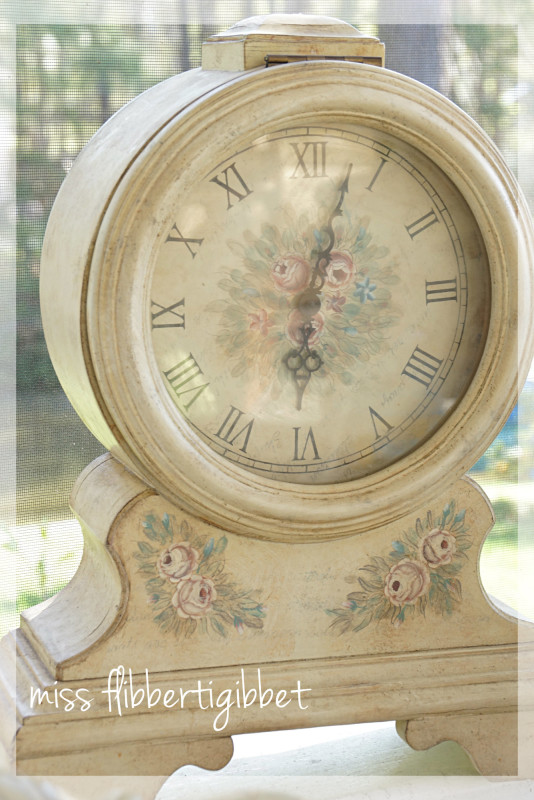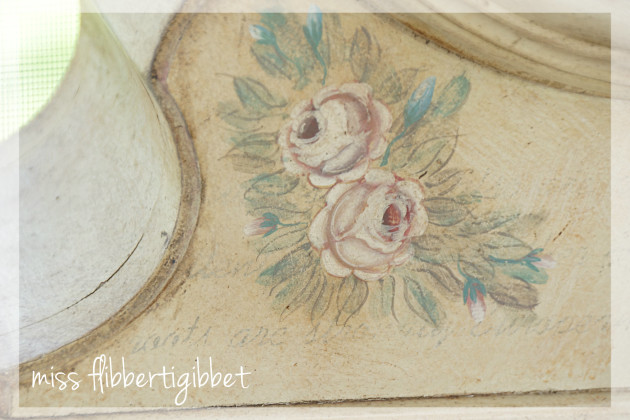 Even if it is missing the top finial….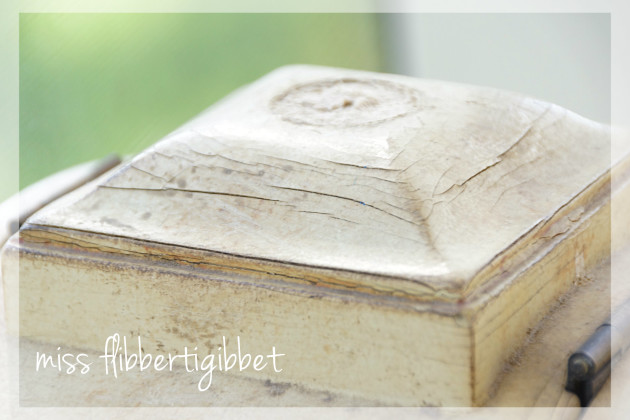 It's not working but it just uses one of those battery powered things so I need to get that…when I get over this….
#2      STRESS
(don't take this as whining…it's purely informational)
Where to begin?
I've mentioned that I was going to be carrying a new line of chalk/clay based paint. On Monday I installed two sets of wall shelves at the shop…one for MMS paint…one for Powder River Paint. I've added a color chart to the Booth 761 page in the sidebar so you can take a peek at that. The shelves took awhile and I was late getting home for the girls so I was in a bit of a lather!
Yesterday I had a meeting at school for one of the boys and then flew up to meet with the paint designer, Kay Mount and her husband Bob!  We finished our negotiations and I left with boxes of paint! I rushed to the shop and spent a frantic 2 hrs labeling and shelving the paint. Late for the girls again!
I finally received a shipment of MMS supplies I had been waiting for because I have a large online order to fill and the shop is about empty. I couldn't get any of that done before I had to come home so that's on the agenda today. MMS paint comes from Canada and takes awhile to get here. When I looked at the stock in the shop, I realized I needed to make yet ANOTHER order right away!
Money is flowing out and not much is coming in right now so I am trying to keep a cool head about this business thing. I need to have these things for the shop and they all require a significant outlay of money but it has to be done. Shelving supplies, paint supplies, gas, shop product, furniture, labeling supplies, blog work……..
Meanwhile, I have not posted on the blog, my FB is languishing a bit, I have scheduled a Women's Retreat with my church this weekend and I have 3 pieces of large furniture in the garage which is in the same state it was before Easter.
I'm still learning WP and haven't even had time to figure out if I can schedule a post or how to do it…
PLUS,  Mad Men has started and Don is sleeping around on his cute half-French wife!!
In between that is the normal life of kids, dinner, activities and commitments.
Finally, one of the MOST stressful things for me right now leads into ……
#3        A HOMEWORK ASSIGNMENT
Apparently my "no-reply" comment status continues……
Today I deleted my Google+ account so if you are on there with me we'll worry about that later.
I will tell you what I THINK might be the problem and then I'll give the assignment out….so sharpen your pencils or take a nap….
you know which kind of person you are…….
I started my blog with a gmail account I created just for that purpose. I don't know why (just ignorance of the whole blogging world) but it never occurred to me to make the gmail address the same as the name of the blog.
I began blogging away happily and when I surprisingly received some comments I was thrilled! No problem..
As I began reading more blogs, realizing how much more I could do, I thought to myself (often a dangerous process, but too late now)…
"you know, everyone has the same email as their blog name which is nice because it promotes uniformity and people will remember my blog better!"
So, I created a second gmail account and started using that when I communicated with people. I began to get comments into THAT gmail account although I can't remember how that happened now.
But, regardless, all my comments came there and I replied to comments there and the kingdom was happy…..squirrels could talk, fish could walk and I was happily combing my hair with a fork….just like a Disney movie…..
Then Google+ came along and I started thinking again….
"Everyone is joining Google+ and talking about how wonderful it is for their blogs and…gee whiz…I think I'll do that TOO!"
cue the Volga Boat Song…….
Remember how I wanted to have my second email…missflibbertigibbet@gmail.com….(your favorite and mine)….as the main email?
I joined Google+ and used that email as the one I wanted. At that point, I think I may have felt pain in my foot where I had obviously shot myself….
It wasn't long before I became the dreaded "no-reply" commenter……..
I think Google+ is the problem….or at least how I joined Google+ is the problem…..maybe…..
Remember this is the musing of a computer/blogging/HTML neophyte (I threw in a big word so you don't think I'm a TOTAL idiot)……
Honestly, I've woken up at night thinking about this….
So, Google+ is deleted…..hopefully….
If I disappear into cyberspace and you never can find me again….I'll start over…I promise….
Here's the assignment…….
1. Am I still "no-reply" to you? If "yes", are you on Blogger or WP?
2. Is my reasoning plausible? Do you have an idea other than what I have done?
I HEART all of you and you brighten my day with your posts and your comments!
You are brilliant and I know someone out there has the answer!
I have to go label paint……..once I get the fork out of my hair…..