Last week I dropped off a cabinet to the shop. it was a pretty, antique, two door console with cabriole legs. There were original wood casters on the legs. I had been working on it awhile. Except for the top, it was in very good shape. I sanded the whole thing because the finish was very dry and flaking off.
 I stripped all the veneer off the top and did some repair to the interior floor.
I decided to use Miss Mustard Seed's Milk Paint in Flow Blue. One of my favorite colors.
Be prepared for very poor pictures! it was rainy quite a lot and I couldn't take pics outside, which I normally do. So the awful flourescent lighting in both the garage and the shop are making everything not as pretty as it should be…oh well…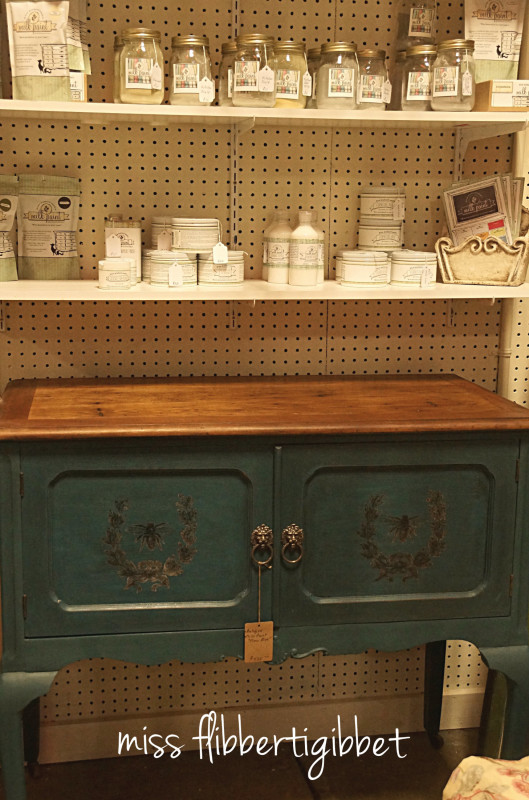 Here it is in the shop. I removed the top veneer as I said, then sanded it smooth and was happy to find it had a nice, planked top with interesting digs, holes and scrapes!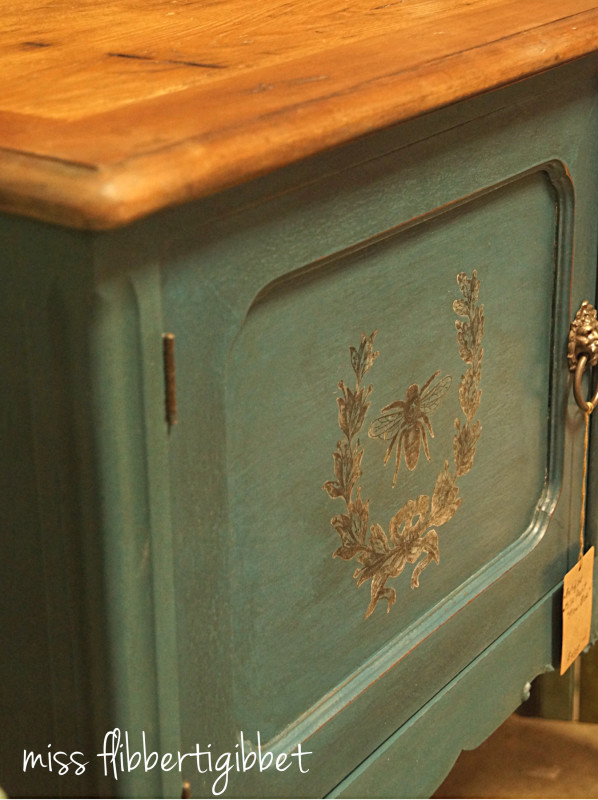 I brushed the bare wood with wood conditioner and used some Minwax stain in Early American to even out the tone a bit.
Then I finished it off with some MMS Antiquing Wax in the digs and scrapes and MMS Furniture Wax overall…three coats in all. The top is beautiful….
The interior was in good shape and after some cleaning and light sanding of rough spots, just needed two coats of MMS Hemp Oil to bring out the pretty tone of the wood.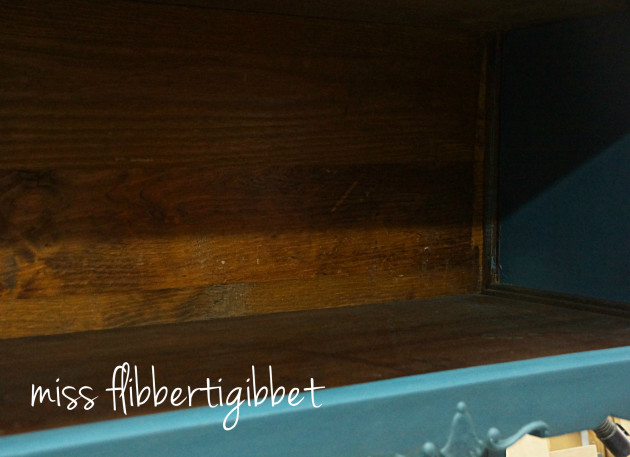 I decided to use the French Bee in the laurel wreath graphic from The Graphics Fairy….I have a major girl crush on Karen…..
If she ever let me look through her drawers, I would…..drawers of vintage paper that is…..
I used the Gel medium (or Mod Podge…whichever) method to transfer the image. I like to cut close to the image so it doesn't look so much like a decal.
Here you can see the pretty color…two coats, unwaxed at this point.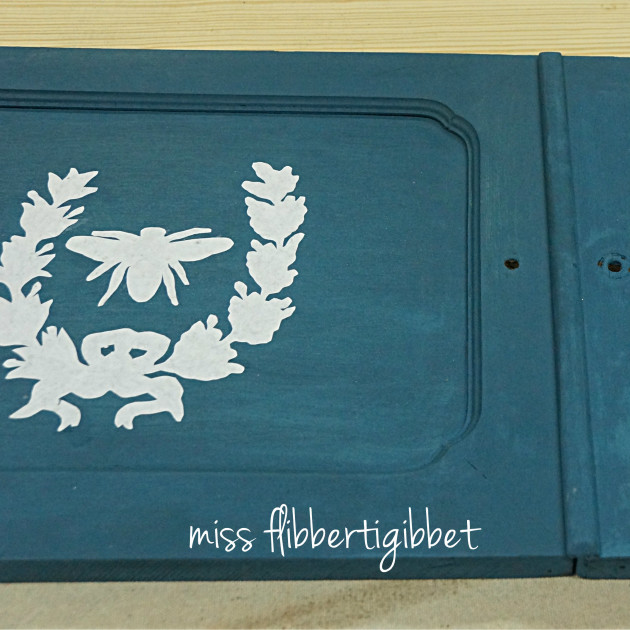 After letting it sit overnight, I rubbed off the paper backing with damp fingers.
Here it is almost all done…….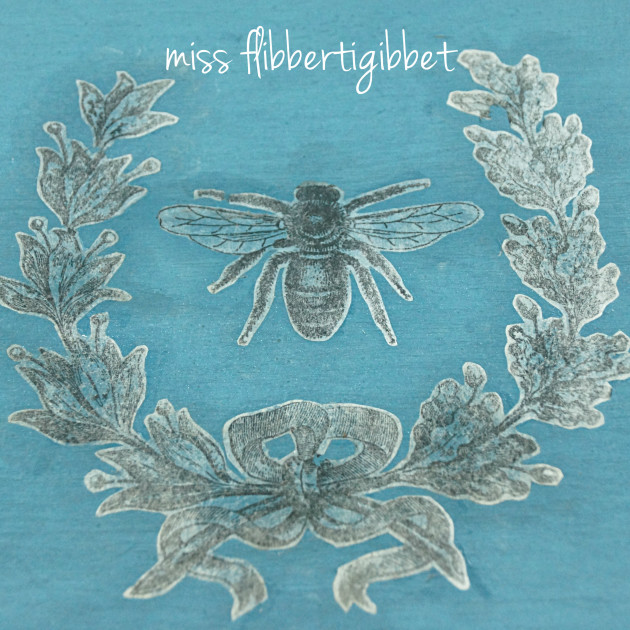 See that little end of the wreath lifted in the bottom right?
I had to go back and glue and press it down and stop removing the backing until that part dried……
I tell you…if anyone knew the traumas we furniture people suffered, they'd pay us more…….
So, I waited……..and worked on other things……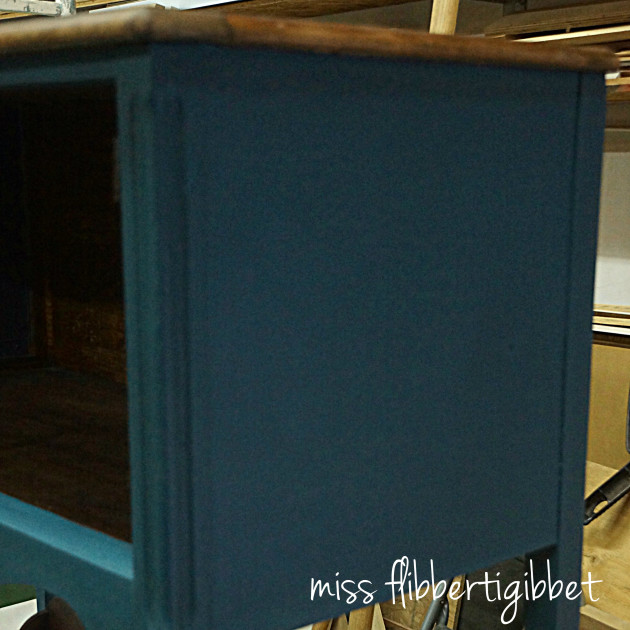 I waxed the rest of the cabinet instead. This is one of the awful pictures. But it represents the color so much better than the pics from the shop….the lighting there is very yellow and you really can't appreciate how pretty it is.
Before I waxed the first coat, I gave it a coat of MMS Hemp Oil. The Hemp Oil deepens the color in a uniform manner and is great when you don't want to use the Antiquing Wax….which I did not. Then, after letting that soak in for a whole day…..(using the Hemp Oil is a bit of a slower process) I waxed for an extra layer of protection. You could use another coat of Hemp Oil instead, but I was too impatient for that. It takes awhile for it to really soak in. I had been fussing around with this cabinet for two weeks and I wanted it in the shop last weekend.
I sprayed the lion head hardware…which I am sure was not original, with Rustoleum's Hammered Bronze…another one of my favorite shades. Then I scuffed it with some sandpaper to reveal just some glints of brass.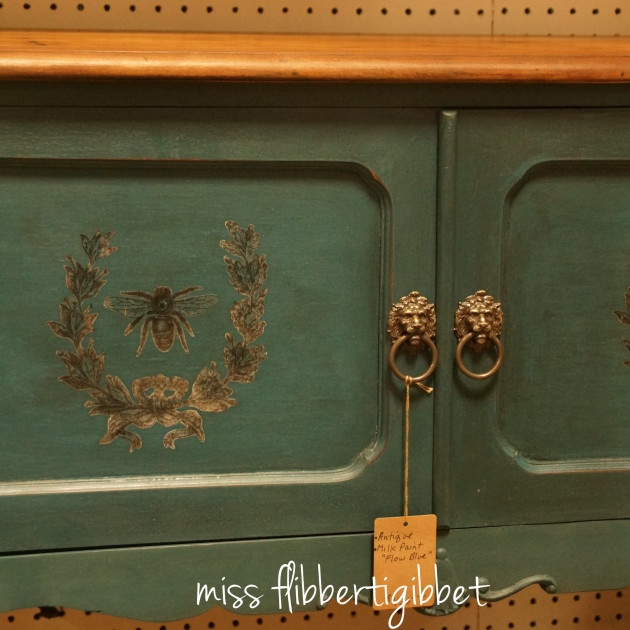 It's really pretty…too bad you can't get a good idea of how nice that Flow Blue color is…..
OK photographers….do I need a filter when I take a shot in the shop?
It all looks so yellow…I know there's a way to fix that!