I wanted to share these changes with you yesterday but the weather here has been overcast….like almost dark! So, I couldn't get decent pictures of what we did ALL DAY Saturday!!
You know I'm a thrift store gal already and over the past couple years I have found some great light fixtures! They have been in the garage except for the most recent find…that chandelier I found last week. You can take a peek at it here.
So, on Saturday, my sweet husband dedicated the WHOLE day to hanging light fixtures for me! And, actually, we didn't finish. There is a chandelier in my bathtub right now that will go into my closet….maybe this coming Saturday. A bathtub is a great place to store a chandelier…did you know that?
During this post I am also going to share with you my theory on lighting fixtures….or more correctly, my theory on the lighting BUDGET given to people by their builder.
I wanted to show some before/after pics and let me tell you…that was harder than it looked! Taking pictures of the foyer for example, I usually am trying to AVOID the hanging chandelier because I want to show something else and the chandelier is hanging there in the middle of the picture. I spent a LONG time just finding a picture. Then I came upon this Christmas one and HAD to share it. It was so pretty! I really need to add some pictures to my Home Tour thing….but I don't exactly know what I'm doing in WP yet….
The foyer at Christmas…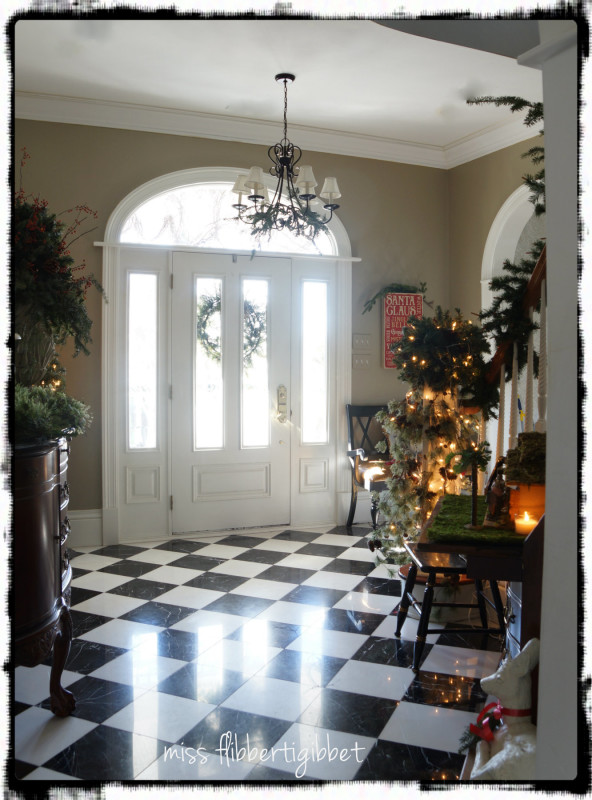 You can see the chandelier….
Here's a closer view just before it came down…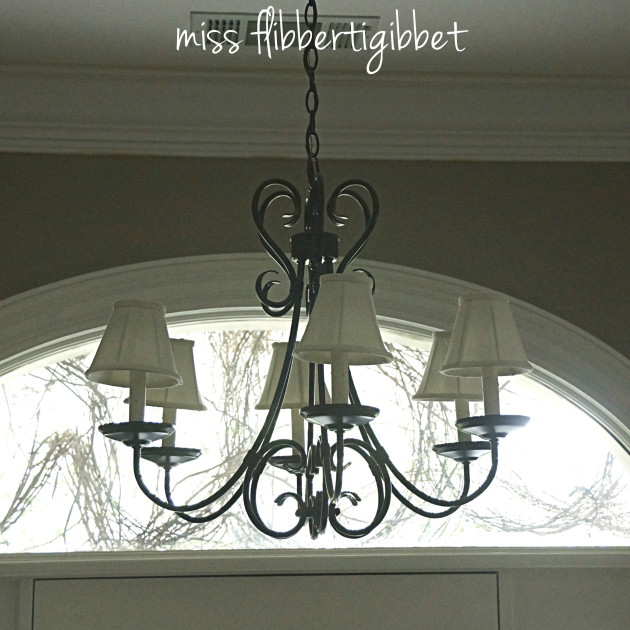 Here's the first blurb about lighting budgets…..they are never big enough……..unless you do it my way…..
Here's the new chandelier….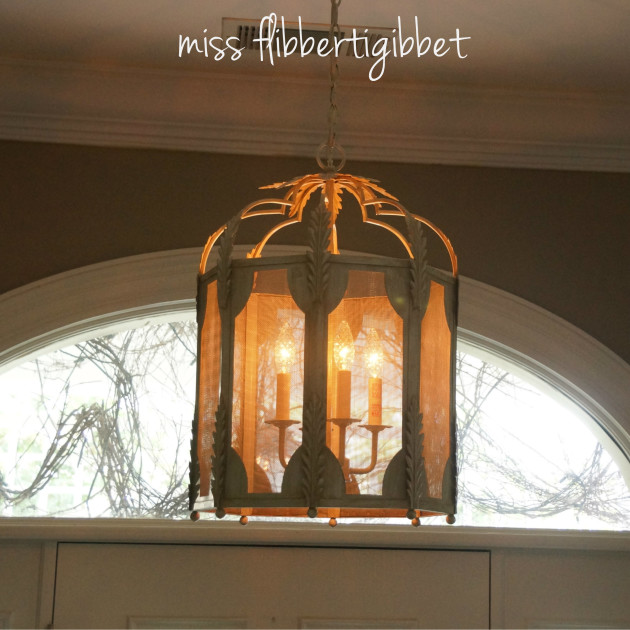 I couldn't believe it when I found it!! It was about 2 yrs ago….I don't remember the exact price but it was around $20…..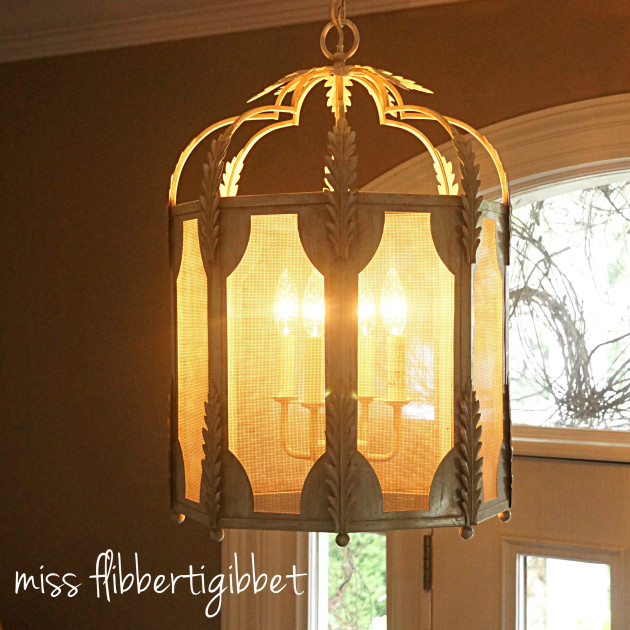 The lights are on because I did take it on Saturday …in the gloom.
It's a distressed cream metal with screening in the sides…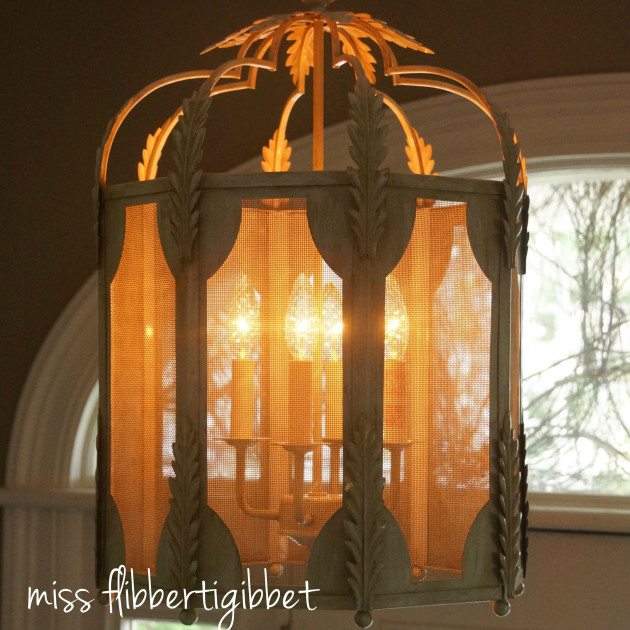 Moving on to the living room…..
So…lighting budgets are always too small which is not really a problem because my theory is that you need to STAY IN THE BUDGET and buy whatever you can find that looks pretty good. Almost every fixture in our house came from Lowes or Home Depot. The old chandelier in the foyer was plain, yes, but  cheap! I chose a style that was classic and importantly (for me at least) was something I could paint. I sprayed the foyer chandelier black…it was originally a rust color.
I did the same thing with the living room chandelier. It was rust, I sprayed it white. It is VERY plain, but large (what I was looking for) and I dressed it up with crystal strands and bobeches and drops. I don't have many pictures of it because I don't have many pictures of the living room……it's not finished.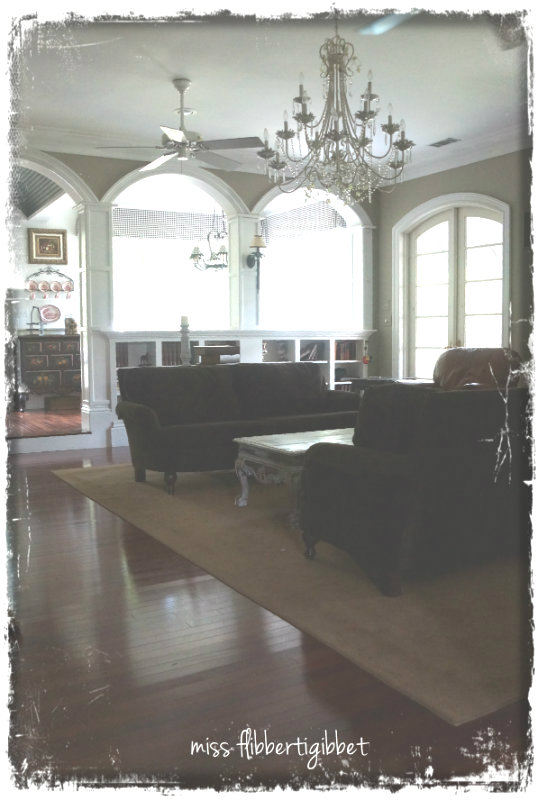 I did find a closeup of it at Christmas….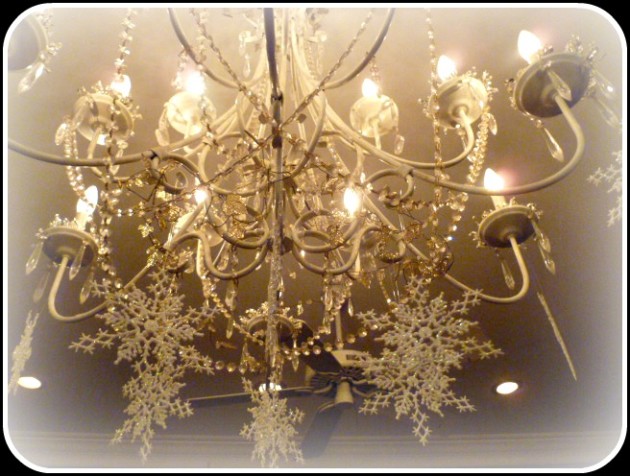 This was a Lowe's chandelier and was $150…..
I couldn't do a comparison shot for you with the new chandelier because it is still not very sunny….just less overcast today.
So, the lights are on for the new chandelier picture too…..it's quite different, but, I think, a step up……..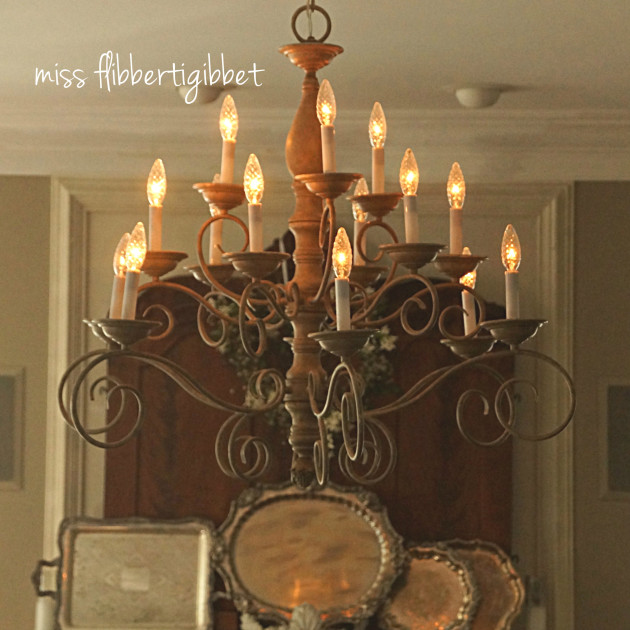 I liked the turned spindle center post and the more graceful arrangement of the arms. Thrift store find…$25
So….more about that lighting budget you may have. It is SO easy to get excited about the lighting. The customer says "where should I go to look at lights?" and the builder sends you to a lighting store. Lighting stores are like crack for a person who loves to decorate. You have to be a mature, experienced decorator to venture in there. I go in to look at the lighting so I can go find something similar at more than half the price. It is not a place for the faint-hearted….or an inexperienced house building customer. Trust me on this.
Oh…don't get me wrong, it's fun with a capital "F"…..but also expensive with a capital "E". As soon as you walk in you say "ohhhh…" because you are surrounded by gorgeous light…..everywhere….hanging overhead, on walls, on tables….everywhere.
They can tell if you are inexperienced right off the bat. You tell them you are building a house and they ask you right away "what is your lighting budget?". If a lighting store employee or owner reads this…please know that I do not fault you for trying to make sales….I would do the same. But, as soon as they hear the budget, they can tell what level of house you are building and how much MORE lighting they can sell you. It's a secret kept from the poor builder customer that your lighting budget can be increased very easily…..it just raises the mortgage amount you will owe. I cannot tell you how many people I know who sprung for a HUGE, GORGEOUS chandelier for the foyer and then didn't have enough to even add lighting in the bathrooms so they increased the budget!!! It's crazy! A higher mortgage payment for a LIGHT FIXTURE??
We spent Saturday hanging light fixtures. Even hiring an electrician would be cheaper than increasing your lighting budget…..believe me.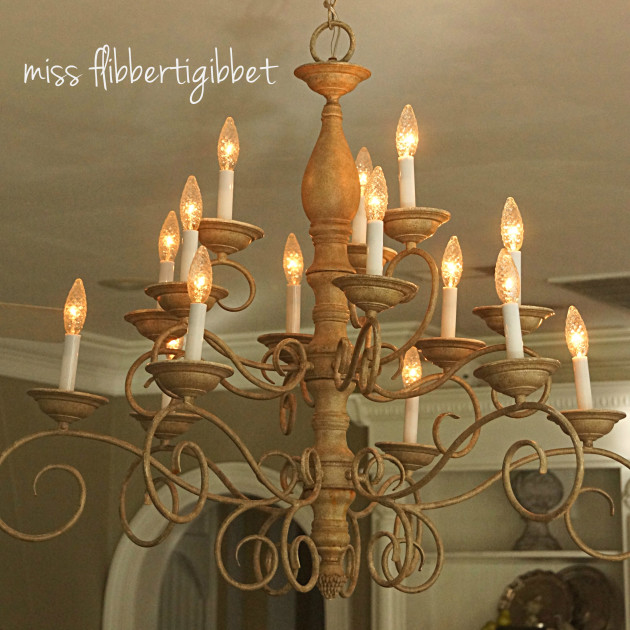 The ONLY lighting that you should purchase and expect to do it right the first time are can lights, or recessed lighting. Recessed lighting is VERY difficult and costly to retrofit (putting into an existing ceiling). Spend your money there and buy cheap light fixtures everywhere else. Don't worry about what your friends think! In one day….you or your electrician can change out your lighting to a nicer style and you won't be paying it off in your mortgage!
Did you know that you DO NOT have to have every light in place before you can close on your house? You don't. It is not that much more to have an extra box or two installed (the housing that is in the wall or ceiling that the light fixture will be attached to) when the house is being wired. So if you think you'd love a chandelier in your closet for example (like me), then get the box installed and wired and don't get hung up on "but, I can't afford to buy a chandelier right now." They will cover the box and you can hang a chandelier later. Check with the builder and MAKE them tell you what is REQUIRED for code and what is not. You are paying for the extra wiring but it is well worth it and the cost is very minimal compared to increasing your lighting budget to cover the $1000 chandelier you can't live without.
We also replaced the wall sconce in the living room on Saturday….
I love this one!! Also a thrift store find…$8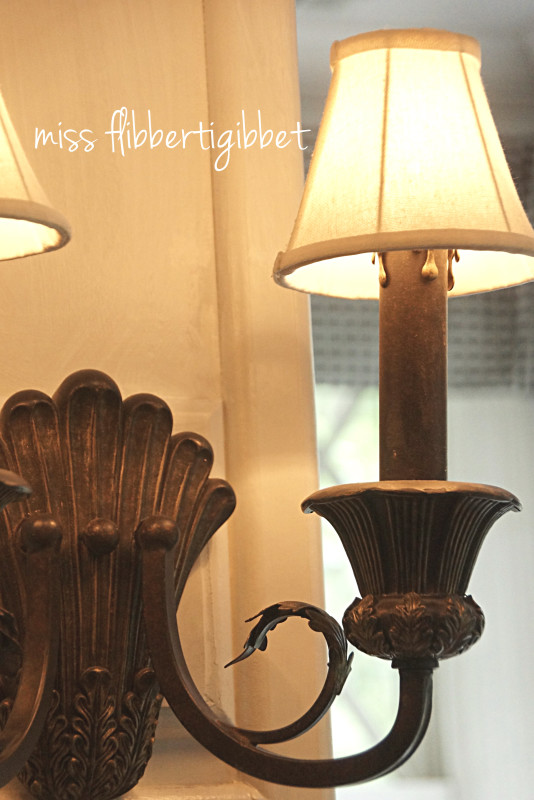 I haven't decided yet if I want to rub some white paint on there or not. It makes a nice contrast with the pillar and so far I like it just as it is.
Hopefully, you found the information about lighting budgets helpful. If you are building or know someone who is building feel free to ask any questions!!
I love design/build projects and would be a contractor if I could! The smell of fresh wood, looking at plans, searching for products and pulling a house together is SUCH fun for me………weird…I know…..