Yesterday was Thursday…old people discount day at several thrift shops in the area.
So, being the appropriate "femme d'un certain age" …off I went!
Here are some of the finds from yesterday.
Of course, it's overcast here today so pictures are VERY difficult.
Compounding the problem, I'm too lazy to sweep the porch, drag out the stuff and arrange a REALLY CUTE vignette…
Here they are, in all their glory…on the stairs in the foyer…..c'est la vie!
A metal first aid cabinet, some antique books full of sheet music and what appeared to be an ironstone tureen at a distance……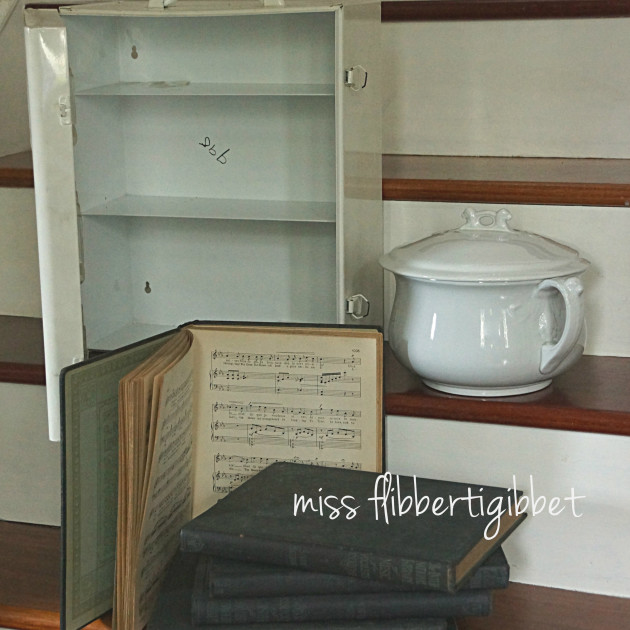 And turned out to be a chamber pot…..hey, I'm not proud……eat out of it or deposit used food into it……it's ironstone!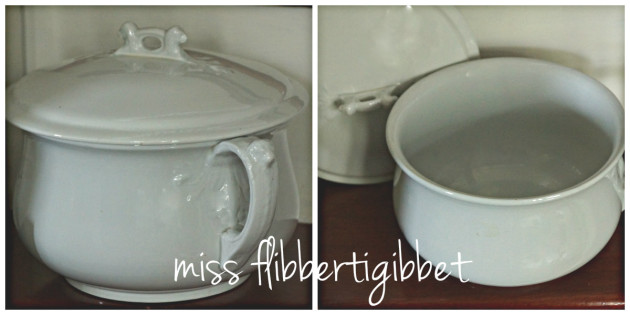 The sheet music will come in VERY handy as I make LOTS of sheet music wreaths during the Christmas holiday….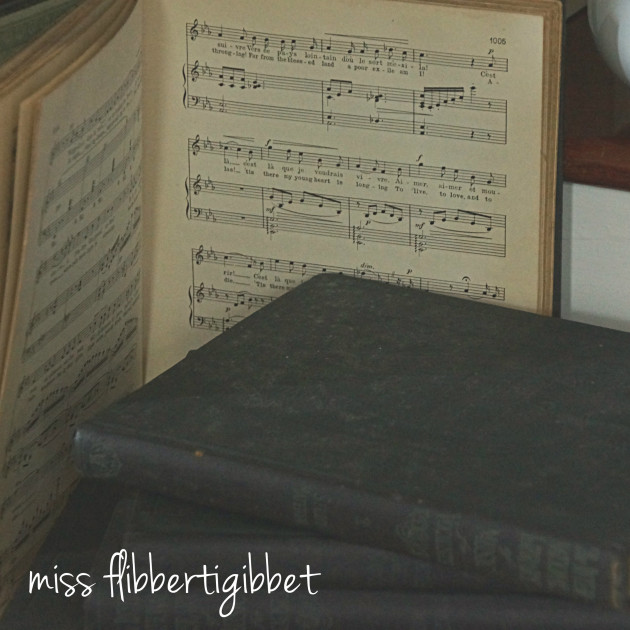 Next on the "stage" is a vintage lamp, a vintage Maille Moutarde (Maille Mustard) holder, and a nicely crazed small ironstone bowl from TH Green…..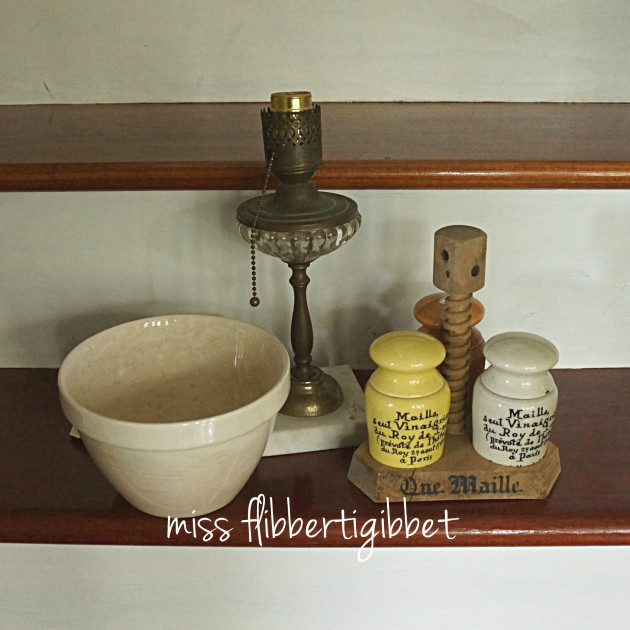 Maille mustard is famous in France (and beyond). I brought some home from Paris and we loved it. It has a real bite and the kids don't like it much.
When we took our cooking class in Paris last year, the instructor informed us that buying in France was preferable because the mustard sent to the US did not have champagne in it and therefore tasted differently. I didn't hear much after "champagne" but like a good little acolyte….we bought some that day to take home. This little holder is really cute. I have no idea what the holes in the handle are for but I am guessing a metal ring for carrying or maybe little wooden spoons for the mustard? It has two unfortunate chips in the white container lid but is otherwise in great condition. Someone who is a Francophile, like me will like it perhaps!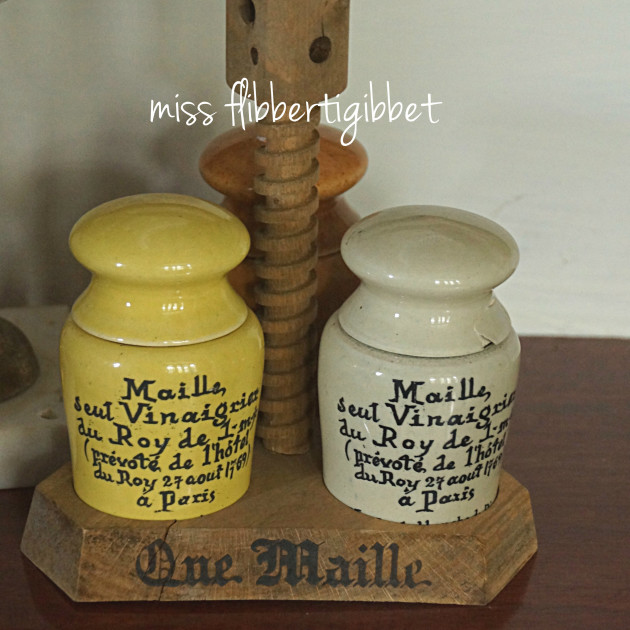 Only an ironstone lover would buy this crazed, discolored bowl….call me crazy….my husband does.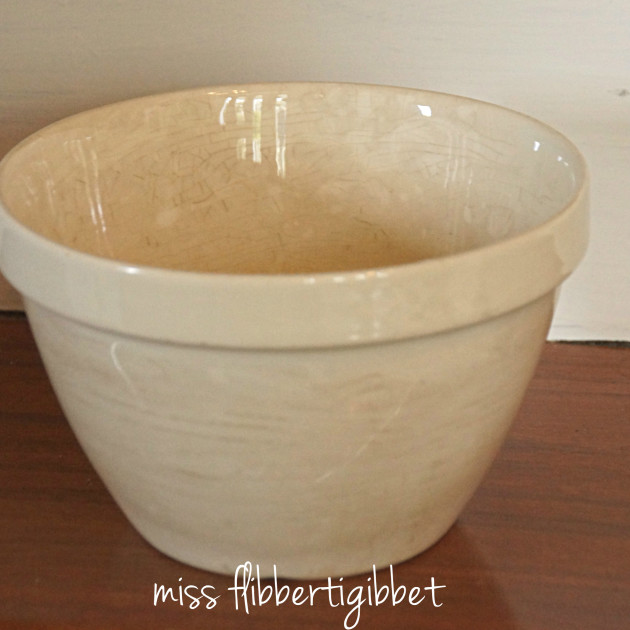 Now, last but not least…..a new chandelier for the living room….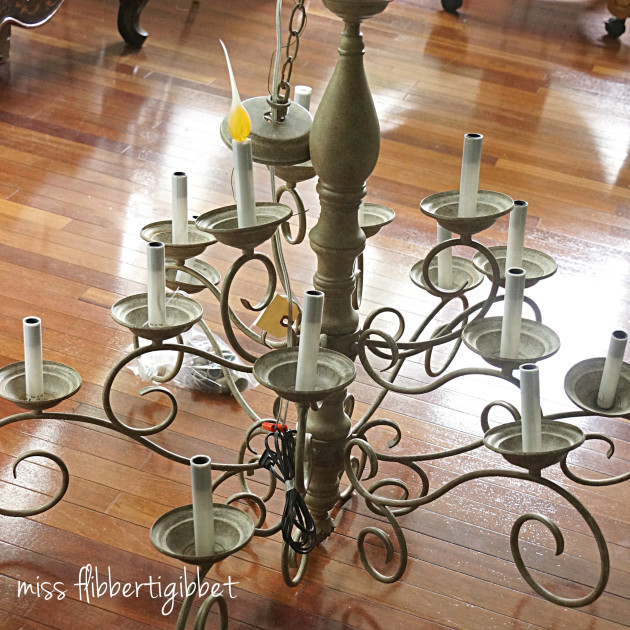 It's about the size of the white one I have now but much more curvy and Frenchy….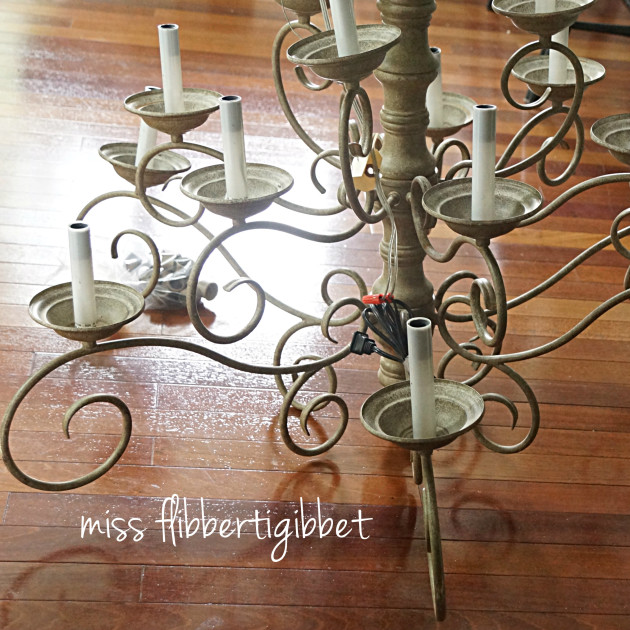 For some reason, when I said I wanted to change the chandelier in the living room, my husband did not seem as excited as I was…..
he was probably just tired…..
Did I mention the chandelier was $25? That didn't seem to excite him either…..maybe he's sick……
OK…that's it for today! I'm off to the shop to clean up a bit, stock some paint and drop off a couple things!
Have you been thrift shopping lately?