I love vintage things, and antique things, and things that are made to look vintage or antique.
The problem with all those categories is that they are SUPER…FREAKIN'…HEAVY!!!
Seriously heavy. A real vintage or antique mirror for example has a real wood frame and often a beveled glass mirror.
A faux vintage or antique thing seems to be made out of a resin that was designed to maintain the earth's orbit in case gravity ever fails.
This is the mirror in my dining room…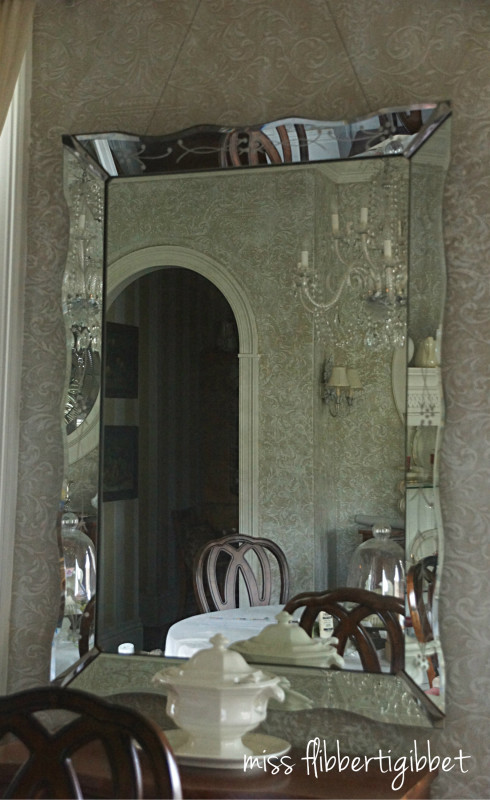 A real, honest to goodness, old mirror that requires a crane to lift it into place. OK….maybe that's an exaggeration. But, only slightly….
I usually am going thrifting alone…
…..just me and my trusty MomMobile  (aka: mini-van).
I love this van because the back has seats that fold down quick as a wink and the height is just about at my knees. This makes it perfect for loading big, bulky and heavy things. If I can back the thing up to the van and lift the bottom, I can tilt it backwards and slide it in. Comes in handy since the thrift stores will take something to the curb, but not load it…..in general. An unfortunate fact is that I am too old to flutter my eyelashes and get the guy to put it in the van for me. Unless he's really young, then he feels sorry for me because I'm SO old.
Now the unloading part. Not quite as smooth…….
The day I brought this mirror home, I could envision my insurance company rubbing their hands together and salivating at the possibility of YEARS of rehabilitation therapy . I don't do push-ups for arm definition (which has NOT worked)…but for strength, and I managed to get it out of the car and into the garage. It is almost as tall as I am so I could only lift it off the ground about 6 inches without getting unbalanced so I was doing an interesting side-step-shuffle movement. Fortunately my neighbors rarely witness these fun unloading events.
Have you ever carried a full length mirror facing you ? It's quite the experience matched only by an acid trip…….I mean, I could hardly walk because of the disorientation…….I finally slapped my face against the mirror and only looked out of one eye towards the garage….that's all that saved me. That and the determination that the kids would NOT come home and find me sliced to ribbons because I fell backwards with a 10,000 lb mirror crashing down on me.
You can only imagine the conversation I had with my husband when I told him I wanted this mirror hung in the dining room. This is a G rated blog, so I can't share. But, knowing how to hang a heavy item in a modern house can be useful information. Once he got with the program, hanging the rest of the heavy stuff I had hiding in the garage was a cinch.
I'm going to give you a small construction lesson…if you know all this already, you can skip this part.
In the past, when these beautiful things were made, houses were generally constructed with lath and plaster. Lath strips, narrow, long and thin pieces of wood were run horizontally between upright studs (like a 2 x 4, but not necessarily). Plaster was then smeared on these lath strips and when it squished through the lath and dried, you had a solid wall. These walls were fine for a nail and a picture of grandpa or grandma….but not heavy, ornate art or mirrors. This form of construction was used even on large, fine homes who could afford these big items so the problem was universal. The placement of the upright boards was not standard so there was no sure way to know where that stud was.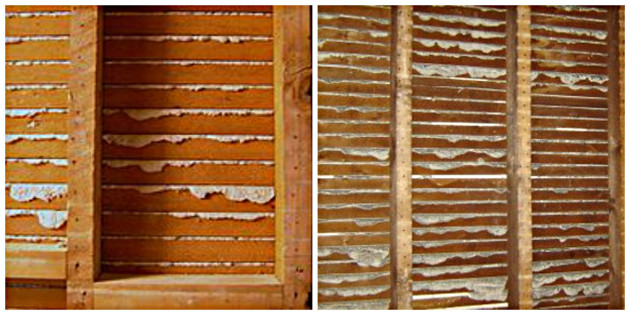 Enter in the picture rail. This was installed (and is still used in museums) to allow the hanging of these heavy things. A clip fits in the rail and can be easily moved or removed if needed. No need to bang holes in the wall and install a heavy duty hanger. Most of us don't have picture rails BUT they can be installed in any home so it's something to consider. I wish I had thought to do it myself!

Since I don't have picture rails, we use another method. Here's your second construction lesson.
Every home…..EVERY HOME…. has walls constructed in a similar way. We now have fairly standard building codes across the USA. There is a top plate and a bottom plate with 2 x 4's attached vertically. Most building codes require  "16" on center"  placement of the 2 x 4's. That means from the center of one 2 x 4 to the center of the next 2 x 4 there should be 16″. This is valuable information when you are hanging something. To measure, start at the corner of the room…don't just pick a spot and start measuring off 16″.
If you happen to have a stud finder and can locate one stud….you can find the next one.
College girls have know this secret for years…………
We hang heavy items by using the top plate as our point of attachment, creating a similar look to the use of picture rails….see, you thought I was just showing off….I had to show the point of similarity, didn't I?
We have crown molding which is attached to the top plate so my hanger is in the crown molding. It's secure because the crown is attached flatly to the wall.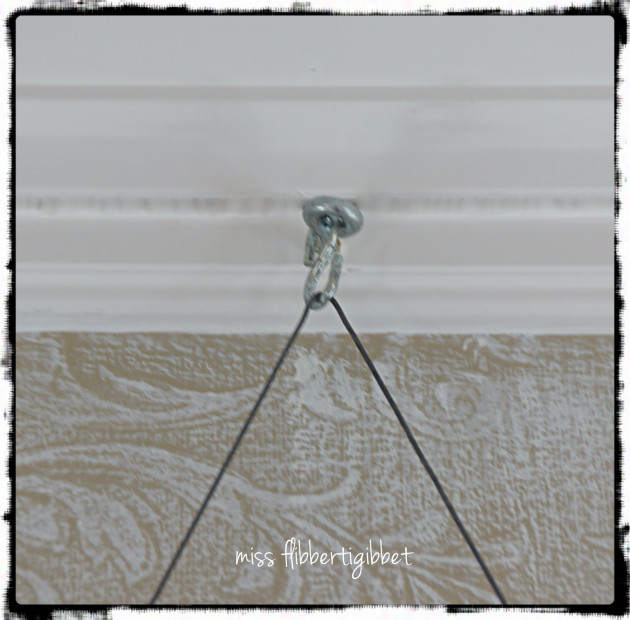 If you don't have crown molding, then install a hanger right at the top of the wall where you can catch that top plate and have good solid wood to drill into. You can see that my husband used a screw eye with an S hook so we could easily remove the mirror. In other areas, he used screw eyes and we threaded the picture wire through the eye. I did this on the chalkboard because I had two points of attachment and I was pretty sure it was going to stay there for awhile. I don't re-arrange the foyer much….it's pretty static except for seasonal decor.
If you want to see the story of the chalkboard, go here.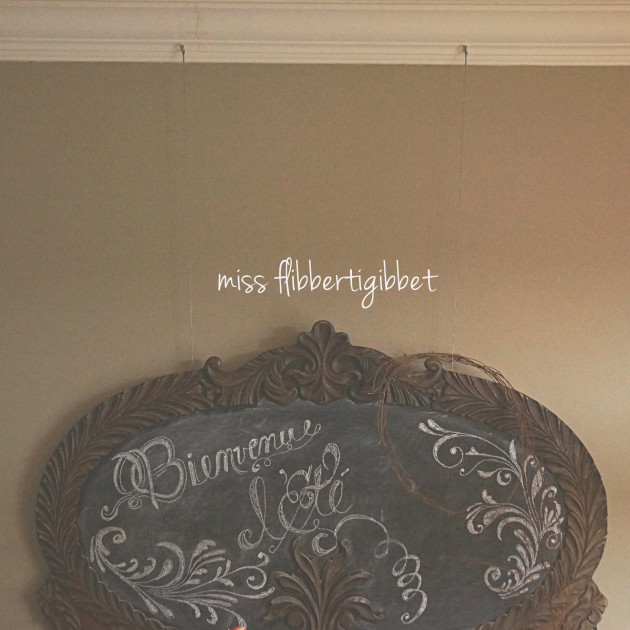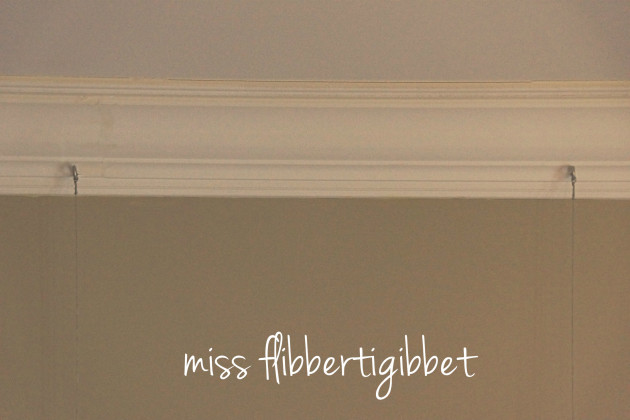 I always use picture hanging wire….DO NOT use regular wire, twine or anything else you THINK will be strong…..it won't. Picture hanging wire is stranded, braided steel and VERY strong.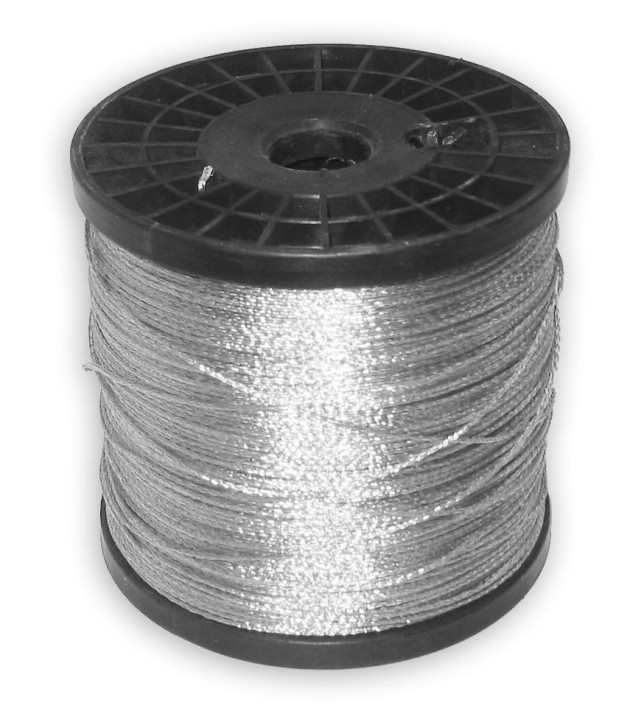 When you have finished hanging your item….paint the wire and it will almost disappear….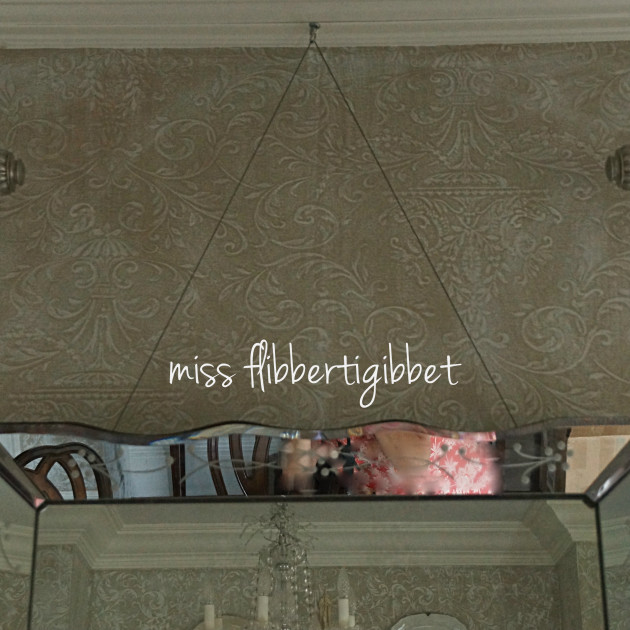 Like magic!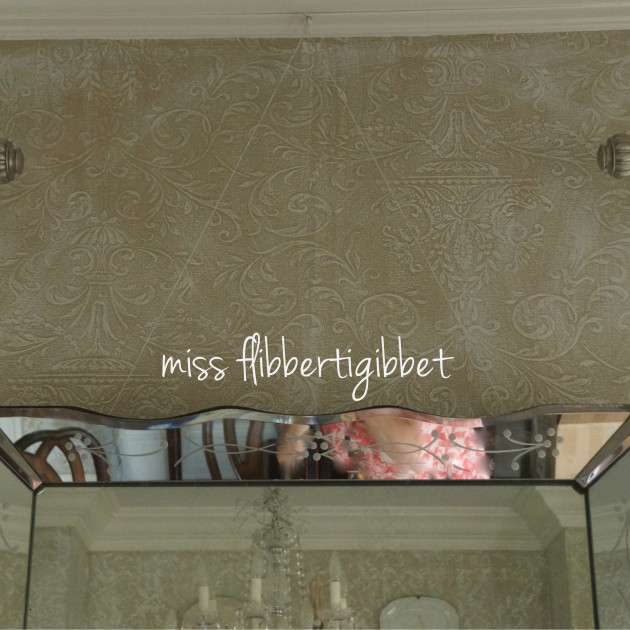 Knowing how to hang something really heavy can come in handy! hope this helps!