Last Saturday we had some company for dinner.
My brother, sister-in-law and her Mum, who was visiting from the UK.
I cleaned off the dining room table in honor of them…….and I've kept it clean because for the next two weekends we will be having company.
All I need is a reason and I can be just as dedicated as all the Suzy Homemakers out there…..I can…
I decided that the Spring decor needed to come down since Spring had (a LOOONNG time ago) given way to Summer which had now given way to Fall…practically.
You can see the Spring foyer here….
I'm not sure I've told you HOW MUCH I love my foyer…..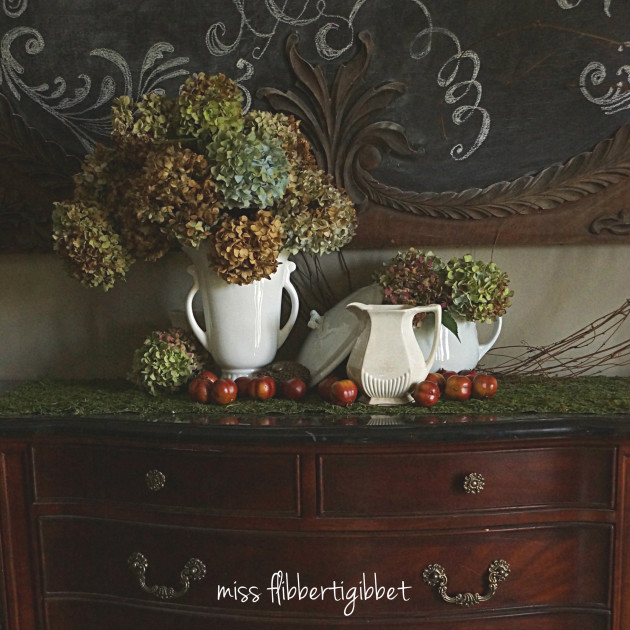 Not just because it's a pretty foyer….it is. Black and white marble floor, curved staircase, arched doorway, great chalkboard…….
It's because it stays the same…..All. The. Time.
No papers, no clothing, no dishes……static….predictable…..easy….
When I feel like changing the look on the sideboard…..done…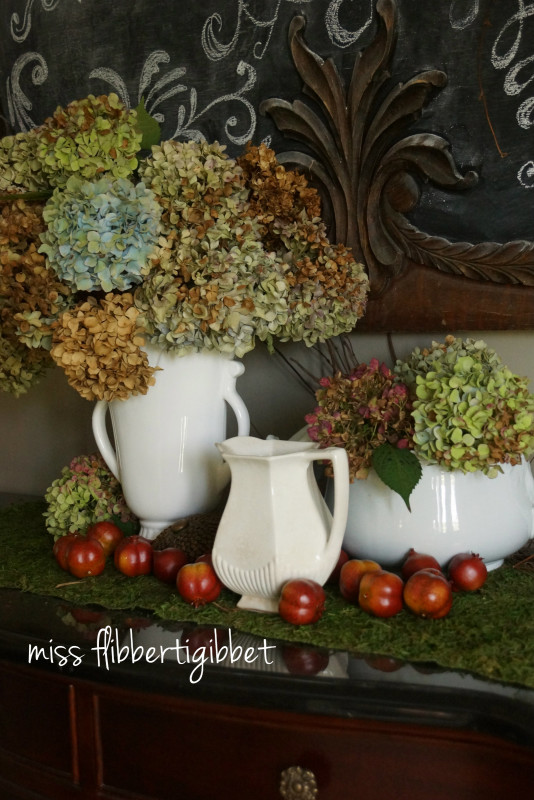 I love creating vignettes for this spot. Fall is an especially nice time for the foyer because of the dark wood of the sideboard.  I used white pottery and ironstone to offset the deep tones of the sideboard and chalkboard. I left the green grass mat in place from Spring. This was super easy and took about 15 minutes.
I had gone to Target a few days before and took a walk through the floral aisle which is always a place for great bargains at the change of seasons. I found a few boxes of these little pomegranates. A nice, money saving addition to this vignette.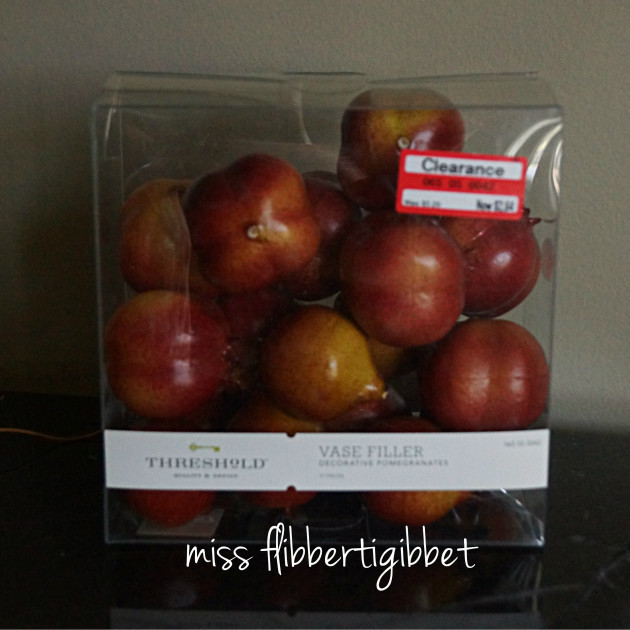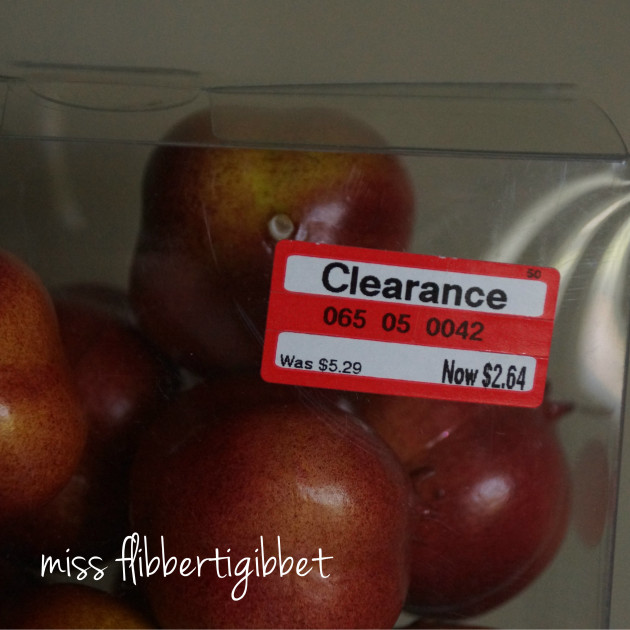 I can decorate with confidence, knowing that this will sit here…undisturbed….until at least December…
I need these small consistencies in my life because every day around here is a new adventure for me as I attempt to singlehandedly maintain some order.
When all else fails and I feel like I want to scream (like today), I can walk into the foyer and look at my pretty sideboard.
Who ever thought my life would be reduced to only being able to manage consistency on a sideboard in the foyer?…..sigh….
I wish I could paint. Wouldn't this make a pretty painting?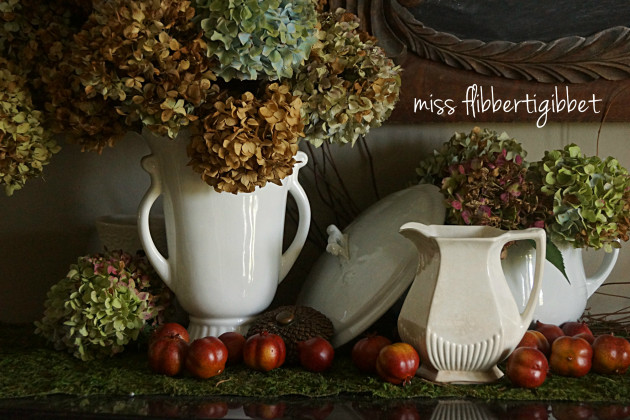 That night I enjoyed doing some cooking too….haven't enjoyed cooking in awhile for some reason.
I made a slow roasted pork loin, steamed asparagus and green beans and mashed potatoes with carmelized onion, garlic and feta. Everyone cleaned their plates and Mum had TWO!!
My sister-in-law left with these…..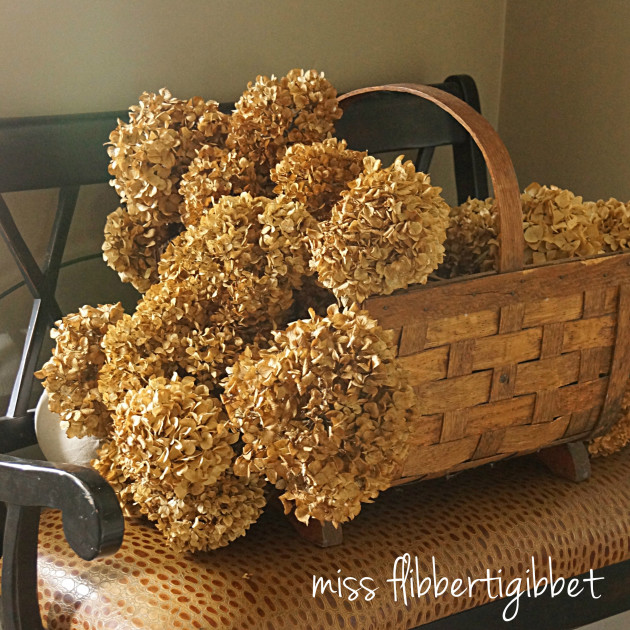 She wanted the basket too….cheeky Brit….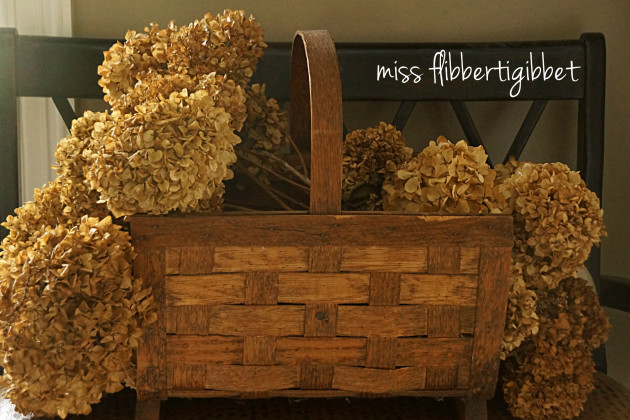 I said, "No, just the hydrangeas please"…….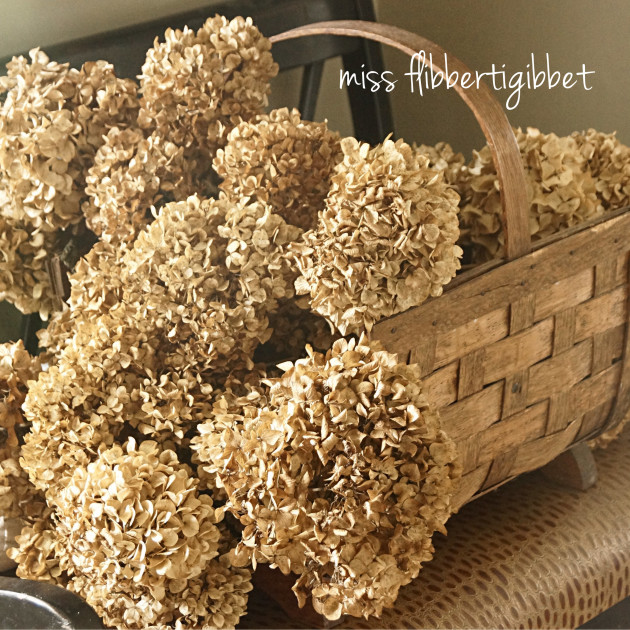 She is a Primitive artist so she likes this brown/cream color the best.
By the way!! She has just been published in the Stampington Magazine "Prims".  I am SO proud of her! All her dolls are handmade from her own patterns.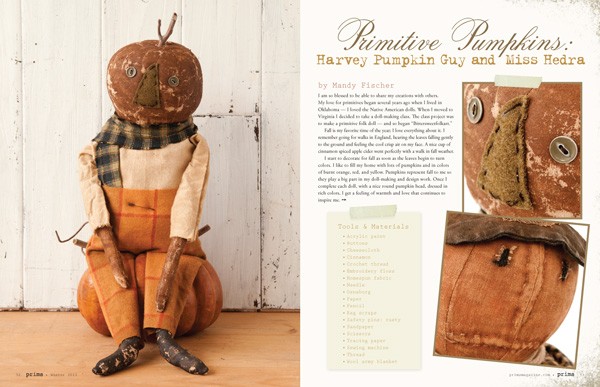 If you like primitive or know someone who does then please visit her at Bittersweet Folkart.
You can tell her I sent you….but hold on to your basket if you know what's good for you.
You never know when those Brits are going to rise up and try and take back what they lost.