I promised I'd show you more about making this pretty deer I did for the vintage show last Friday (here)
I started with a gold painted paper mache deer from AC Moore.
I sprayed it with white primer to cover the gold.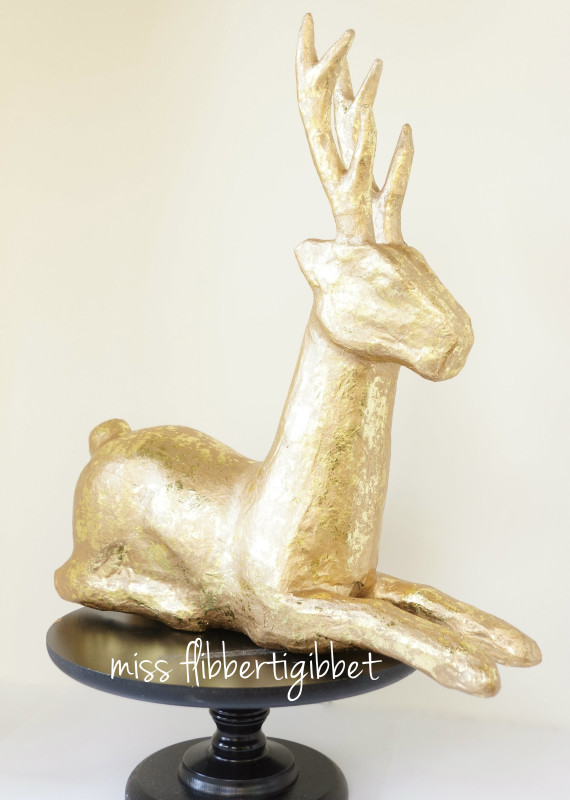 Then, using this roll of printed tissue from Tim Holtz ( I LOVE all his stuff), I just began gluing on torn pieces using ModPodge.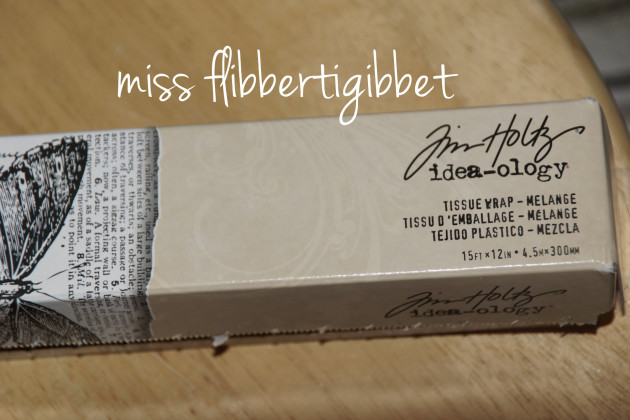 When decoupaging, it's easiest to coat the piece of paper with glue and then put it on your model. I have found that putting glue on the model itself sometimes results in not being able to place your piece of paper exactly where you like. I may think I want it HERE but then, I decide it should go THERE instead……much easier to change your mind if you have the paper glued instead.
There really is no rhyme or reason to decoupage, just start putting on paper. Everyone has their own style.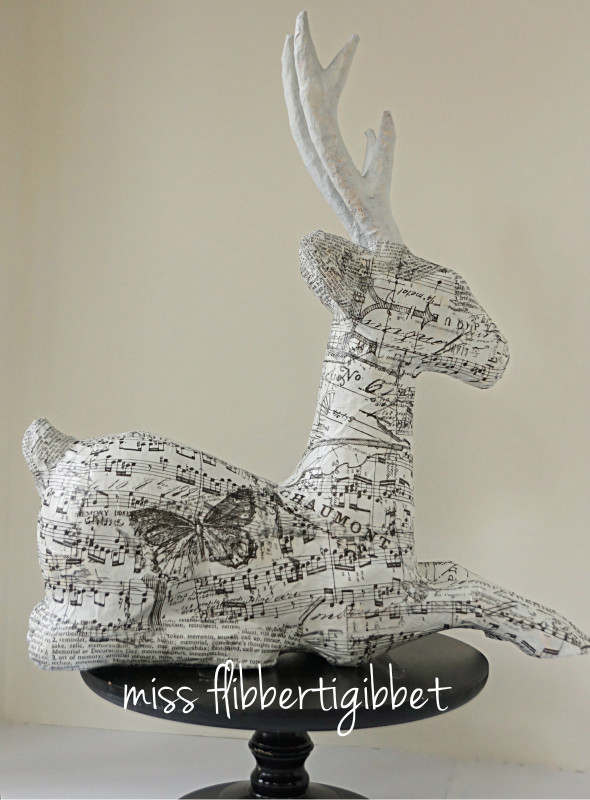 I did find certain motifs that I felt needed to go specific places….like this one, which made me think of a bridle.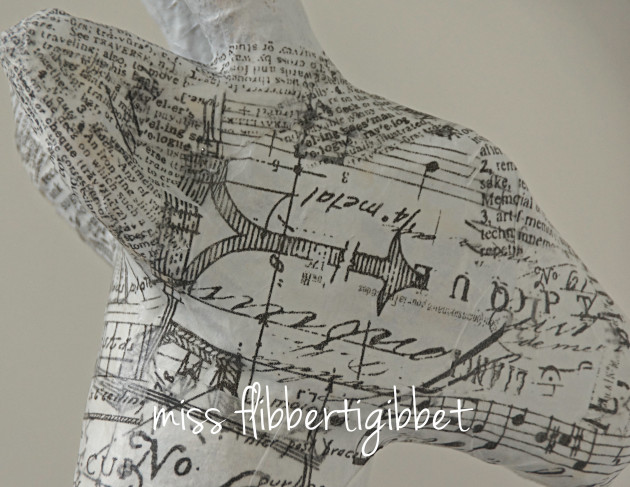 And I loved the butterflies and moths on the paper so I used them strategically too.
For some reason, I felt that the legs and ears needed to be in the smaller print….it seemed to reduce the overall busyness of it to me.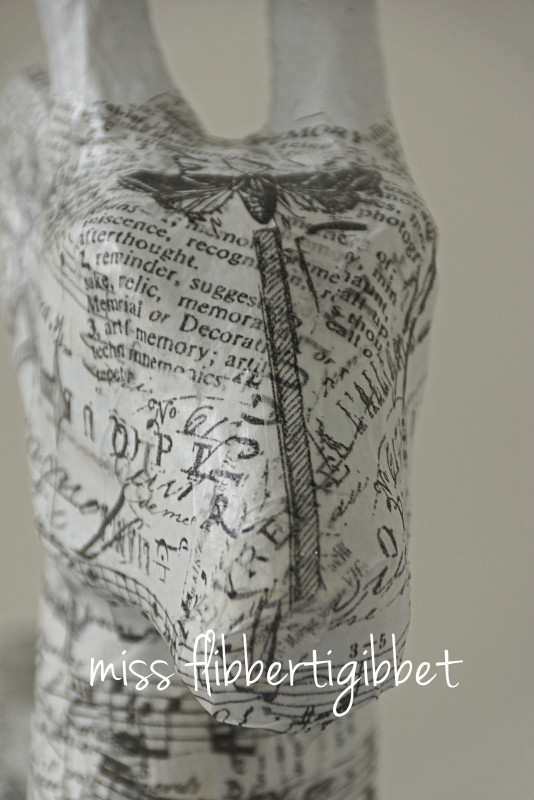 As you glue the paper on….keep going back to the areas you have previously done and make sure they are pressed flat. You can usually do that with your fingers…if they're not a mess. I have to stop now and then and go wash my hands because I end up pulling off paper in areas that are almost dry as I try and hold the item. I'm sure you're more patient than I am…..but I end up a huge mess!!
Keep applying glue over the areas you have decoupaged….I always use the matte finish of ModPodge.
Once the deer was all dry, it was time to glitter the antlers. I knew I wanted to use my German glass glitter for that. I did one antler at a time…..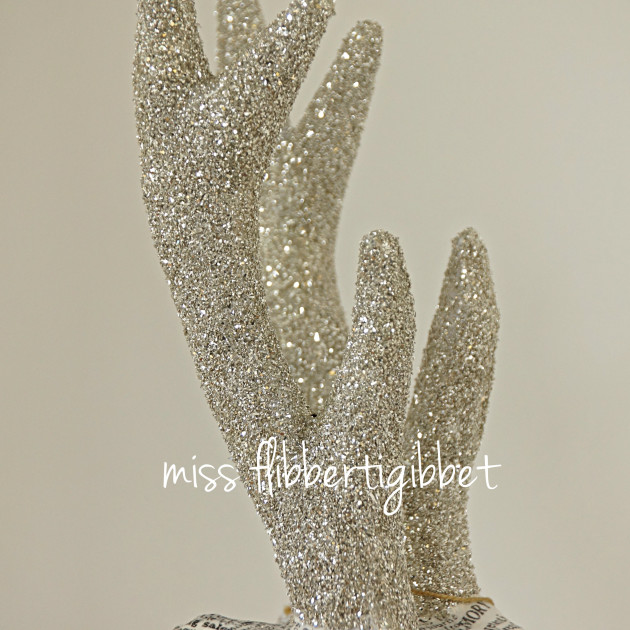 I brushed on glue thickly and sprinkled with the German glass glitter. You can't beat this stuff for a special area….it is so pretty and sparkly!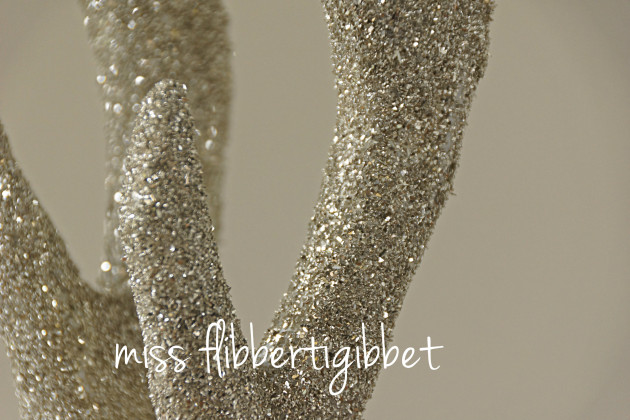 I wish I could tell you where I bought it or what it cost, but I've had it for several years so I just don't remember. You can easily find it if you just do a search online. It is not something you'll find in town most likely. It is well worth it for special projects and it goes a long way.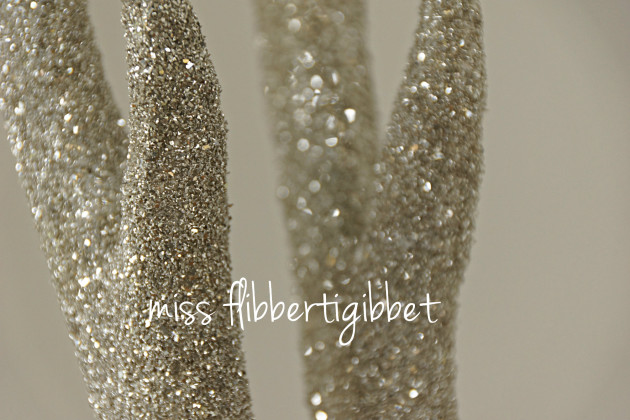 Finally, to embellish the neck, I used a scallop edged wood tag, painted it off white, stamped it with a pretty stamp and glued a rhinestone over the hole.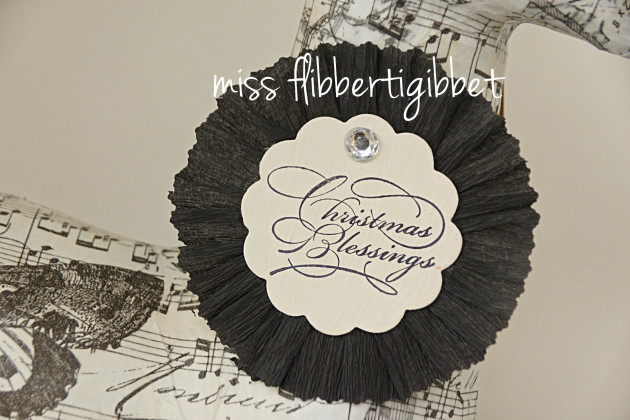 I made a gathered ruffle with black crepe paper and glued that to the back side of the tag. I added a black grosgrain ribbon for a collar and hot glued the tag on the side of the neck.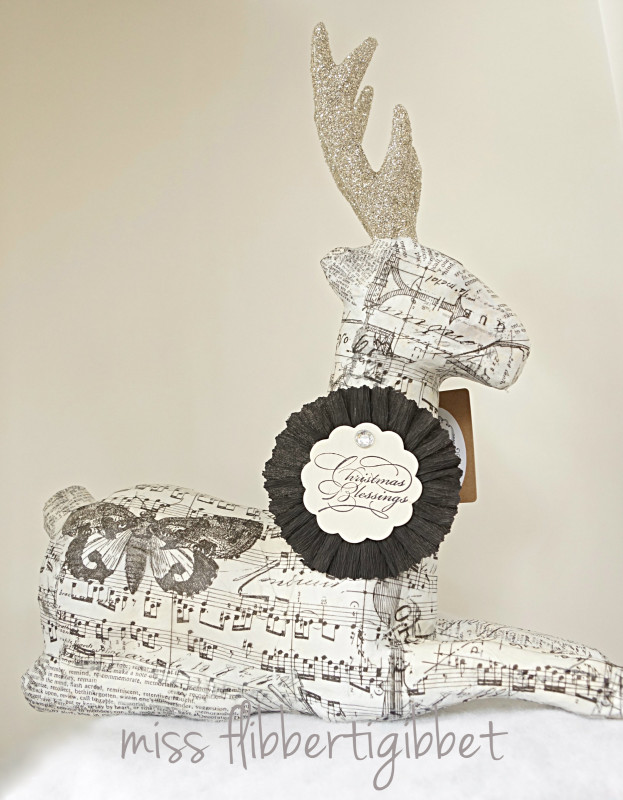 All done! I love it! I need to make one for myself…..sigh…
Is that what you're like? Since I have the shop, I make things all the time for that and have nothing pretty for myself!
You know the old adage…."the shoemakers children have no shoes".
Guess the decoupage/glitter/lady has no decorations either……..
I also made a few of these and I think they came out pretty sweet too!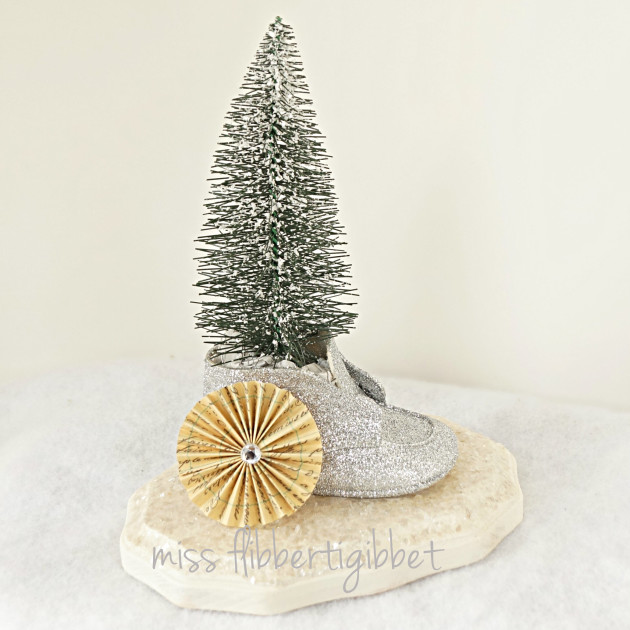 On these, I used mica flakes on the base. I'll show you more of that next time!
Have a great weekend and I hope the snow and ice doesn't hit you too hard!