I promised I would catch you up so I'll start back in the Spring with this antique chest I transformed using Miss Mustard Seed's Milk Paint.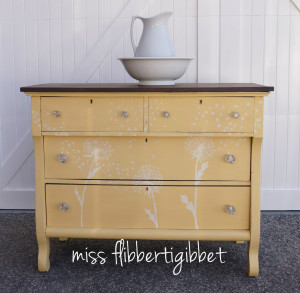 I used Mustard Seed Yellow and added some Ironstone to make it a bit softer. I used Ironstone to hand paint the dandelion design….no stencil…just free hand!
It started out looking pretty beat up….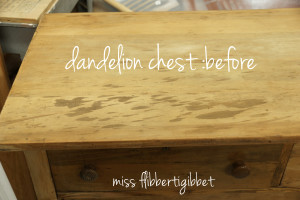 It was stained lightly but the top had peeling veneer all over it. I used a heat gun and a scraper to remove the veneer. Underneath it was blotchy. My original plan was to just use Miss Mustard Seed's Hemp Oil all over the top. MMS Hemp Oil works great on old, dry wood. I like that is is natural and not smelly. But, in this case, I decided to stain the top first.
I chose MMS Curio and mixed to to a wash consistency. If you are not familiar with a wash, it is mostly water with a small amount of paint. So the result is very, very light. I chose not to use a commercial stain because they are so full of chemicals and very smelly. Just like any other stain you might be familiar with, MMS Milk Paint will go down into the grain of bare wood and adhere so well that the color will not come out. I could have just left it with the stain on it and it would have been fine, but I wanted a bit of sheen so I then topped it off with Hemp Oil.
You can see how the light coat of Curio evened out that blotchy area. It is still there, but I was fine with that…it IS an antique after all and I liked the character!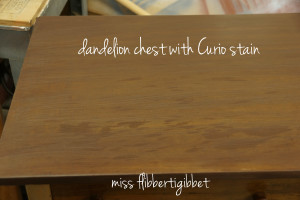 And then three coats of Hemp Oil.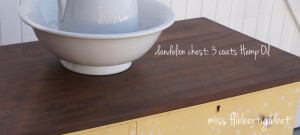 Next came the paint. Two coats…then I set to work on the dandelion image.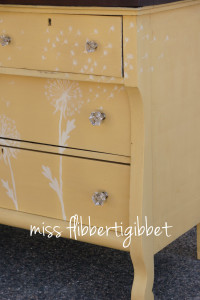 I made sure to carry some of the blowing seeds around the side.
And on up to the drawers.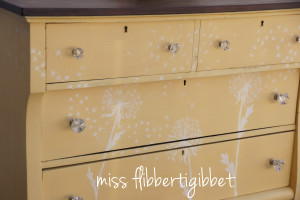 Finally, I added some new glass knobs.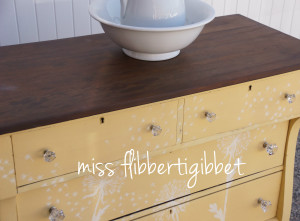 I was really happy with it and was sure it would go quickly……it's still in the shop.
Oh well, one thing I've learned in this business…..patience.
Much longer and I'll be moving it to the storage unit…it doesn't go well with Christmas stuff!
Ah well! Goodbye Spring….Hello Fall!