I hope you have a seat belt on your chair!
It's been awhile….hasn't it?
I've missed you…..hopefully you missed me just a little too!
I will explain shortly, but first, the purpose of this particular post…..at this particular time.
Miss Mustard Seed has a new Look Book!! Isn't she just the cutest thing?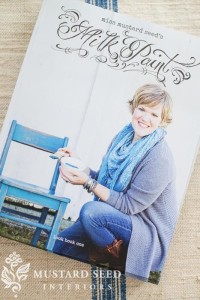 If you love her style (like I do) then this book will get you fired up to "Move Mountains In Your Home"…just like Marian does!
This book is not in bookstores unfortunately. You will have to buy it from a Miss Mustard Seed's Milk Paint retailer…..cough, cough….LIKE ME!!!
I have it in my shop for pre-order….$15 free shipping. So, click either on the link in the header or in the sidebar to shop! I have a limited quantity so hop to it if you're interested! Shipping should take place late Aug/early Sept. I can order more books but you'll have to wait then…..great Christmas gift for someone you know (or yourself).
OK……I said I'd explain my absence………..while I've been gone I have:
Gone on an extended world tour  …. I have been to Wal-Mart, Goodwill, and Michaels a lot
Saved lives on a medical trip to Africa …. I HAVE saved lives…..I have NOT killed anyone in this house (yet)
Been busy writing the screenplay about my life …. I WILL do that….once I GET a life
Been transforming myself into a lean, mean fighting machine (like Linda Hamilton in Terminator) ….I can't believe I even WROTE that! Hahahaha….I have to sit down
Used my extensive decor and design expertise to transform my house …. Thank goodness my husband has never figured out how to leave a comment….
I have no excuse…..none……
It's like exercising. Good intentions and while I am at it, I'm fine. But, stop for a couple weeks and …..well….you know….
Some of what I actually did:
Opened a second booth in the antique mall I am in (Barrett Street Antique Mall on Dean Drive in Virginia Beach Va….in case you are local)
Redecorated a downstairs bedroom which included painting and finishing an antique bed
Moved my studio from that same bedroom upstairs to the room over the garage
Started a side business making 100% linen French pinafores (Don't tell me I'm crazy….I KNOW already)
Visited my daughter in SC for a few days
Babysat my grandsons for a weekend
Did a vintage show in Richmond Va
Hosted a family reunion in honor of my favorite sister's visit to Va
Began volunteering at my church one day a week
Done a couple custom furniture jobs 
Developed a monthly newsletter for my business
Redecorated my original booth to become a booth dedicated to my paint lines and class teaching
Cleaned out the potting shed
Painted several pieces of furniture for the shop
Of course, I continued to settle sibling fights, cook dinner, garden, take people to appointments, and in general, try and maintain order in this place.
Do I get a pass??? I hope so!
I have diligently taken pictures of things I did, so I have lots of material to use……
See you soon!!