I have the same problem that many people have who are in business….at least I HOPE I do…otherwise I might just cry!
I spend a lot of time either finding and hauling home, painting or otherwise improving, transporting and pricing, rearranging and sprucing 
the furniture or smaller items for the shop…
Then there's the whole paint issue…three lines of paint that need constant inventorying, ordering, unpacking, pricing, stocking…..then there is teaching painting classes….
Oh and WHAT THE H-E-DOUBLE-HOCKEY-STICKS……let's throw in running a house and volunteering as well!! I have a Joan of Arc complex…..
I have a dining room right now full of bottles of Fusion paint, pre-made items for the shop that I have ordered (it's time to get ready for Christmas) AND…worst of all….empty boxes….like LOTS of empty boxes.
I can't just put them at the curb, according to my husband. Although I see people moving into the neighborhood all the time with a curb full of empty boxes. Apparently, I am different and he says they all need to be cut up and put in our recycled bin. He cut up the last batch for me, nice guy , and filled the bin to the top!! This BIN mind you, is a full sized trash can! 
Seriously? I need to call the city and ask. I think my husband sometimes believes that if he tells me these things I will say
"What? That's it….I'm quitting this business!"…..
HA!!! I'm on to his tricks and I will continue to torture myself if I want to!! Joan has nothing on me!!
Anyway….the problem I suffer from is that my OWN home gets little of that home decor attention. Walls unpainted, furniture un-slipcovered, windows undraped, piles of plates that should be on the wall….standing alongside the pieces of art that should be on the wall……you see what I mean.
And yet, I can't…. CANNOT….. pass up a deal! And now and then, the deal is something for ME!
I found this primitive jelly cabinet online at a yard sale site. I didn't look closely at the measurements so I thought it was smaller when I saw the price of $50….so of course I negotiated it down a bit. When I got there to pick it up I was REALLY pleased.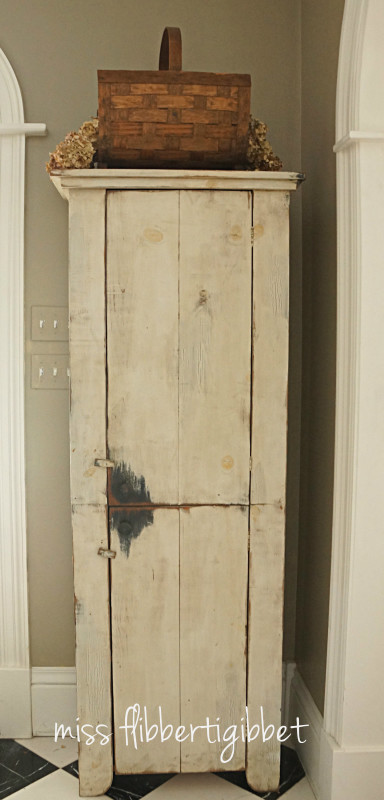 Turns out….it was really tall. The gal selling it was from West Virginia and had it custom built to look old. We spent a few minutes bemoaning the fact that it was so hard to find things in this area without paying an arm and a leg (she's a Navy wife) and how she would have to travel to W.Va. if she wanted anything. Then I gave her the full price of $50 because I just couldn't give her $35 and she was a Navy wife, like I said. And because she had it custom built and was parting with it because she couldn't fit it in her apartment. It is worth $50….easy.
So, home it came! I knew I wanted to keep it as soon as I saw it. The builder had done a nice job making it look aged.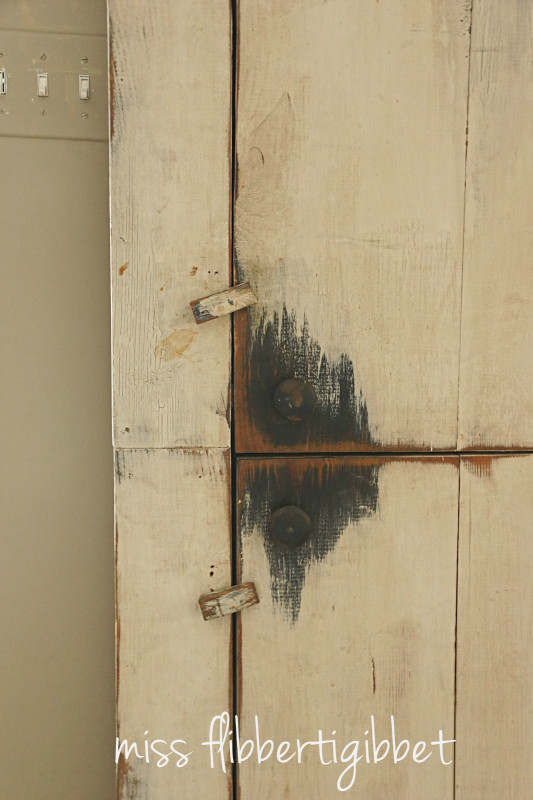 It is a bit more "country" or "primitive" than I would normally choose but I can always re-paint it if I want to. However, I do like the details and my time is limited.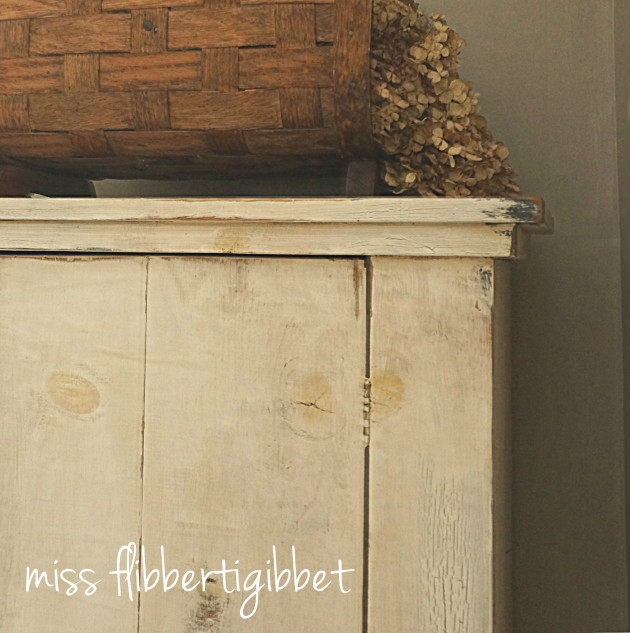 I pondered where to put it so it sat for over a week in the foyer…..next to the OTHER cabinet I bought from her……I'll show you that another time. We all shimmied around that awhile and the other day when it was rainy and I was home for the day making a bigger mess in the dining room, I decided it was staying in the foyer where it was already.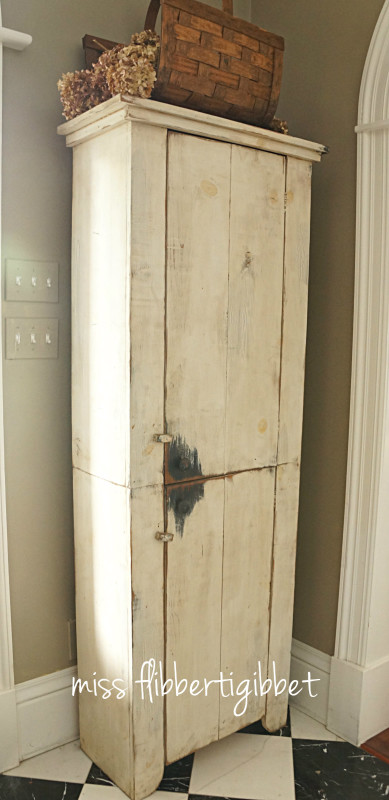 The extra light helps it to seem a bit brighter……because I DO NOT want to paint it…..I DO NOT have time.
There was one small problem……
Obviously, what she paid for it did not include the interior painting. She wanted it rustic….I needed a bit more refinement.
Plus, I was already thinking that the top half would be a great display area. 
I am not sure if you are aware, but I am a bit indecisive and cowardly when it comes to my own house. I have NO PROBLEM at all suggesting decor for others but for me? A different story. I will take FOREVER to make a decision sometimes….resulting in unfinished rooms.
But occasionally, I decide rapidly and almost always the results make me happy…..I really should trust myself and my instincts more. That guest room I did was a quick job with quick decisions and it looks great! So far….still unfinished, but GREAT!
So, I really wanted to accomplish SOMETHING for me on that day…..other than making MORE work for myself….. I wanted to create something pretty.
I decided to paint the inside. I had all those gorgeous shades of Fusion on the table staring at me. But I couldn't bear to open a whole bottle and not have it for the shop. I had only bought 4 of each color to start and needed every one. I decided to use the color I had already tried on the map chair…….Inglenook.
Beautiful……..I added some ironstone…..more beautiful….I did a happy dance….
Here's the funny part. When I finished the cabinet on a dark and dreary day, I thought I would wait until it brightened up a bit because if there is one lesson I have learned during blogging it is NEVER USE A FLASH for pictures. I am a devout adherent of that principle.
It kept raining….all the next day. Last night, I completely forgot that I had not taken a final pic of the cabinet. So, this morning, I did it, I
USED THE FLASH……sigh……I'm going to be drummed out of the Bloggers Who Occasionally Post Club…..
But it is pretty…..even with the flash.