I love window boxes…and picket fences….and big front porches…and porch swings….and….trellises with flowers…..and paths….and porch furniture….
I just need a garden service to keep all those things as pretty as they should be….BUT…last time I checked
(which would actually be never)
a gardener and or gardening service costs $$ or maybe $$$$$$.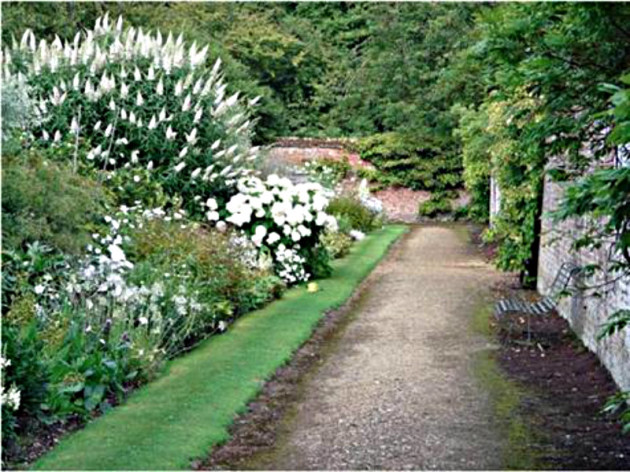 I think that's one reason we all love those old movies and shows like Downton Abbey….
I mean, do those women do ANYTHING? Yet, they wander around gorgeous homes and gardens without a thought in their pretty little heads about what it takes to actually have even one-quarter of that beauty.
So there we sit, in our chairs, with our sweats and old Tshirts on; drinking wine from a dollar store glass; imagining what it would be like……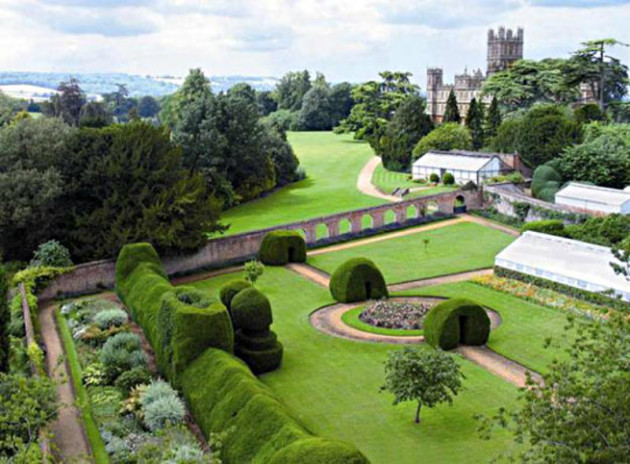 Unfortunately, as they say reality bites…..and we need a dose of reality here….let's talk window boxes shall we?
Those cute things that hang under windows (duh) and are filled to overflowing with beautiful flowers. I've seen quite a few….in fact lately, I have been browsing Hometalk for windowboxes since I was asked to curate a Windowbox Ideas board!
I posted my window boxes last year and that's how I became a national celebrity……
and became THE CHOSEN ONE….
Who? Me? Little old me? You LIKE me, you REALLY LIKE me!
Hold on….don't get your honeysuckle in a twist just yet……
Why do you suppose they picked me? Probably because I was the
ONLY CRAZY PERSON THEY COULD FIND
who decided she needed LOTS of windowboxes on her house. Why is that crazy? Because I have 20+ boxes….that's why it's crazy…..
You are probably saying…"so what's the problem?" I'll tell you….
Those gorgeous windowboxes you see in the magazine or on Hometalk….
you know, the people that have ONE or maybe (let's be CRAZY) EIGHT boxes to fill?
Each one has at least 6 or more plants in there…..wait…I need my calculator….
20 times 6….carry the four…..ONE HUNDRED and TWENTY plants…..
Now the fun REALLY starts…..we'll go cheap, like WalMart nursery cheap…….120 x $1.95 …..
TWO HUNDRED THIRTY FOUR DOLLARS …..without tax…..or potting soil…..
I actually did that the first couple years we were here…I mean, I was working full time and only had a wine budget to master so I could drop $200 on flower boxes ….remember…this is ONLY flower boxes…no other plants or hanging baskets…..
However, I realized QUICKLY that I needed another plan…if I ever wanted new underwear that is….
What I decided was needed was a how to idea for planting window boxes so I am sharing my idea with you!
Here's what I did and you can do it too……..plant with green perennials…….you know…the things that come back EVERY YEAR…
The window boxes on the back porch are planted with sedum and variegated vinca..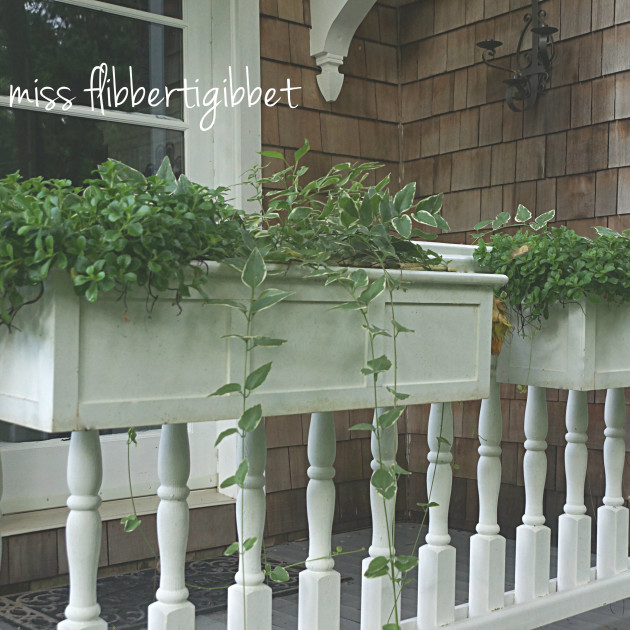 This is what came up this year without any effort on my part except to water them as soon as the weather began to warm up….
If I want to, I can add some flowers in…but they are also very pretty just green. Here is what they look like with some impatiens added….one or two plants per box… 
On the front porch, I have sedum and (usually) petunias that re-seed into the box and return each spring. These petunias were planted in 2005 I think. As the years have gone by, I have found they are getting fewer and fewer. When Fall comes this year, I plan to add the variegated vinca to the front boxes too.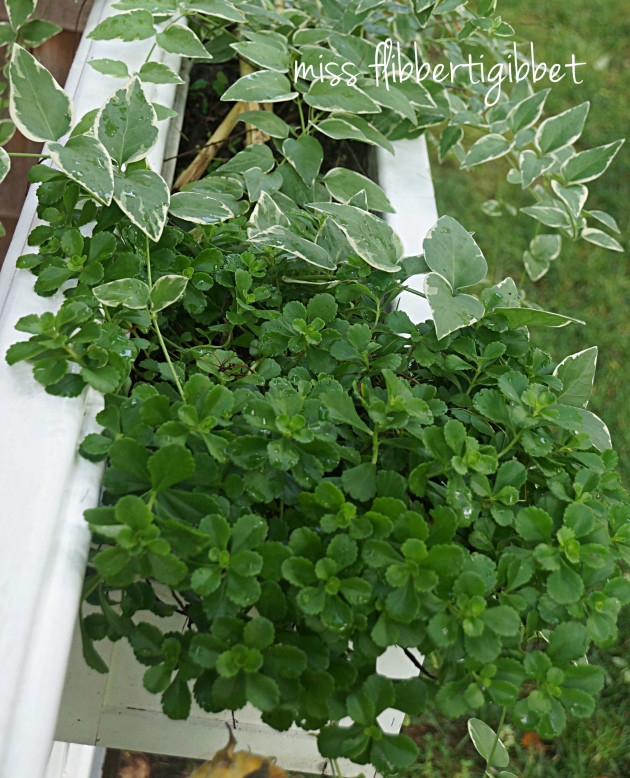 See how pretty they look together? In the picture below you can see the sedum in bloom. Now…I can't remember the name of this sedum but it's my absolute favorite. It is low growing, no tall spikes, a beautiful, almost perfect shade of green and it reproduces easily. Unlike some other plants used for "underplanting" it is easy to control and pull out. I have begun adding it to my flowerbeds and it looks great just grown in pots. It grows in a mounded shape which is very attractive.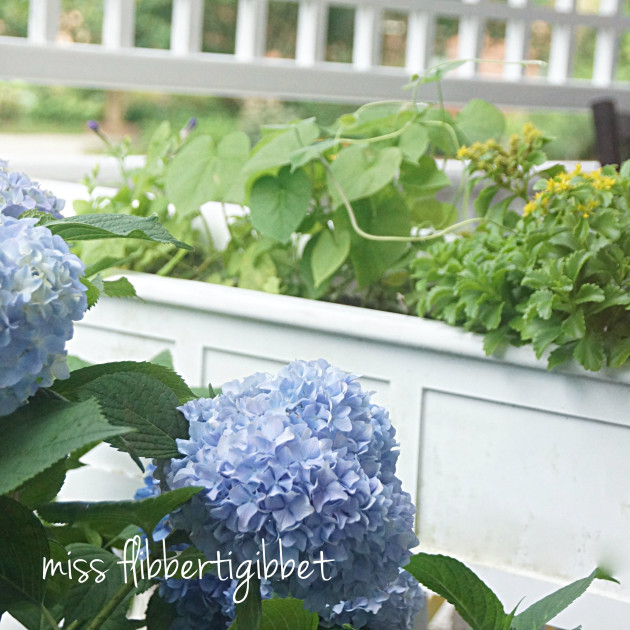 If you're sharp, you'll see that in these front boxes, I've scattered some Morning Glory seeds. That's what I use to fill in and add color. Seeds are cheap and they even will come back each year fairly often. I had visions of Morning Glory spilling out of the boxes but they tend to twine around themselves so much that they stay on top of the box rather than doing this……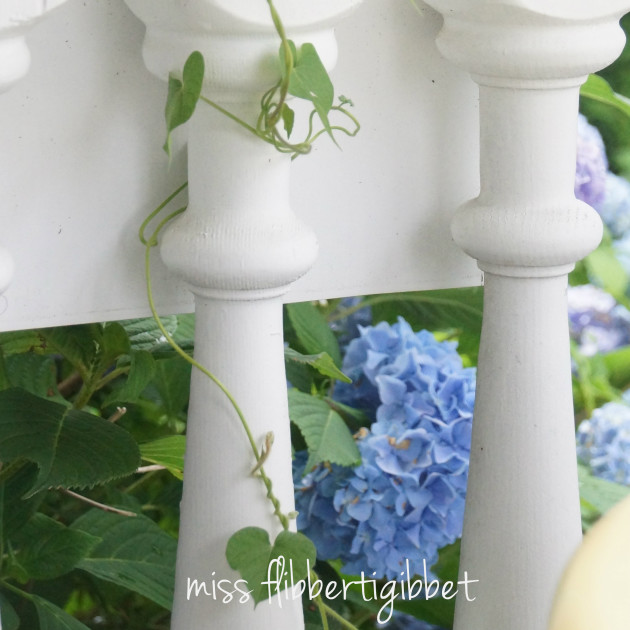 Oh, I go out and try to get them to wind over the rails but, they are stubborn sometimes.
This year, I came up with this idea…a small trellis from a hanger….
Cheap white hangers from WalMart….clip the hook off, straighten them out and then stick them into the box…..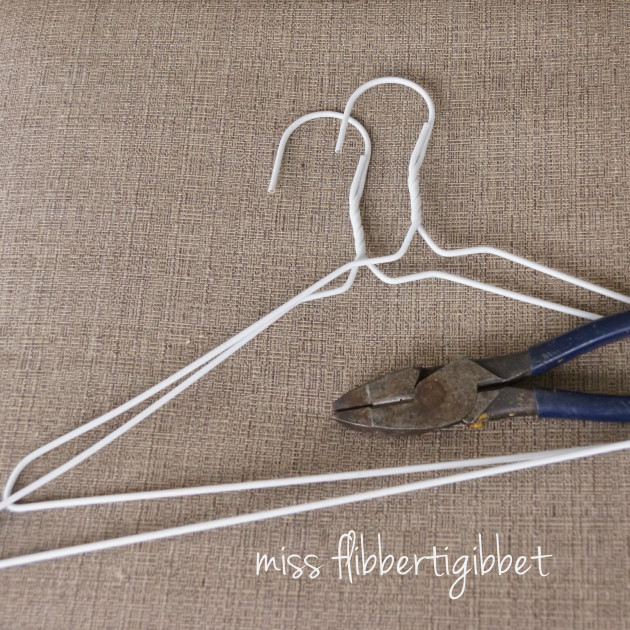 Wind the Morning Glory around the wire……..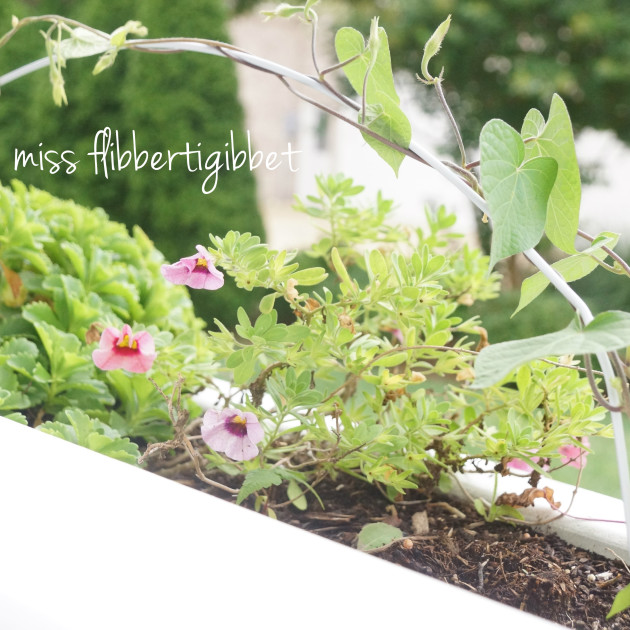 Morning Glory loves to wind around itself and any other small diameter support…that's why it's hard to get them to like the railing…they twine tightly. So, if they're too long, just twist around the wire and head back the other way…..like I did here…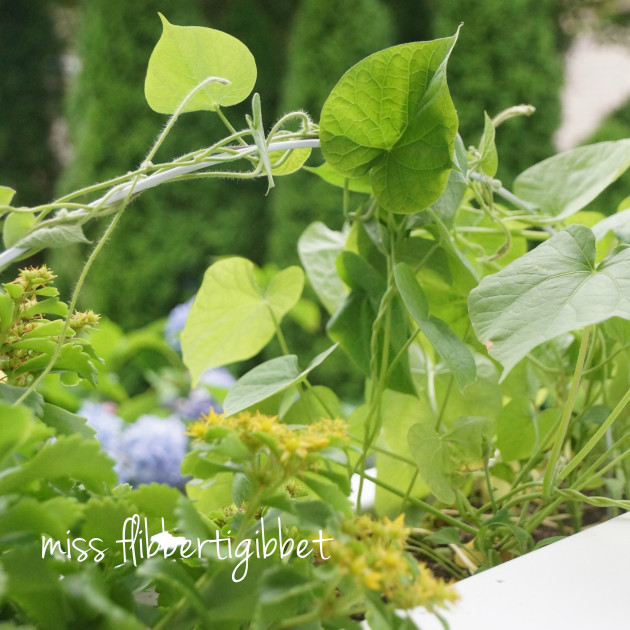 Just in case you're all hot to trot about windowboxes now…..
Head over to Hometalk and follow me.…you can see my Windowbox Ideas board and add your own!! You can click right on the picture below and go straight to the Windowbox Ideas Board too!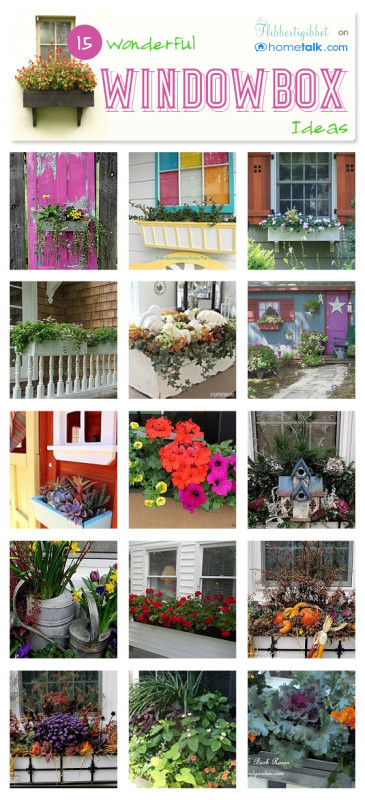 If you haven't started using Hometalk yet, I highly recommend it! ALL SORTS of home improvement ideas! I have found some great gardening tips on there and saved them. Many folks have blogs and you can find some new friends to follow, but some folks just like to share the ideas they have! So, whether you have a blog or not….no problem…
You can follow and read all the interesting things posted and also sign up yourself if you'd like to post your own tips or make comments on the posts you read! Just click on the word "Hometalk" below and you'll go right there!
Check out Hometalk today! It's really easy to sign up!