Jimmy Buffett comes here almost every summer. All the parrot heads hiding out all year come out in all their glory to party like it was 1980….I suppose. I've never been.  I like him just fine but my husband is not a fan of large gatherings and that includes concerts. He dutifully takes me to the Broadway series here but he gets to sit safely in his own seat then so I guess that's different. So, not many concerts for us….
Anyway…..
I was inspired to use that title because of the table/desk I just finished for the shop…
I called it "Latitude/Longitude"
I think my friend Jimmy has a CD (I ALMOST said 'album'…how quaint) with that name…maybe
Here it is..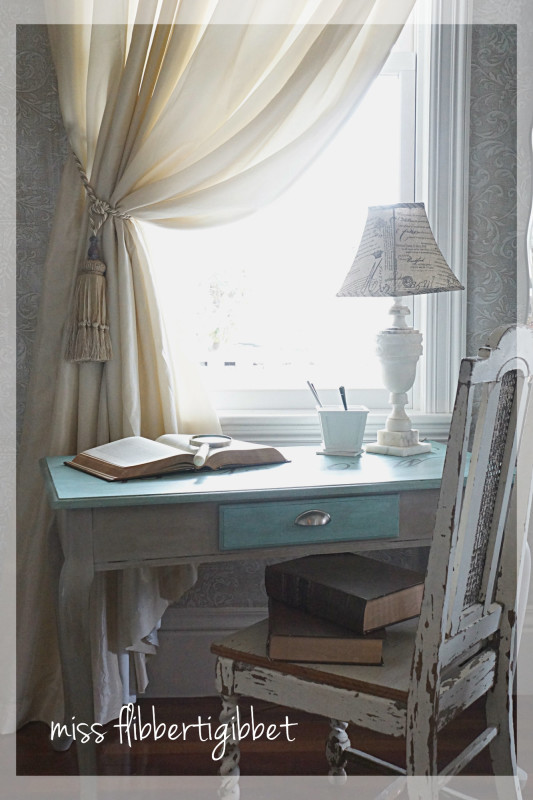 I can't remember if I mentioned that I will be carrying a line of chalk based paint soon. I am trying out some of the colors now. This is Turquoise and Silverado.
It was just a plain brown, faux cherry finish. I used a latex primer on it first since it was so dark.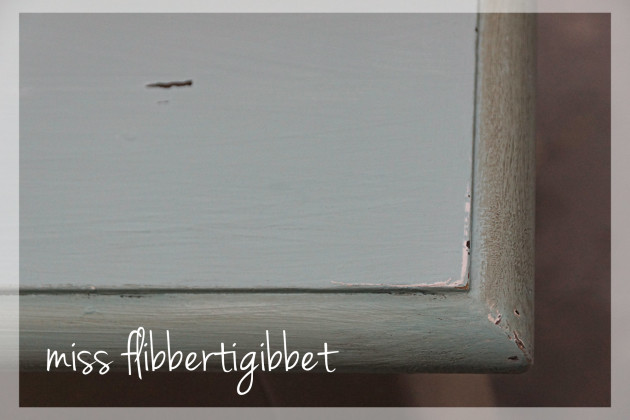 After painting, I distressed it a bit and added some dark wax mixture (50% MMS clear 50% AS dark) to the edges and legs. I left the center unwaxed so I could add my graphic. I have never used AS clear wax but I recommend the MMS clear wax highly. It's very soft and goes on super smoothly….plus it sort of smells like lavender, which is nice! You can get that here if you're interested.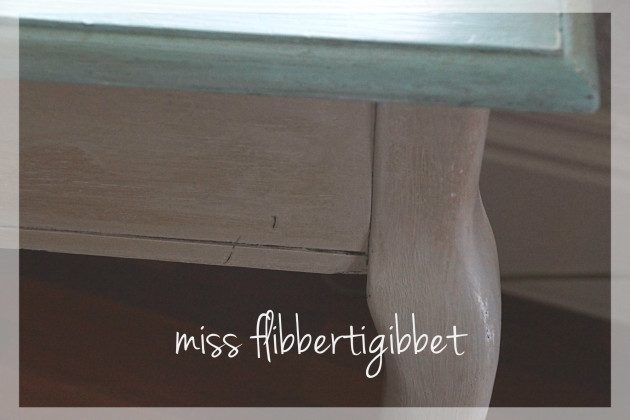 I really loved this Silverado color. I usually make a mixture of ASCP 50% Paris Gray and 50% Pure White to get a driftwood shade. This is right out of the can with just a light/dark wax and I was very pleased. Saved me one step!
On to the graphic. I've had this idea for awhile but was looking for the right piece of furniture.
I decided to do the longitude and latitude of Virginia.
I found a font that I liked and printed and enlarged until I had the right size.
I'm sure you know how to do this but here's a small tute on using graphite paper.
Cut out or arrange the graphic as you like. Then make a "hinge" at the bottom with Frog tape.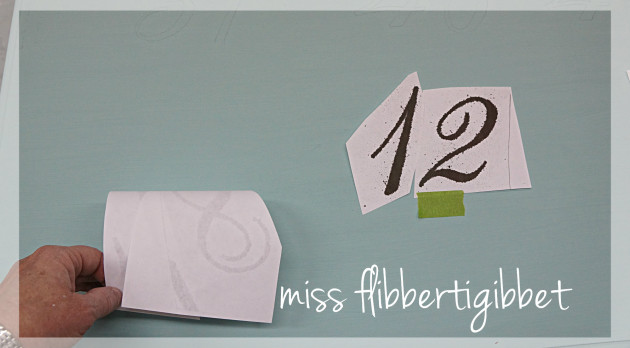 See how you can easily lift it to place the graphite paper and also to check how your transfer is coming out without shifting anything.
Insert the graphite paper with the graphite side down on the furniture….
I am telling you this because I traced 1/3 of that complicated Calligraphy graphic I did for that desk on the WRONG side before I caught myself.
Yes, I am the Queen of OOPS Crafting. But, the secret is to LEARN from your mistakes…right?
So I'm sharing….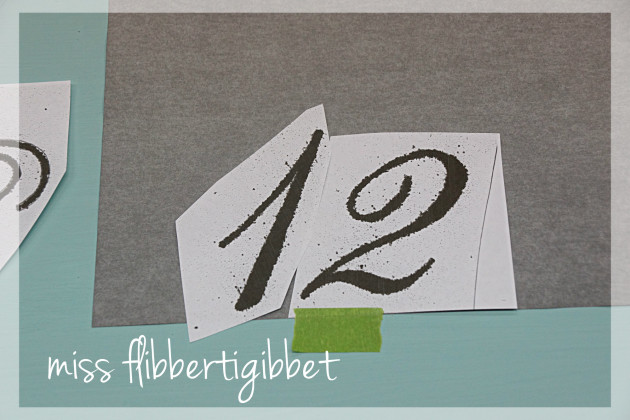 Just use a pencil to trace around the image. You can use a colored pencil which can help if your image is intricate….you can see where you've traced. I sharpen my pencil, then scratch down the point a bit on a piece of scrap paper. Too sharp and you can make a tear in the paper. You just want to transfer the image.
Once the image was all transferred, I painted it in using another color from the new line called Graphite. Very, very similar in shade to Paris Gray.
Finally, I did just a bit of distressing on the graphic itself….I didn't want to sand the whole top and get a darkened feeling. I used a sponge with the scotch brite back to do the distressing. It takes off the graphic without scraping up the background color much.
Finally, I used MMS Antiquing wax over all. I've told you before, it's a lighter color than the AS and much softer, so it's easier to do the whole top nice and evenly without getting too much darkness. After that dried and was buffed, I finished off with MMS  clear wax.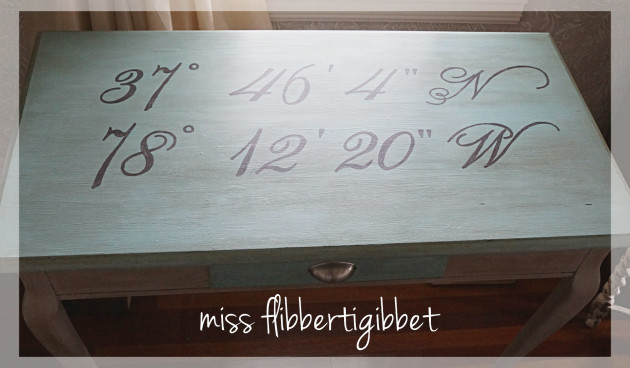 I added a new brushed nickel bin pull to the drawer.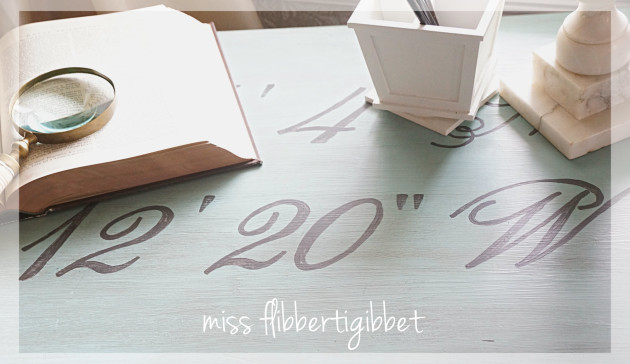 I'm pleased with how it turned out!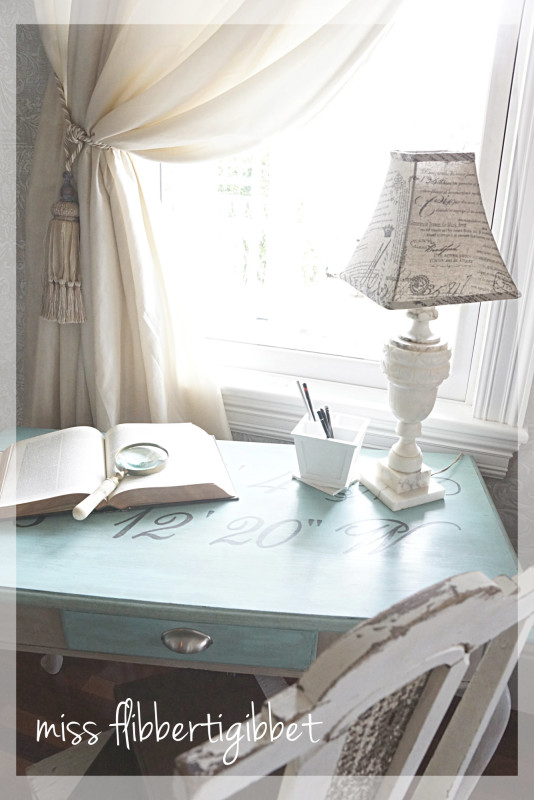 I think I hear Margaritaville calling……
Must be the warm weather…..
Sharing with